Jubilee® Multiband now in 316 grade stainless steel
09 February 2018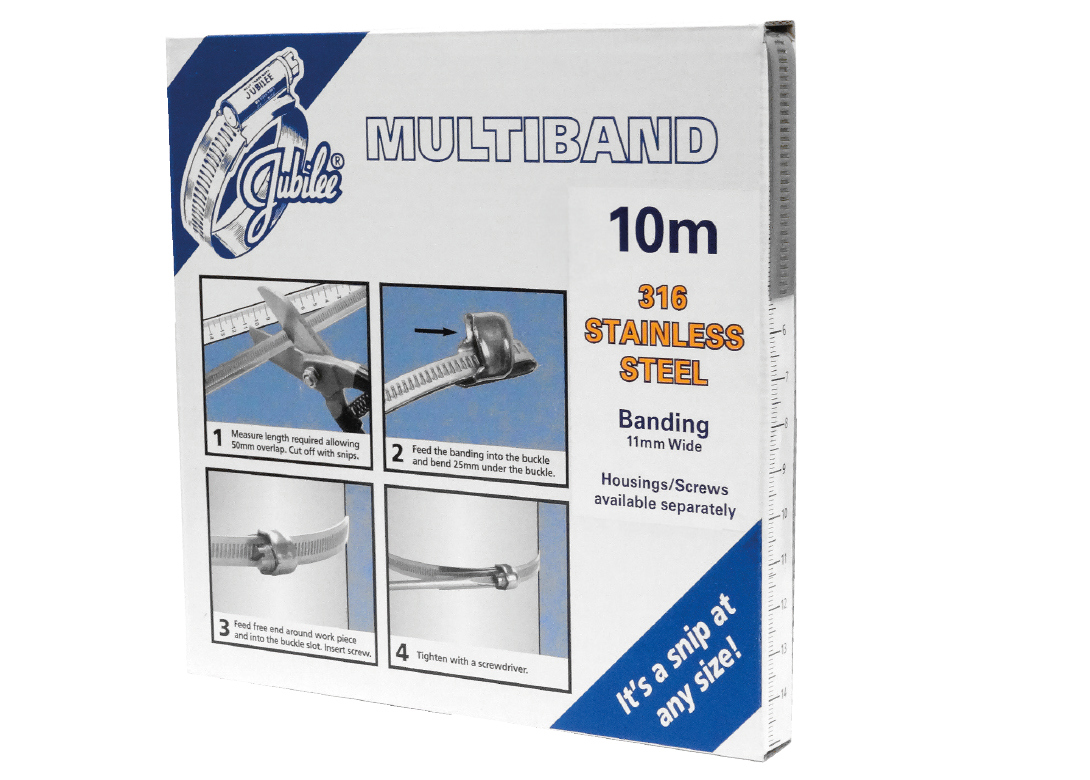 Following regular requests from customers Jubilee® is now offering 316 (A4) grade stainless steel Multiband products – 11mm width banding in both 10m and 30m packs, as well as a 25 pack of housings and solid screws.
Multiband is Jubilee® Clips' self-assembly, endless banding system, which enables the user to make a clip to any size required, and has been popular with customers since its introduction in 2002. Following the acquisition of the banding manufacturer Elms Lightning Fasteners, in early 2013, numerous product improvements and new product ranges have been introduced to the market.
316 (A4) grade stainless steel products are offered as the material contains more nickel than 304 (A2) material, as well as 2% – 3% molybdenum. This gives the Jubilee hose clips and Jubilee Multiband products much better levels of resistance to corrosion against chemicals such as acids and chlorides, making them better for industrial applications involving chemical processing. They also offer superior performance when exposed to sea water and direct salt spray, making them suitable for use in the marine industry.
Due to the non-reactive qualities of 316 stainless steel, Jubilee products made from this material can also be used in the manufacture of surgical instruments and other medical equipment, as well as pharmaceuticals where excessive metallic contamination must be avoided.
"We also currently offer our original range of Jubilee Clips and Superclamps in all 316 grade stainless steel, but keep watch in 2018 for new product ranges, as well as other products offering this high performing grade of stainless steel," explains Jubilee.