Better than a lock – security fasteners
07 June 2018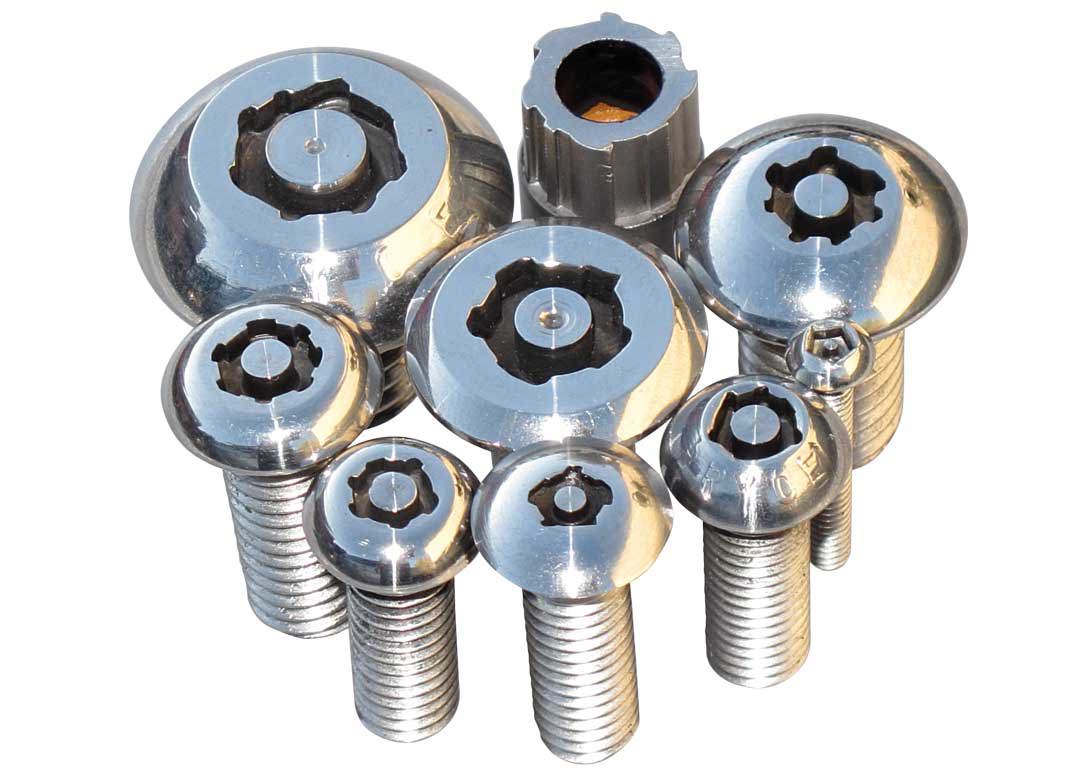 US-based Bryce Fastener says its security fixings rival the best custom locks thanks to its drive bits being different for each customer, and only the matching driver bit can fasten and unfasten the screw. Without the matching driver bit, the screws are impenetrable and no other driver bit on the market can remove them – that's how a true tamper proof screw should work.
Bryce explains that security fixings in the best form are a fastener with matching driver only the owner can turn. Unfortunately today, there are too many owners of security bits. This was not always the case. Hex-pin and Torx®-pin (the two most popular) once had bits very difficult to find 40 years ago. Bryce Fastener was one of the few places in the USA where they could be purchased. Over time the US market became saturated, which was because the drive styles fell out of patent, and Asia started bit manufacturing without restraint. Bryce points out that the word 'tamper proof screw' was even removed from use for legal reasons. This transition put many assets in jeopardy. When a hospital complex lost US$40,000 of computers secured by standard security screws, Bryce fasteners was asked for a solution. It had to be unique, hard to duplicate, and unremovable by all tools on the market.
The solution was everchanging keyed drive systems, exclusive to the customer (and Bryce); that only the customer could turn. Security fixings were reinvented as they were originally intended to be.
The saturation of security bits has moved to Europe. Today most fasteners claiming security, can be easily removed by security bits sold retail. They are no longer tamper proof, but only vandal resistant. Bryce Fastener recommends they should only be used on assets worth less than €75 (based on a risk assessment). Yet many applications hold more value. Art, nuclear power plants, ride share bicycles, solar panels, military installations, safes, credit card machines, computers, transportation, anti-terrorism locations, are just some examples. For these a fastener with an exclusive private key is the prudent answer; a fastener that secures like a lock.
These are applications Bryce Fastener specialises in and has success in protecting. These are the applications where it is imperative that only the owner of the asset be able to turn the security fastener.
Bryce believes an exclusive private keyway is the best form of a security fixing, but many remain skeptical. However, from the company's experience it has found them 99% secure, based on 10 million fasteners sold over 10 years.
At present Bryce's fasteners are used in the most difficult places including ride share bicycles in Spain, open telephone equipment in Egypt, ground mount solar panels in Mexico, cable TV boxes on the streets in Venezuela, remote power transmitters in South Africa, ATM machines in Detroit, Lottery machines in Canada, art displays in Paris, street enclosures securing copper in California, point of sale cell phones in New York, and house arrest leg bands throughout the USA.
Another application is terrorism prevention. When Spain suffered a train attack, Bryce fasteners were used to secure weak areas. Bryce fasteners can also be found on aeroplanes using them to secure partitions that could hold contraband. Bryce services over 800 customers a year and most are repeat.
To create 'better than a lock' security fasteners, Bryce required a new approach to manufacturing – fast turnaround machines, new specifications, new methods of manufacturing, and responsive support. It also required patents and trade secrets (to ensure future security). Now Bryce Fastener has the widest array of security fastener machines, security patents, and trade secrets in the world. It can produce mostly any size from M2 to M16 in lengths up to 140mm in about 2 weeks.
Bryce also specialises in custom keyways (Keyrex®). Minimum orders average 2,500 pieces. For those who need fewer, there is inventory in a Bryce exclusive fastener called Penta-Plus™. Each tool is tracked and only made by Bryce Fastener. There are also Penta-Nuts™, and a new seven lobe security fastener called STYKFIT® which has a no-wobble key. Of course, if the specification requires a Torx®-pin or hex-pin, these can be made.
"The best security fixing is one that only the owner can unlock. It is the way security fixings were intended to be," comments Bryce Fastener.
Present master distributors for Bryce Fastener outside the USA include Hafren Fasteners (UK), Varitech Seguridad (Spain), Fila SAS (France), Sentinel (Australia), Tornitodo (Venezuela), and SecuFast® (the Netherlands).