Stock – the key to success
01 February 2019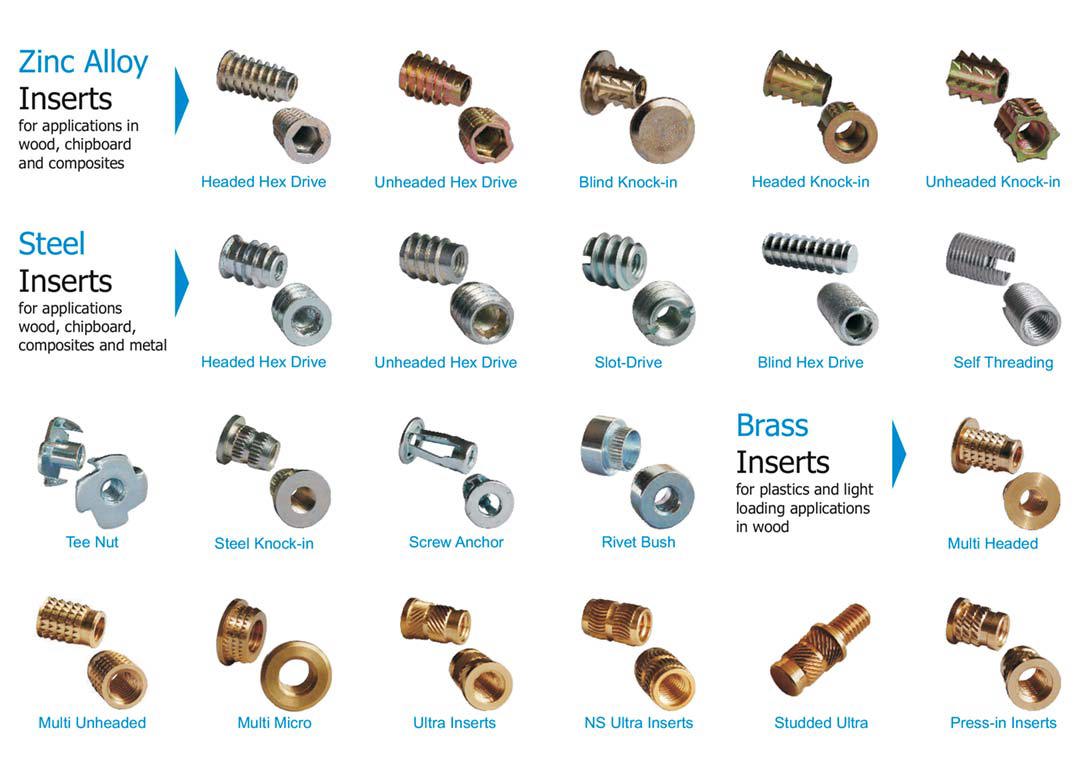 Through a vast stock commitment, and longstanding relationships with leading European manufacturers, The Insert Company is able to supply a diverse range of high performance threaded inserts around the world. Deputy Editor Claire Aldridge went to visit Kevin Broome, sales director, to find out how the company's large stockholding is the key to success and also how it is preparing for BREXIT.
Established in 2003, The Insert Company (UK) Ltd initially supplied brass inserts and connectors to the furniture industry – gradually growing its business and range to meet customers' needs. Now, from two units covering 3,000 square feet, the company supplies inserts in a variety of different sizes from the smallest thread sizes to the largest, and in a variety of materials including brass, stainless steel, aluminium, steel zinc alloy and plastic. All inserts utilise the most modern and precise methods of manufacture and conform to the required industry standards. To add to its range of inserts, The Insert Company is also involved in supplying fastenings used in conjunction with the inserts, such as connector bolts – with a comprehensive range available to customers.
"As a company, we are committed to buying from quality European suppliers in order to give our customers a consistent quality level," states Kevin. "Over the years we have built longstanding relationships with suppliers across Europe that we trust, which means we can be confident that every product in our stock is of the highest quality – not everything is about price."
These longstanding relationships also help The Insert Company guarantee stock availability. "We consider ourselves to be a stockist as well as a distributor," points out Kevin. "Whilst the trend for many of our competitors has been to stock to order only, we have continually invested in stock to make sure every product listed on our website is available for next day delivery across Europe, and same day in the UK. We hold the stock so our customers don't have to, which is proving very successful. We see it as our responsibility to ensure we can meet customer demands – quickly and effectively."
In addition to traditional larger quantities, The Insert Company is also able to answer customers' needs for smaller orders. "Customer buying patterns have changed over the last 5 – 10 years. We're finding customers are ordering less, more frequently. They aren't planning months ahead, they're now planning days ahead, sometimes even hours. We had to adapt in order to facilitate this and we did so by investing in our stockholding and our web shop," explains Kevin.
Now accounting for 15% – 20% of its turnover, the webshop is helping The Insert Company expand its markets and also service lower volumes – particularly suited for bespoke design and prototype purposes. The company can also work with customers to recommend suitable inserts for new applications – endeavouring to provide cost savings against any existing usage and offer quotations to suit customer requirements. With the capability to liaise with engineers at the earliest stage possible, The Insert Company has seen a steady growth in its end user customers, with 90% of its turnover now from end users.
"Our inserts have such a wide range of applications, it's impossible to name every single industry we cover – but the majority of what we supply still goes into the furniture industry," comments Kevin. "The furniture sector is going from strength to strength and we're reaping the rewards. For instance, we recently worked with a customer to provide a solution for display cabinets going into retail units up and down the UK high street."
Kevin continues: "The webshop is really helping us to reach new companies, allowing them to order in small quantities and test the product. There's definitely a pattern where these new companies will then return to us with larger quantities once they know the product is of the highest quality, and they can be confident in our reliable service."
Whilst end users are a big part of the company's business, The Insert Company still supplies the biggest distributors in the fastener industry thanks to the added services, and quality products it can offer. "As a country, the UK has a good courier network so we can supply our products quickly and efficiently to customers around the world," mentions Kevin. "At the moment 20% of our products are exported to Europe, but we are looking to grow this in the future. Of course, a big factor in any potential growth will be the results of BREXIT."
Kevin adds: "As a company we're very apprehensive about BREXIT. Nobody knows quite what will happen and we are having to plan for the unknown. We are putting safeguarding measures in place to try and foresee every possible situation – which is a very time-consuming and difficult task, but paramount if we want to try and stay afloat in all the uncertainty."
With a turnover of over GB£1 million in 2017, and 2018 end of year projections 10% up, it's clear The Insert Company is in a strong position as it continues to invest in its stock, both in terms of quantities held and additional ranges. "We have vast experience, having worked within the fastener industry for many, many years and supplied every type of product that has included an insert as part of its design," concludes Kevin. "We have rarely meet an insert requirement that we cannot service, but if we did we would call upon other worldwide experts in this area of fastening. We firmly believe that if we all work together we can conquer the world."