Owlett-Jaton celebrates 75th anniversary
10 May 2022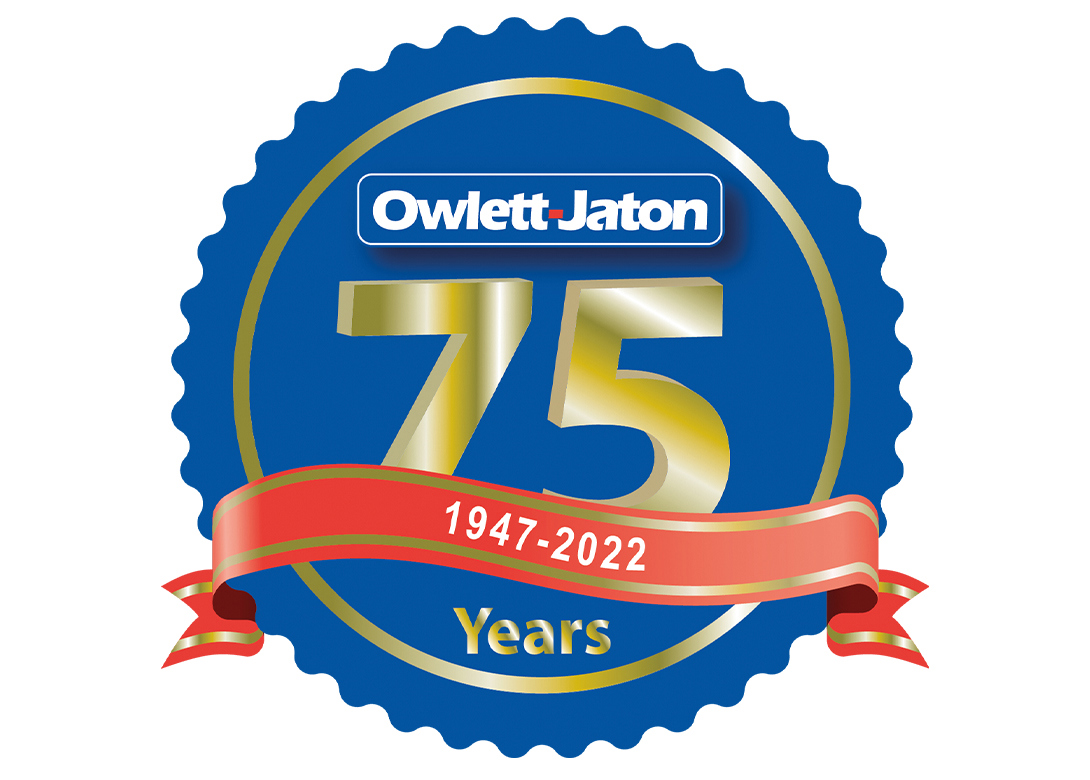 In 2022 Owlett-Jaton celebrates its 75th anniversary having gone through a unique and varied history to become a leading player within the UK and Ireland fastener markets. Content Director Will Lowry visited the company's headquarters in Stone, UK, to find out how Owlett-Jaton became the complete wholesale solution provider it is today.
Owlett-Jaton can trace its roots all the way back to 1947, when W.M. Owlett & Sons Ltd was incorporated as a supplier to builders' merchants, with the Jaton part of the business set-up as a subsidiary of James and Tatton in 1969, and originally a supplier to engineers' merchants.
"Over the next couple of decades both Owlett and Jaton opened up several stockholding branches across the UK to meet the needs of customers," explains Ian Doherty, CEO at Owlett-Jaton. "This included branches in Nailsea, Swindon, Leighton Buzzard, Elland and Warrington. By having stock in these locations both companies could supply products to customers as and when it was needed."
This commitment to stock and providing products to customers' when required is still a fundamental part of Owlett-Jaton today, with all stock now being held at the company's 130,000 square foot headquarters in Stone, Staffordshire – which the Jaton side of the business moved into back in 1995.
"With over 30,000 product lines under one roof, customers can order multiple items, in small quantities, all from one source," points out Tony Williams, sales director at Owlett-Jaton – who at the end of 2021 celebrated 40 years with the company. "In my time at the business one of the biggest changes has been that our customers have significantly reduced the amount of stock they keep in their own warehouses. Instead, they use us as an extension of their warehouse and look for us to deliver products to them the very next day. For instance, our customers can order products by 5pm and the products will be with them the following morning."
Two become one
Looking back at the history of Owlett-Jaton one of the biggest points was when both Owlett and Jaton were acquired and became trading divisions of Decco Group in 1997 and 1998 respectively, with the two merging in 2002 to become Owlett-Jaton.
"Undoubtedly this was the biggest step for the business, which was followed up two years later with Decco Group acquiring SRB Holdings," mentions Ian. "This saw a host of other fastener related companies joining Decco, including Stainless Threaded Fasteners (STF) – a stainless steel specialist; Icon Fasteners – a high grade fastener specialist; as well as Galaxy Fasteners – a wholesaler to engineers' merchants."
Ian continues: "This led to the creation of Hexstone in 2006, which saw Owlett-Jaton, STF, Icon, and Galaxy, all become trading divisions of Hexstone. Back in the early 2000s there were a lot of customers that bought from the different divisions without realising they were all part of the same group. The idea behind Hexstone was to bring everything together and make it clear how the different divisions could work together. By keeping each division, the specific skills, knowledge, and products, from each company could be retained and customers still had their usual points of contact."
This structure was kept until 2018 when it was decided that the Galaxy and Unifix divisions would be consolidated into Owlett-Jaton, with STF and Icon divisions being consolidated in 2020. "It was not an easy decision to consolidate these operations, but it was the correct one for us," states Ian. "Firstly, from a commercial point of view running multiple sites, with different product ranges but the same business, just did not make practical sense anymore. Another key factor in the decision was simplifying things for customers. We already had customers questioning why they had multiple accounts with us and why things couldn't be simplified into one account, one invoice and one delivery. We therefore took the decision to consolidate the operations all into Owlett-Jaton and the response from the customers was very positive, as they appreciated being able to order all of the products they needed from one source."
Meeting the needs of today
Now in 2022, Owlett-Jaton is a complete wholesale solution to the builders and engineers' merchant sectors in the UK and Ireland – supplying an extensive and in-depth range of products that can be delivered to customers the next day. "Our ability to supply such a wide range of products really does make us a 'one stop shop' for customers," states Nick Horton, purchasing director at Owlett-Jaton. "Thanks to our close partnership with suppliers around the world, we can meet all of our customers' fastener needs."
Being able to supply products to customers has been particularly challenging over the last couple of years, with the impact of the Covid-19 pandemic and the logistical challenges around the world. "I am sure a lot of companies will have experienced difficulties finding products and getting them into their customers' warehouses. At Owlett-Jaton we have also faced this situation, but ever since I have worked with Owlett-Jaton there has always been some type of challenge – the key is how you find the solution," comments Nick. "For instance, when I first took control of the purchasing, back in 1992, it was a lot more difficult to get hold of companies, as there was no internet and no emails. Your only means of communication was telephone or fax. It was also a lot more difficult to visit the factories, as there wasn't the travel connections you have nowadays. However, we still managed to find reliable suppliers who could provide the products and services we required and that will always be our main focus – to source quality products that meet our customers' needs."
Unique brands
In addition to its in-depth range, Owlett-Jaton also has a selection of its own unique brands that add value to key markets. "Over the last ten years we have added brand names such as Unifix®, Vortex® and Thunderbolt™ to our portfolio," mentions Ian. "Alongside these brands we also work in partnership with other leading brands within the market, such as Blind Bolt, Holo-Krome and Lindapter to name just a few."
Owlett-Jaton has also looked to establish its own exclusive brands, such as Jaton Construction Products (JCP). "JCP has been in the fixings market for over twenty years and has developed a great reputation for its comprehensive range of high-quality products for a variety of construction applications, supported by a first-class technical service," highlights Ian. "We also launched Jaton Riveting Products (JRP) at the beginning of 2020, which offers over 1,200 lines of rivets and rivet nuts."
Ian adds: "The launch of the JRP range has exceeded all our expectations, especially when you consider it was introduced to the market at the very start of the Covid-19 outbreak. The range has made a great impact on the market and when combined with the services we can provide as Owlett-Jaton it offers customers a first-class option when it comes to rivets and rivet nuts."
Ongoing development
This commitment to continuously developing and meeting the needs of its customers is something Owlett-Jaton is looking to continue going forward, ensuring it can provide the products and services customers need. "Reacting to the changing needs of customers is integral to our operation," concludes Ian. "We are set-up to support and service customers in a consistent and most importantly sustainable way. We are very proud to be celebrating our 75th anniversary and we will continue to provide customers with the products and services they need – firmly establishing ourselves as the 'one stop shop' for fasteners in the UK and Ireland."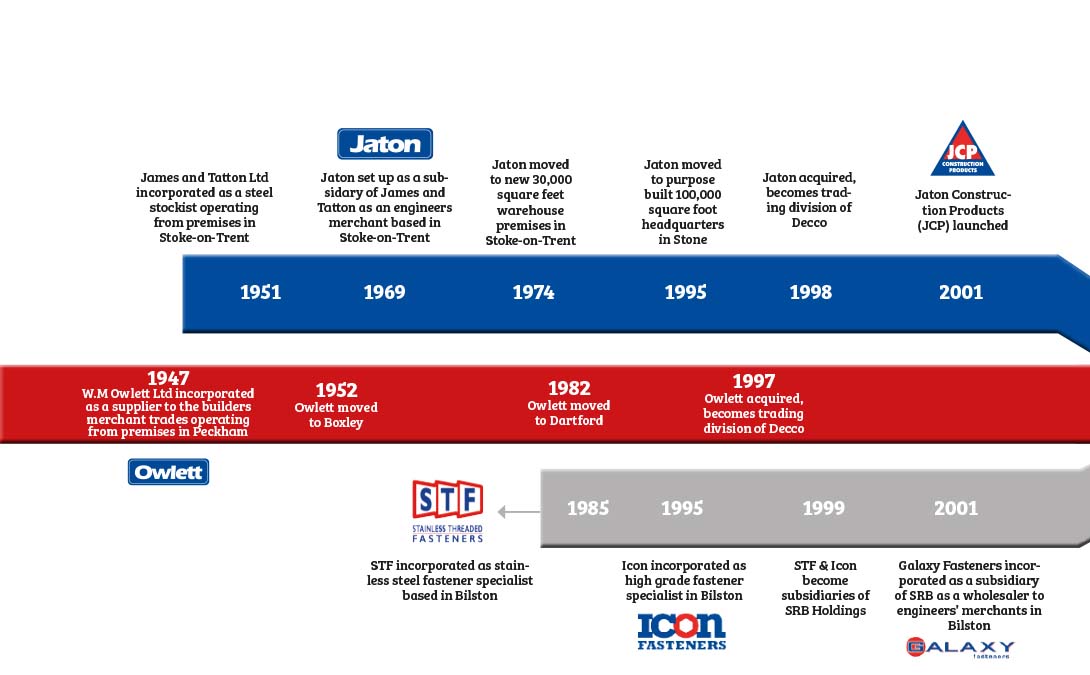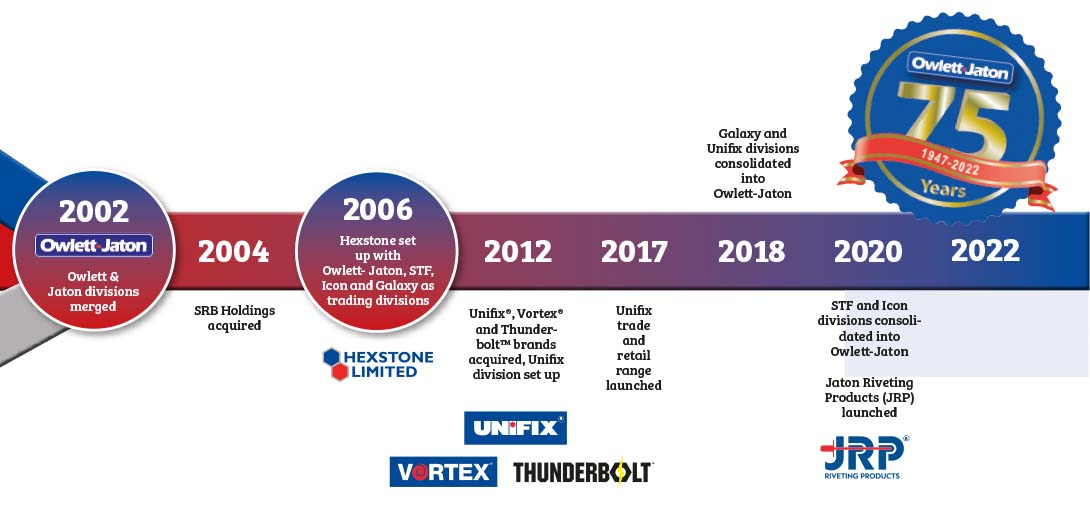 www.owlett-jaton.com