Machining of complex parts
28 September 2018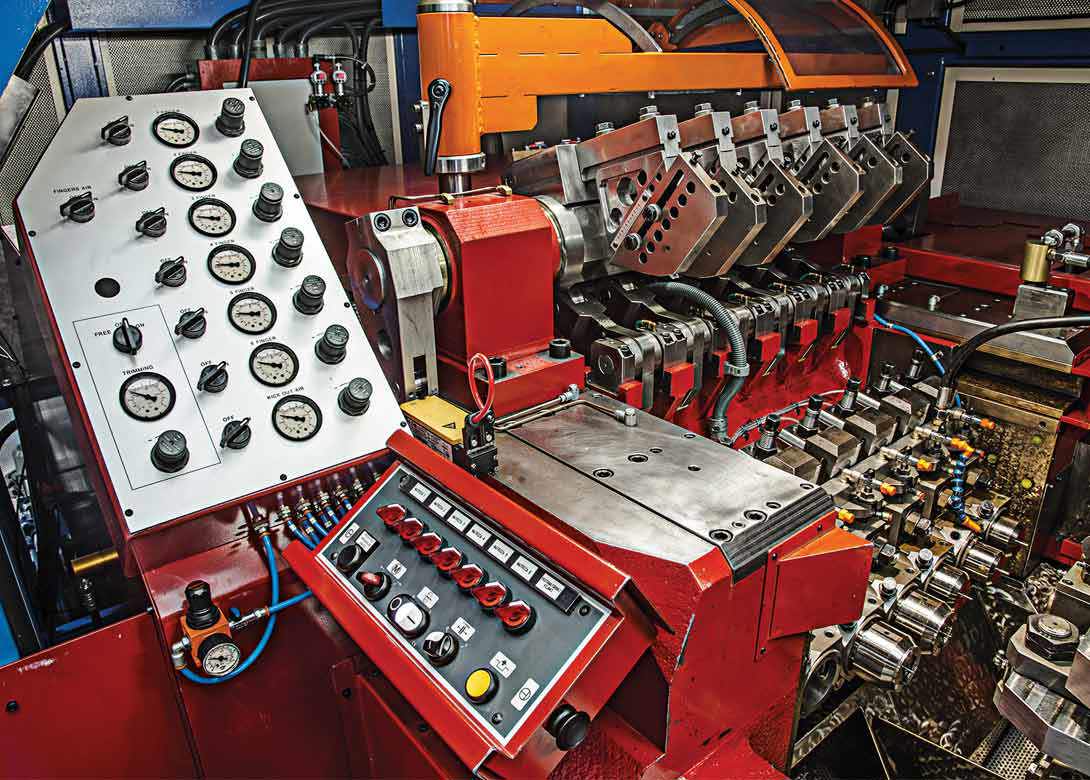 By following its founder's philosophy of providing highly productive, reliable, affordable and long-lasting equipment, Carlo Salvi has established itself as a manufacturer of high-quality, cost-effective and user-friendly cold and warm heading equipment – for both simple as well as complex parts.
Carlo Salvi was founded in 1939 by Mr Carlo Salvi, with the purpose of building mechanical descalers to process iron and stainless steel wire. Although these machines were successful, Mr Salvi began to develop and manufacture new and more complex machines. In the late 1940s, Carlo Salvi started the production of flat die thread rollers, which soon became well known on the market for high-quality. Shortly after, the company started the production of head slotter machines for the screw market.
In 1952, the first single die double blow header to produce screw blanks was built, which achieved an immediate success. The machine gathered end user's attention thanks to its innovative features, performances and high productivity. The first market to appreciate the technical qualities of the machine was Germany. Indeed, the German market was for a long time the most important for Carlo Salvi, eventually taken over by the US market in the 1970s.
In the early 1970s Carlo Salvi introduced a new line of headers for semi tubular and fully tubular rivets, which the company says completely changed the market. These machines allowed users to produce up to 600 rivets per minute, with very low production costs. In the 1980s new headers were added – two die four blow and progressive.
Since the 1990s Carlo Salvi has introduced ranges of progressive headers with 5 and 6 dies for the production of parts with particularly complex shapes, including tubular rivets, with the machines capable of handling wire from 1.2mm up to 24mm in diameter.
Currently, Carlo Salvi is developing its own technology, not only for the cold heading but also the hot forming, using induction processes capable to heat the wire up to 900°C. This technology opens new horizons to Carlo Salvi for the heading of materials that cannot be formed by cold process, such as titanium and other special alloys – especially those used in the aerospace and automotive industries.
As of 1st April 2016, Carlo Salvi SpA joined forces with Hatebur Umformmaschinen AG. This acquisition represented great potential and has enabled each company to be a strong and powerful supplier of innovative and advanced cold, warm and hot forming solutions and services to the market.
"With thousands of machines sold all over the world, Carlo Salvi has become a leading supplier of machines for the fasteners industry," states the company. "Our technicians are always developing innovative solutions in response to the growing needs of the market. Every year we invest in studying new and innovative application to support the requirements of even the most demanding customers."
Carlo Salvi's manufacturing programme

1 die 2 blow headers: This kind of header allows the operator to head up to six diameters of material and offers the possibility to produce components with quite complex shapes. Their main features are the high-speed and precision to head screws, semi tubular rivets with a shouldered shank and tubular rivets – granting a remarkable tool life and an easy maintenance.
2 die 4 blow headers: These headers allow users to obtain components with complex shapes, which cannot easily be produced on multistation machines – where it is necessary to transfer the part several times due to the shank being very short or the head too big. The components that can be produced are screws, shaped semi tubular rivets and tubular rivets with large head.
Progressive headers: The progressive headers allow the operator to produce high precision special parts with very complex shapes, which are used in various fields of the market – particularly in the automotive and in the aerospace industries.