Evolution not revolution
02 December 2019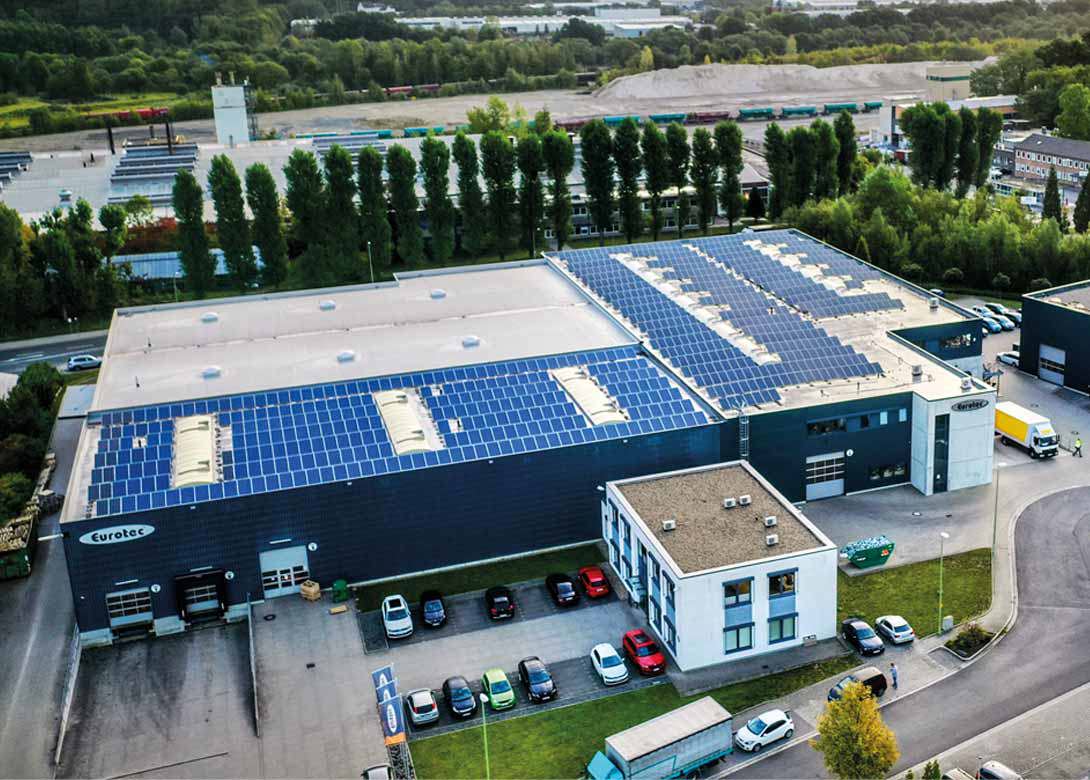 Over the last four years Eurotec GmbH has invested significantly in both its logistics and production capability – following the same growth strategy that has seen it develop from a two person start-up in 1999 to a business with over 150 employees.
Markus Rensburg, managing director at Eurotec, explains: "A lot has happened over the last four years, we've increased our storage facilities and built a new production hall, as well as adding new screw production and injection moulding machines. In addition, our turnover and number of employees has increased by 30%."
Originally, Eurotec's production was situated next to its main warehouse, but after investing in its production capabilities, the company started to run out of space. "We had three production machines for our long screw range, which we can produce up to 3m in length, as well as injection moulding machines that are predominately used for our decking pedestals," clarifies Markus. "Both types of machine take up a lot of floor space, which meant if we wanted to add further machinery, we needed to move our production location."
Eurotec therefore built a new production hall 500m away from its main head office. "We acquired 14,000m2 of land and started construction in August 2017. By February 2018 we opened the building and started relocating the machines," points out Markus. "We moved the machines piece by piece, and we kept two machines running the whole time – so we never had to stop production."
Joern Rueschenschmidt, export manager at Eurotec, adds: "Seeing the machines hanging off a crane was not the most fun, because whilst they are heavy and each part is very long, they are also sensitive like a toothpick. We needed to be very careful to guarantee that when they were in place, they would still provide reliable production and a high-quality product."
Once the machines were moved to the new site, they were brought up to full production speed and Eurotec was able to add further machines to increase the production capacity. "Producing long screws up to 3m is not easy and requires a lot of knowledge and experience," states Markus. "For instance, there are a lot of challenges regarding the straightness of a long screw, as well as with the hardening. Sometimes long screws will look ok, but if the hardness is not correct it can cause a lot of problems. That is why during the heat treatment process, we insist that all of our long screws are put into a vertical rack – so they hang independently and are therefore evenly heat treated. Of course, this is more time sensitive than simply tipping a container onto a belt, but it is a critical factor in ensuring the correct hardness."
Joern continues: "We are currently seeing a trend within the market for larger and taller wooden buildings and therefore the quality of long screws is becoming more and more important. We are very proud of our manufacturing capability and we guarantee we will provide customers with high-quality products, supported by a first-class service."
Eurotec is not only a screw supplier, the company also looks to develop whole product systems. "A good example of this is regarding decking, where we originally started by supplying just the decking screw," highlights Markus. "Now we supply the whole system behind the screw and can offer the complete range up to the substructure – with a large majority of these parts being made from polyamides."
It was this commitment to providing the complete system that led to Eurotec adding injection moulding to its manufacturing capabilities. "Initially we partnered with a sub-contractor, who we worked alongside to develop the tooling for the injection moulding of decking pedestals. We then purchased this tooling and the sub-contractor became our service partner," explains Joern. "However, it got to a point where the sub-contractor was too busy to supply us, so we bought our own injection moulding machine. Having it in-house made us more flexible and provided us with reliable production. We could see the benefits, so we continued to add more machines. We now have four and we have plans to add more in the future."
The injection moulding machines can run 24/7 and include automation to make them run as quickly and effectively as possible. "Adding the injection moulding machines has been a big advantage, as it enabled us to produce the decking pedestals ourselves," mentions Markus. "In the decking sector there are lots of companies that provide either a decking screw or the pedestal. However, it is only Eurotec that can provide both as one system. We are looking to develop this same strategy within other areas of the market – providing all the products and high flexibility – all from one source."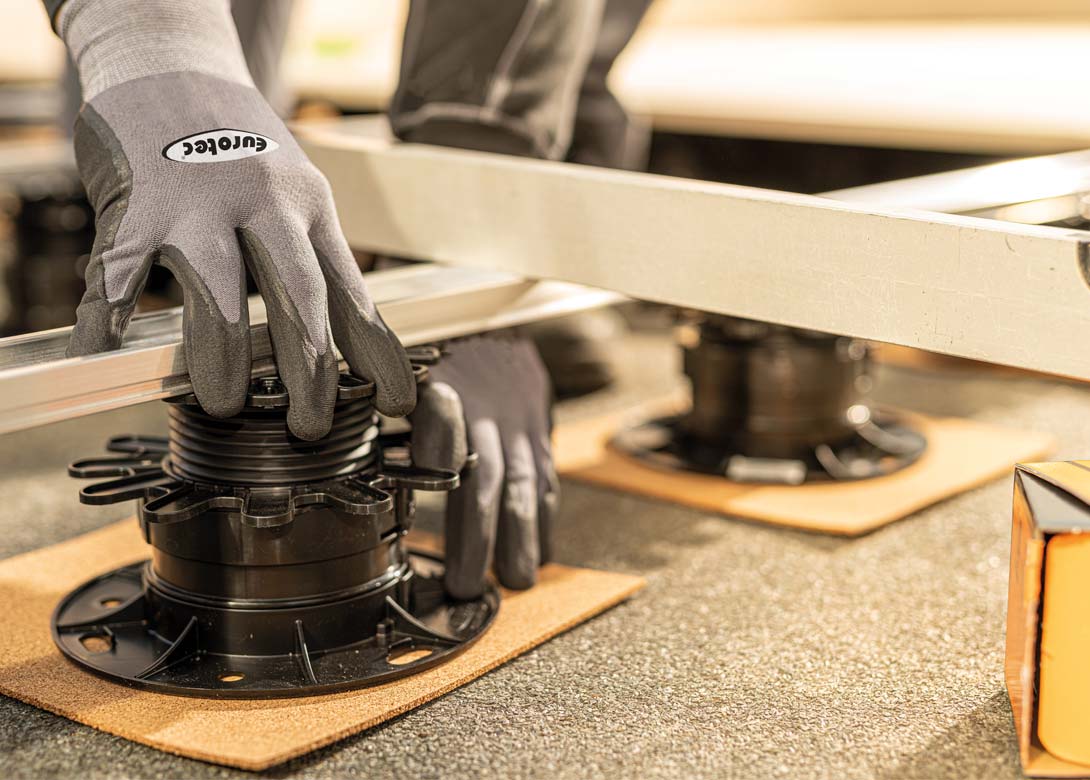 Logistics at the core
Similar to its production, Eurotec's warehouse was also entirely full four years ago, with no room for new products. "If your stock is full there is no material flow, which means even when goods are arriving, you cannot book them in as there is no space," explains Markus. "Whilst developing our production capability has been an important target for us, our main function is still the logistics side of the business, which is why we decided to build the next two sections of our warehouse and increase our stock volume from 17,000 pallet spaces up to 25,000 spaces."
"If you were to look aerially at the old warehouse it used to be the shape of a capital letter 'L', but after the expansion it is now a square," points out Joern. "We are a mid-sized company that is renowned for its flexibility, but if you don't have space, you cannot move any goods. The new warehouse has given us this space and also allowed us to improve the logistics internally and ensure the intralogistics are handled better."
Full Service Provider
Eurotec started as a distributor, before adding its manufacturing capabilities. Now the company sees itself as a Full Service Provider. "We can handle a project from the fastening material side up to the consulting on-site if needed, which has enabled the business to grow and allowed us to really integrate with our clients," states Markus. "The customers really connect with us and know we can support them at every level of the project."
This includes starting from the design, where Eurotec has a dedicated technical team in-house that can work on CAD drawings and realise clients wishes. In addition, there are software solutions such as the deck estimation software or its ECS (Eurotec Calculation Software) to estimate even critical connections for timber engineering projects.
"The ECS software is kept up to date with the newest products and regulations and covers concrete, timber connections, roofs and cladding, as well as our latest range of fasteners," mentions Markus. "The user just needs to know the load that is applied to the application. Our software will then show them which fasteners will work and what will be the value taken in loads. They can then optimise their complete construction and visualise it via a 3D image."
"There are so many obstacles when ordering from Asia, and customers are sometimes not aware of the pitfalls. They seem to focus only on the price, but to get to the required quality and a reliable supply is not easy," adds Joern. "We can combine producing products in Germany with our knowledge and experience of buying in Asia to provide a complete range. We even have an Asian subsidiary that monitors the quality processes at our suppliers, as well as takes care of the sales within Asia. It is also constantly in contact with our partners – asking for samples and discussing drawings. Without this strong connection to the market, and our partners, we wouldn't source from Asia. Flying out once a year is not the answer."
In addition to its subsidiary in China, Eurotec also looks to include local people within key markets – such as France, the UK and Poland, which enables it to really connect with the market and understand what is happening.
"Thanks to our huge stock, good availability of goods, manufacturing capabilities, and sophisticated logistics and shipping partners, we manage to get our goods to any site in the world in the required time frame," states Markus. "Even our distribution clients are coming to us and asking us for help with their customers. Our service goes hand in hand regardless of the customer and we can only do this thanks to the knowledge and experience within the business."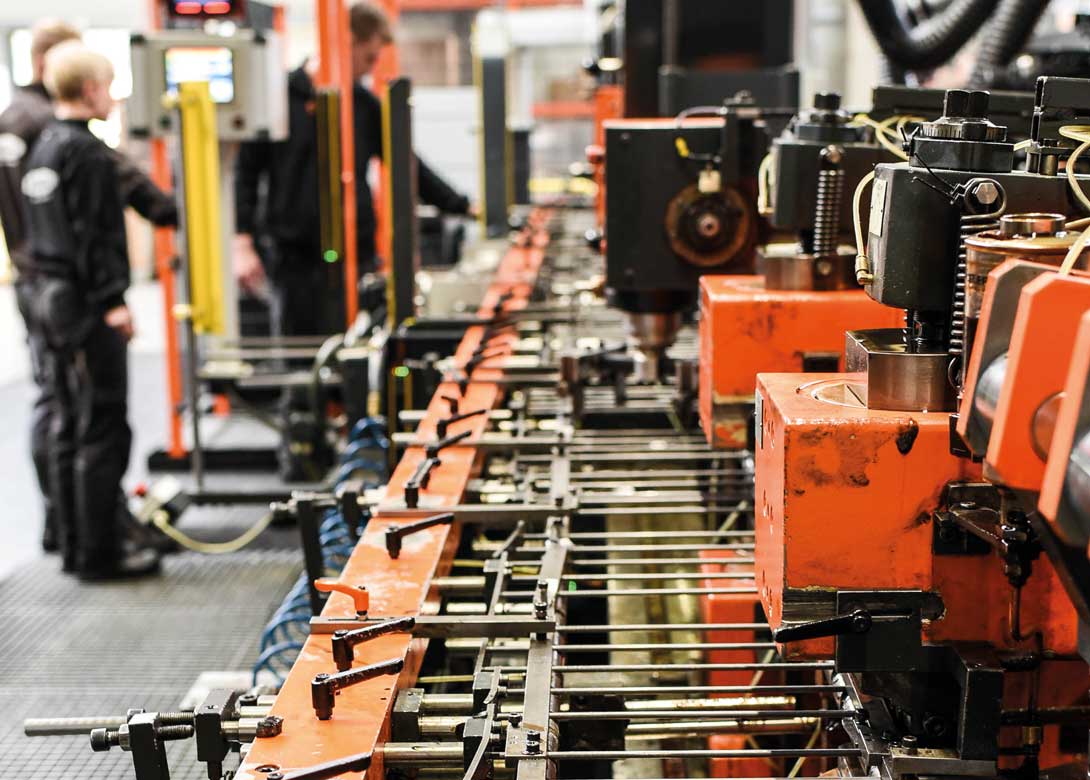 Connecting with customers
Another topic Eurotec believes will provide further opportunities in the future is digitalisation. "The human resource at a business is critical, but we are no longer just a human workforce. We need digitalisation – such as our ERP system, eCommerce and even social media – to help us further meet customers' needs," mentions Joern.
Internally Eurotec is currently uplifting all its processes on a central ERP system, which works across all departments without any third-party interfaces. "This allows us to realise for example web shops or to implement full product information management, so we can integrate each employee, and also customers, deeper in the process," explains Markus.
An example of Eurotec's commitment to digitalisation is its web shop, which can be used by its customers as an embedded web shop if necessary. "This means the client can integrate our shop – with current stock levels and individual prices – into their existing online shop payment methods," adds Joern. "Once one of their customers' makes an order on their web shop, it will immediately appear in our ERP order system and get processed like any direct order. This helps speed up the entire process and also guarantees our customers and our customers' customer are getting the products and service they require."
Whilst Eurotec believes having automation and digitalisation is mandatory as a business within Germany, it is also clear that the human resource is still indispensable. "Whilst production can be handled mainly with machines, tasks like estimation and layout of projects, quality control, product development, application, and preparation of certifications and approvals, as well as customer care, will continue to be handled by our employees as they have the in-depth knowledge and experience of the market, which you cannot get through digitalisation."
Evolution not revolution
Eurotec underlines that the key to its success is a mixture of supporting its customers; the ability to carry out approvals in-house; its technical team of engineers; as well as developing innovative products. "As a business if you don't introduce new products then you are going backwards, which is why we are always looking to develop new solutions," comments Joern. "We believe innovation doesn't have to be a revolution it can be an evolution. It can involve the production processes or new systems – even the simplest ideas can have a big impact on a business and within the market."
A prime example of Eurotec's commitment to continuous innovation is its product range for cross laminated timber (CLT) buildings. "The CLT sector is projected to have a growth of €3 billion in the coming years, as the construction sector is starting to focus more on environmentally friendly, sustainable, lightweight buildings," states Markus. "These types of projects have changed from using normal beams to modular systems with cross laminated timber, which means they don't use just screws. There are so many forces working on the fasteners, you cannot go with the traditional products. Due to this, we have created complete family items, where we have carried out the relevant tests and approvals, so we can now offer modular CLT parts for multistorey houses."
Markus continues: "We never want to be a company that offers a standard range of fasteners, we want to work on problems and solve them with new solutions. That is why we look to focus on different fields of business or different areas of construction – to see what trends could lead to new opportunities. At Eurotec we set the bar really high, as we want to keep up with our customers' high expectations. We have achieved a lot when you consider we are only 20 years old. We have developed from 'two people in a garage' to a 30,000m2 business – all whilst ensuring our internal processes enable us to supply high-quality solutions to meet customers' needs, and still keep the flexibility of the 'two people in a garage'."