Automotive lightweighting, multi-materials and disruptive technologies
19 September 2016
"Lightweighting presented, and continues to present, a huge challenge for the automotive industry," assessed Thomas Ehrhardt in last issue's Face2Face interview. This follow up further explores the implications for STANLEY Engineered Fastening, for which he is the president of its Global Automotive segment, before teasing out some speculation on future disruptive technology changes.
Evolution in vehicle construction hardly a new phenomenon. One hundred years ago wood was rapidly displaced by low carbon steel until, by the 1980s, it represented at least 80% of the vehicle. Twenty years on and high strength steel became a significant constituent. On some vehicle marques, aluminium was adopted as the primary body material. The use of polymers expanded and previously exotic materials, such as magnesium, began to play a role on mainstream vehicles.
The mix of body materials will continue to vary depending on the vehicle class. In mainstream, high volume production cars steel will continue to represent a high proportion of body content – albeit with advanced high strength steels substituting low carbon steels. Where they can be cost-effectively integrated to the production process, aluminium and composite materials will contribute to weight reduction. Depending on the preference of individual marques, steel is playing a lesser role in premium cars, with aluminium and/or composite growing rapidly in significance. Only, though, in more specialist sports, luxury or electric vehicles does steel play a minority role, with bodies dominantly composed of aluminium and/or composite materials.
For the vehicle maker, the transition from low carbon to advanced high strength steels is broadly a matter of process adaptation. Aluminium has its own challenges but could still be viewed as evolutionary in design and process terms. Composite materials, however, represent a technology breakthrough, demanding significant manufacturing process change, with different production rates and costs as well as implications for aftermarket reparability and recycling. These differences explain the correlation between vehicle class and the rate and level of adoption of advanced materials.
Many of the challenges of multi-material bodies relate to the joining process. At the nexus of differing materials, the risk of galvanic corrosion must be effectively managed. Composites often possess different physical properties depending on direction of stress. Thermal expansion characteristics are distinct from those of metals. Composites also have substantially lower tolerance to surface pressure and there risks of delamination or weakness through severed fibres.
It is all about, says Thomas Ehrhardt, "deploying the right material in the right place." The selection of joining technologies used to be straightforward. "Traditionally, the industry comes from steel car bodies and spot welding. Everybody was happy with a robust, cheap process – except the cars were too heavy. The trend towards full aluminium car bodies raised another set of challenges for joining. Now it is the hybrid, mixed material construction of car bodies."
"We support all the major automotive OEMs in reducing weight, no matter their philosophy. We are strongly involved in the most innovative users of carbon fibre: Look at the new BMW 7 series and you will find some STANLEY Engineered Fastening product like the Vgrip ZRE joining part of its body structures."
"When it comes to the standard process in steel body cars, a stud cannot be welded onto a carbon fibre structure. So, in conjunction with an external laboratory, we developed a stud with a pre-applied adhesive."
"Applied to a carbon fibre monocoque, it enables the car maker to retain the benefit of components used on its steel body vehicles. Complexity, one of the carmaker's biggest enemies, is not increased. It provides a similar, robust process, which does not require the application of adhesive in the factory."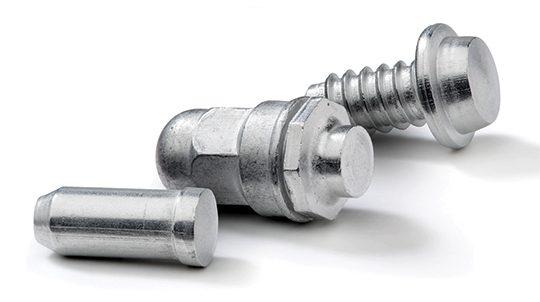 "Other market segments, building medium or lower budget volume cars, also need to reduce weight. Many customers are really successful working only with steel. They improve the body design but also adopt a mixture of high strength steel and very thin mild steel. That presents specific joining challenges, because a spot weld or a traditional drawn arc stud may not be appropriate."
"For these thin materials, we developed a new design for the stud, which together with our latest generation stud welding system, controls the energy that goes into the sheet metal versus the stud. It has just recently been launched but is already in use by a significant number of our customers."
"We also recently launched a new stud welding product for the emerging markets so that they can benefit from automating stud welding rather than manual assembly. Labour costs are rising everywhere so improved automation is increasingly important. It also delivers improved accuracy with the more critical materials now being used to build vehicles."
"Every potential material combination is out there. Traditional steel car bodies in the small car sector may well be the right answer well into the future. Aluminium door skins are relatively easy compared with a full aluminium car body: Similarly thermoplastics in the lift gate. Magnesium components are used in the crossbeam and the mixture of higher strength and thinner sheet steels is increasingly prevalent."
"The major differentiator for STANLEY Engineered Fastening is that we are not obliged to sell a single solution because it is the only thing we do. If the best answer is a self-piercing rivet, that's fine. If stud welding works best, we're happy. If not, we can talk about stud gluing or a pure plastic solution. At the end of the day, the best solution for that particular customer wins. We have the breadth of product portfolio of a distributor but we have the depth of manufacturing expertise to develop a unique solution."
"There is an ideal process with each material, but the car maker cannot afford a proliferation of processes in the body shop. Investment, training of people, spare parts, technical availability, the number of partners involved all make this very difficult."
"We see a trend towards using more universal technology – stud welding together with stud gluing is definitely one. Self-piercing riveting (SPR) for us is one of the biggest potentials the automotive industry has. With recent developments, we can now join carbon fibre using SPR – even carbon fibre to carbon fibre joints – which was not possible before. We can solve the challenges with high strength steels, even with self-piercing riveting. Even with thin sheet mild steel SPR has its position because spot welding has some limitations."
"These developments mean the automotive company can have a universal technology, one investment, that is safe for the future. Typically that investment is now for two, not just one, generation of car. Whatever is put in place the carmaker needs to know, as the technology road map further develops, that investment is safe. Using the same C-frame we provide system flexibility i.e. with different dies and die changers. That capability has been one of our major growth drivers in recent years."
Have lightweighting and multimaterial challenges changed the automotive perspective of fastening technologies?
"As a fastener company we'd like to believe the joining process is the centre of attention for our customers. However, the automotive industry is still wasting millions, perhaps billions, of euros by picking the wrong fastener solution because, in reality, it is not at the centre of their attention."
"That said, is fastening more visibly important now – definitely yes. We have seen a closer relationship. We are an integral partner in the simultaneous engineering phase of our customers, working on both the fastener and the system. There is a lot of attention now on ensuring the right fastening technology is in place. But there is still more potential."
What, then, does STANLEY Engineered Fastening see as the disruptive technology changes in the future?
"Lightweighting and especially the mixed materials trends will be there. Looking beyond the current horizon we are investing in an international team, based in Germany, dedicated to working on the next generation of joining technology. We aim to be ready with the next breakthrough technology. Maybe that will disrupt our competitors' technologies; maybe it will disrupt our own. That is OK. In our highly competitive industry the best technology will win and we are genuinely committed to delivering the best technology to our customer. That means solving the customer's issue today and with the materials they are going to use in the future."
"In our plastics portfolio we achieved the same performance with a new generation of product at half the price of its predecessor. So we disrupted ourselves but we truly believed it was the better solution for our customer. Going forward we will do the same. We want our customers to have complete confidence in STANLEY Engineered Fastening so it is not about a short-term sales cycle; it is about a long-term, strategic relationship – and how we invest in."
Aside from lightweighting, there are other trends that STANLEY Engineered Fastening believes will prove influential in vehicle joining technologies.
"The two most significant trends we see right now relate to the powertrain and connectivity. The balance between traditional internal combustion, hybrid and electric vehicles is very important although it will not change the imperative to achieve lighter weight vehicle bodies – in fact increased use of batteries will increase that emphasis."
"In car communications, car-to-car communications, the general acceleration in automotive electronics will continue to have a significant effect on the body and interior structure. Our plastics factory has seen significant growth as a result and we have already made decisions to focus more on the implications of enhanced vehicle electronics."
"Drive by wire, brake by wire – these too have a significant influence on body design. Look further in the future to perfect car-to-car communication and the question becomes whether vehicle bodies will still need to provide the current level of crash protection."
"This is why we carry out trend scouting, not just in the cars themselves but the wider factors influencing them. Car usage versus car ownership is another potential significant trend. It will influence how cars are designed and sold, and determine which features people are prepared to pay for."
"It may seem a bit strange as a fastener manufacturer to invest in considering these trends but, while it is too early to tell how, they will definitely affect our business."
Acknowledgement
STANLEY Engineered Fastening (SEF) is a division of STANLEY Black & Decker that has been revolutionising complete engineered fastening solutions for a wide variety of industries, including the global automotive, electronics and industrial markets.