Apex: Still striving for new heights
16 August 2016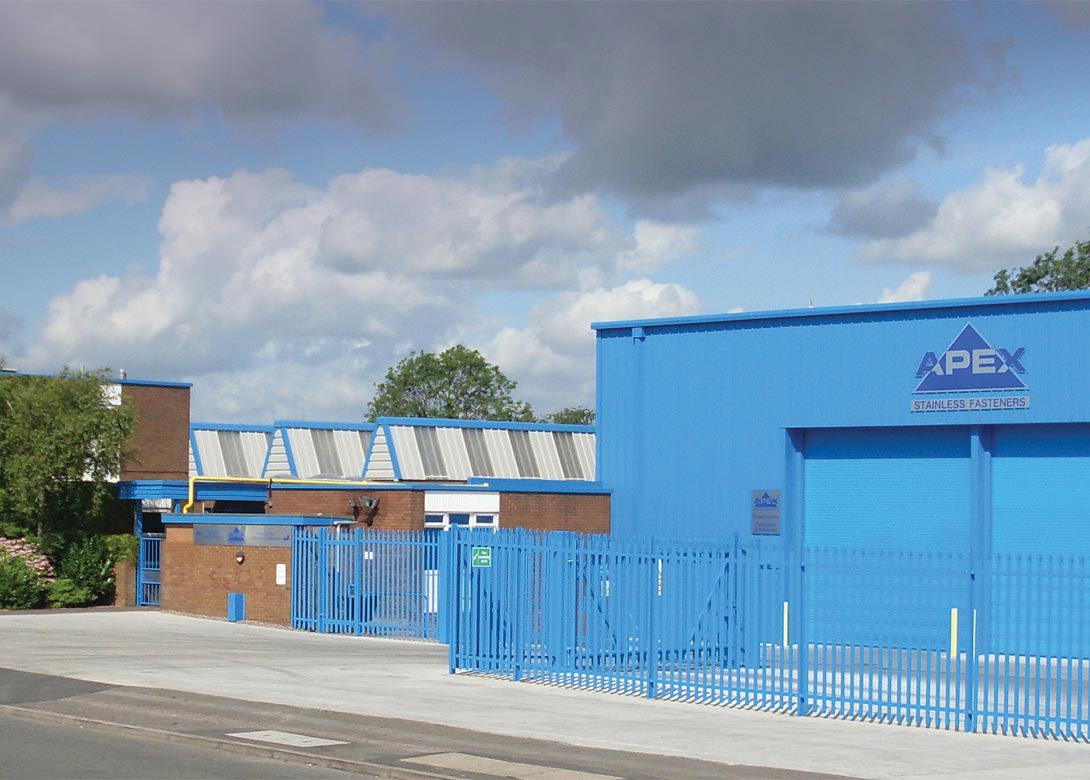 Marking twenty-five years from its foundation was always going to make 2016 a significant year for Apex Stainless Fasteners Ltd. New ownership, a major expansion in its inventory capacity, the prospect of a record year affirming its UK market leadership, and new sales horizons to explore, are all making it very special indeed. Phil Matten, executive editor, talked to founder and now firmly back at the helm Chief Executive Paul Lower.
Apex Stainless Fasteners started life in July 1991 as a small sales office with less than 500m2 of stock space in Rugby, Warwickshire – not very far from both its current headquarters and its newest warehouse. That addition brought a further 2,500 pallet spaces of inventory growth potential and took the company's total warehouse space close to 12,000m2. Apex operates from three trading operations: Rugby is the head office, now the central warehouse and main location for goods to be received. It also services distributor customers across the centre of the UK, into London and the eastern counties. Bilston also carries substantial inventory; processes much of Apex' export business; and provides an intensive service, including a customer collection point, for distributors in the UK's industrially important West Midlands region, as well as Wales and the South West. Leeds, which also holds inventory, concentrates on the M62 corridor and north of England. Apex also has a sales office to the west of London and a manufacturing plant in Leicester.
Over its twenty-five years Apex Stainless has grown from strength to strength to become the UK's largest wholesaler of stainless steel fasteners and one of the leading specialist stainless steel fastener sources in Europe.
The business was founded on specialist knowledge – Paul Lower previously worked for the then market leader in stainless steel fasteners so, once released from his commitments following its acquisition, it was little surprise he started his own business in a sector he knew so thoroughly. Apex' consistency and strength of growth to its current market position is firmly rooted in knowledge – penetrative knowledge of the product, its raw materials and its global supply base. Combine that knowledge with an incisively focused entrepreneurship and the potency speaks for itself. Many companies claim to be close to their markets, few demonstrate Apex's level of immersion and capability to read a complex and dynamic specialist product market so effectively.
Apex has benefited from 25 years of stable family management: Paul's sons, Edward and Matthew, now take responsibility for the management of specific locations. The company also, importantly says Paul Lower, has a very high employee retention level – not just in its management roles but also through to operators in the warehouse. "Many of our people have been with us from apprenticeship through to key roles in the business." That means knowledge is gained and retained by the most effective method – experience. It also ensures real continuity in the relationships with both suppliers and customers, critical in a day-to-day repeat business where shortcomings are impossible to hide for long.
At the end of November 2015, Apex Stainless became a member of the Bufab Group of Companies – a deal that, not surprisingly, contracts Paul Lower and his sons into the business for a sensible period. Two Bufab directors have joined the board but, otherwise says Paul, it is very much business as usual for Apex, with very little changing in how the company operates its day-to-day functions. "We really could not have done better in ownership terms," says Paul Lower. "Bufab is very clear that as long as we are doing well, we will be allowed to manage the business our way." Of course, few corporations acquire a business without expecting substantial growth potential and it is very evident Paul Lower is intent on ensuring Apex delivers well above expectations.
2016 started a little soft compared with 2015, Paul assesses, but month after month the sales impetus strengthened to deliver a very positive half-year. Lower nickel prices in recent years have meant sales tonnage has needed to grow strongly to deliver financial growth, which it has. On the other hand softening nickel prices over the last few months have presented strong purchasing opportunities for a business as well resourced and cash positive as Apex. Current purchasing activity is particularly high. "Now we have the extra space, we have the infrastructure to grow again," says Paul, "and with a strong impetus on the sales side we need to replenish the stock we've sold as well as building our inventories for future growth".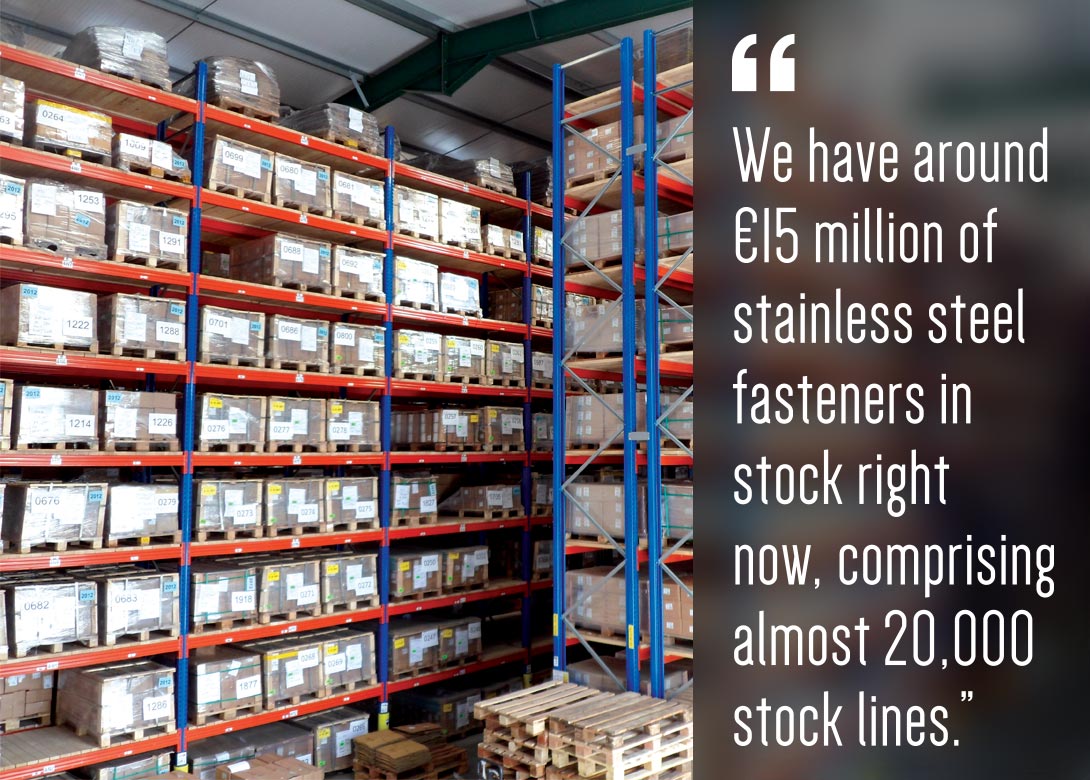 For more than ten years the focus of the Apex business has been and remains very clearly on supplying the distribution trade. "We have around €15 million of stainless steel fasteners in stock right now, comprising almost 20,000 stock lines," explains Paul. "Together with an IT system that means everyone in sales can see exactly what stock we have and where, with a consistently competitive pricing position, that makes us highly responsive to distributor's day-to-day requirements."
"UK distributors have come to trust us, to the extent that many are now confident to let us despatch priority orders direct to their customers." That strength of relationship now also extends to Apex holding dedicated and sometimes specially packaged inventory at both Rugby and Bilston to meet scheduled orders or call-offs from some customers.
Each of Apex Stainless' warehouse locations, as well as its manufacturing facility in Leicester, operates to ISO 9001 quality management systems. "High-quality, reliability, good service and competitive pricing remain the key components in maintaining excellent relationships with our distribution customers," says Paul.
Apex is also one of the few stainless steel fastener wholesalers with its own, inhouse, manufacturing capacity. In addition to manufacturing the full range of Aerotight® self-locking nuts for stock and to meet customer schedules, the Leicester plant also produces precision Allthread studding and a growing range of special, custom-made turned parts. The Aerotight brand has experienced growing export business, a combination, Paul Lower believes, of dissatisfaction with lower quality equivalent products and recognition of the quality and reliability of the genuine article.
Last year Apex invested in new CNC machinery for the plant but current success means Paul is keen to draw on Bufab's own manufacturing knowledge to help develop a strategy that can better utilise the existing capacity and perhaps invest in further machinery to support growth in a profitable and growing segment of the Group.
In all, Apex Stainless supplies more than seventy million stainless steel fasteners each month, primarily in metric thread form and dimensions but also to unified and imperial standards. That means fasteners from M1 to M36 diameter or equivalent as standard, plus nuts, threaded bar and washers ranges up to M52 diameter.
The company has just published a new catalogue and its website includes downloads and other relevant information. Apex is now also developing an online Euro priced trade store, primarily to support a real drive to further build business in export markets. To a similar end, Apex will participate in the UK Torque-Expo at Silverstone in October and will have a strong presence at Fastener Fair Stuttgart in March 2017.
"The sheer volume and range of items we stock," says Paul Lower, "ensures most orders can be fulfilled on an ex-stock basis but the business is increasingly working to support customers with call off or scheduled future deliveries to ensure they have the supply chain continuity essential to support the growing demands of their OEM customers." All orders from within the UK received by 16:30 are despatched on the same day for next day delivery. When essential, Apex will always try to respond to later timed orders on the same basis.
As well as placing a strong emphasis on developing its export business during 2016, Apex will also continue to enhance its range offer. "We are introducing in greater depth A4-80 Grade large diameter hexagons from M27 upwards," explains Paul. "A range of European manufactured A4 throughbolts, approved to ETA Option 1, is also now available and we are stocking items for marine applications in greater depth – including turnbuckles, shackles and wire rope."
The Apex strategy will be to continue maintaining total support for the distribution industry, not least through further development of its stock profile and investment in both breadth and depth of inventory to ensure a high-level of first time availability. "Given the significant reduction in European manufacturing capacity for stainless steel fasteners and the potential expiry of EU anti-dumping measures, and GSP duty preference changes on India, early in 2017," says Paul Lower. "It is even more important that major specialist stainless steel wholesalers are able to facilitate continuity of competitive supply, service and approved high-quality. Apex are currently in the process of meeting all these criteria, ensuring that competitively price stock levels will be adequate and readily available, particularly as costs of raw materials are already beginning to move upwards."
"It remains our strong historic business relationship with existing customers and our ongoing support to them, which will ensure mutual growth in the coming twelve months," he concludes.