Tools no toolbox should be without
02 May 2023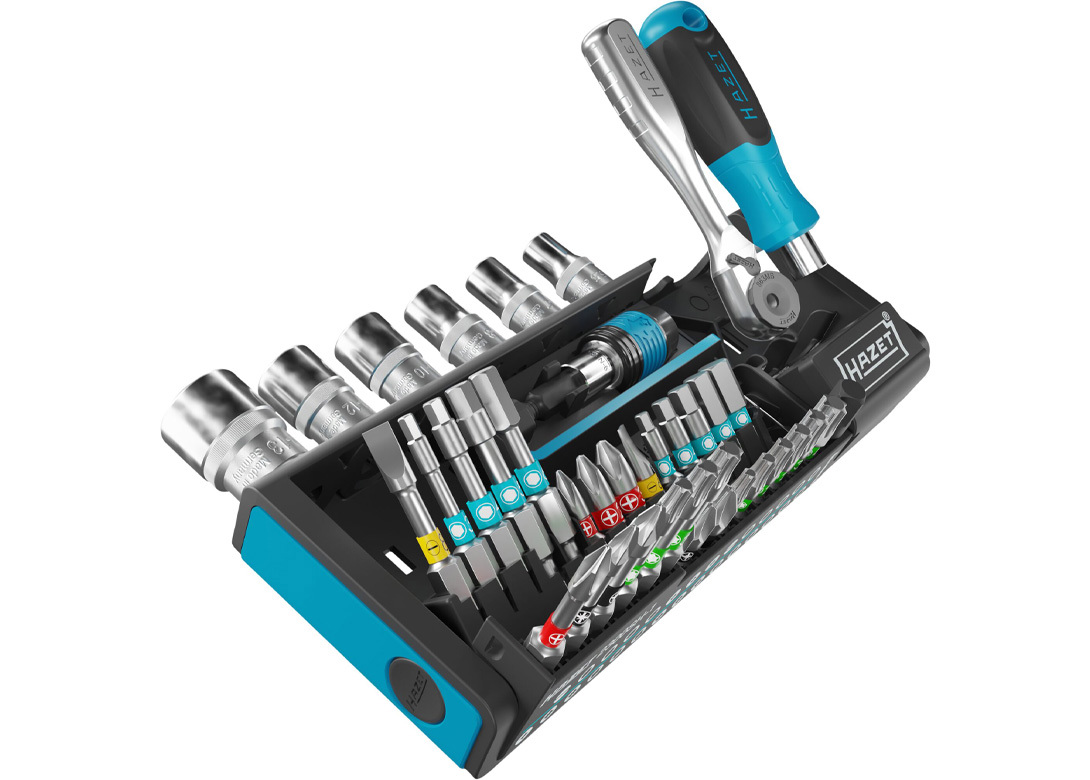 A newly developed SmartHolder socket set, 2300SH-1, has been introduced by German-based tool manufacturer HAZET – offering a 39-piece tool holder made up of a newly designed, ¼ inch, mini-all-steel, fine-tooth, reversible ratchet, a magnetic bit holder, two adapters, six ¼ inch sockets and 29 bits with the most common drives. The company says these are tools that no toolbox, workshop or household should be without.
As part of the set, the ¼ inch solid steel ratchet has been completely redesigned by HAZET and is only 90mm long, with 60 teeth that allow an operating angle of 6° to be achieved – making it easy to use even in confined spaces.
The company describes the SmartHolder as stylish, practical, extremely handy, and compact, and it is equipped with an optimum number of tools in a minimal amount of space. It fits in almost any pocket and is ideally suited for all smaller and quick screwdriving jobs – those moments when a screw needs tightening. 
Developed and produced under the 'Made in Germany' brand, the SmartHolder is durable, with a robust twist lock that ensures a tight fit and immediate access to the sockets. When locked, the sockets are securely fixed, without the possibility of falling out. Pressing the SmartHolder's push-button on the side activates the bit magazine's set-up function. 
The two bit strips separate each other so that all bits can be accessed effortlessly, at any time. The kit also comes with an additional tool garage where the reversible ratchet and the ¼ inch bit holder are securely fixed. By simply pulling on one of the two tools, they stand up and can be easily removed. 
The set includes a ¼ inch bit adapter, as well as an adapter with a ¼ inch outside square, as the output for the sockets, and a ¼ inch hexagonal drive for ratchet operation. The ¼ inch bit adapter is also suitable for clamping the included bits in an electric drill, and all of those bits are also suitable for use with an impact drill.
In all, the holder contains 18 short bits (25mm) and 11 long bits (50mm), with any desired screw profile found quickly thanks to HAZET's practical colour-coding system.