Stronger bonds with water-based adhesives
13 January 2023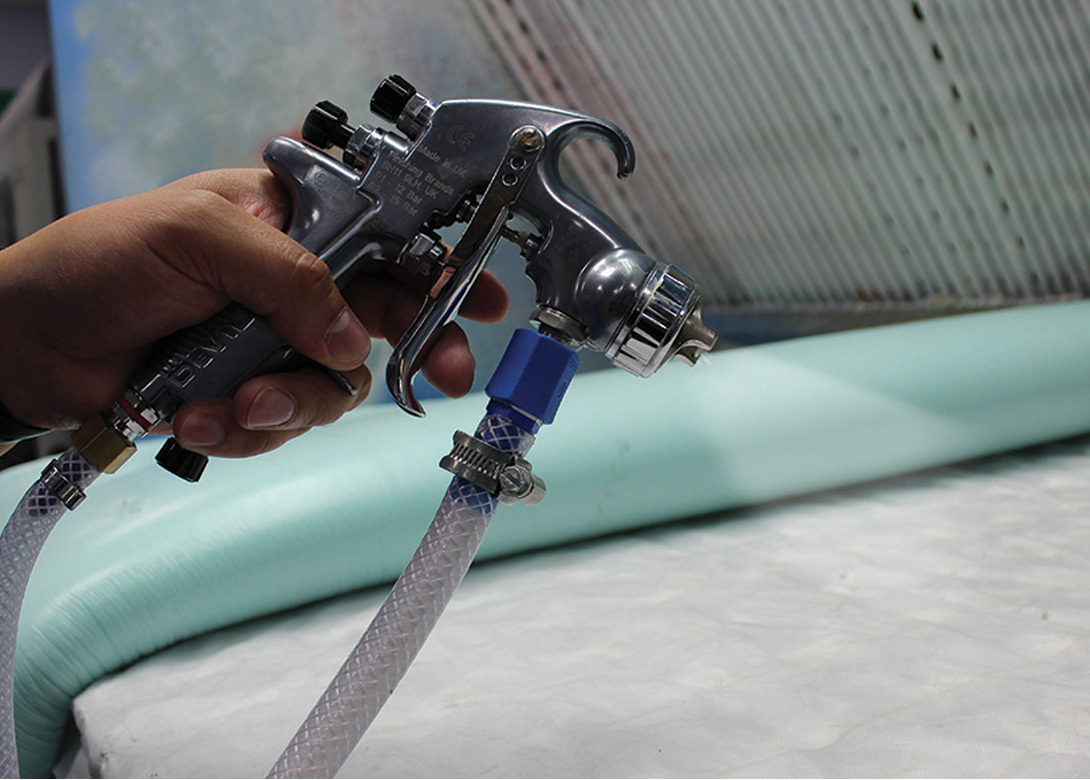 ProAqua from Chemique Adhesives is a range of water-based sprayable adhesives, which is being used across a number of industries. The range consists of one and two component water-based adhesives, whereby the active component of the adhesive uses water as the carrier. 
ProAqua adhesives share many common advantages. They are solvent-free, so do not release any VOCs (volatile organic compounds) and although extraction is required when spraying, once filtered, the air can be recirculated due to the removal of particulates. They are also easy to store and as long as they are not allowed to freeze, they can be safely kept in ambient conditions. As the adhesives are water-based, application equipment is easy to clean and maintain, as any wet adhesive can be cleaned using water rather than harsh solvents.
The ProAqua range of one component water-based adhesives – ProAqua 1 includes a one component water-based adhesive that works due to the colloid being broken down through shear forces in the spray nozzle. These forces can be controlled by changing the amount of atomising air and adhesive. Specialist equipment is not required as ProAqua 1 can be applied using a pressure pot and spray gun or by simply being gravity fed, which requires the vessel holding the adhesive to be at least 1.5m above where it is being applied. 
This type of adhesive and application method is popular in foam fabrication and the mattress market, with benefits including a soft glue line, excellent heat resistance and fast application.
Also available is the range of two component water-based adhesives – ProAqua 2. The range includes a two component water-based adhesive, which features a second component, often called the activator or 'part B', which forces the polymer out of the water. The activator is then sprayed directly into the atomised spray of 'part A' during application. This adhesive exhibits the softest of bond lines and has high initial tack. It is ideal for a variety of foam types or densities and can hold difficult to bond substrates in place, even under high tension.
ProAqua 2 has been specially formulated for foam converting, upholstery, mattress manufacturing, soft furnishings, and automotive seating. As well as this, each adhesive in the range has been specially formulated to adhere to a wide range of substrates including foam, cloth, polyester fibre, wood, plastics and metals.
Both one component and two component ProAqua adhesives can be easily applied and require very little equipment, aside from the spray gun and the adhesive, which can be gravity fed. ProAqua 2 adhesives generally bond to more substrates, provide stronger bonds, as well as have higher initial tack.