Productivity redesigned – the new SENCO DuraSpin
02 November 2020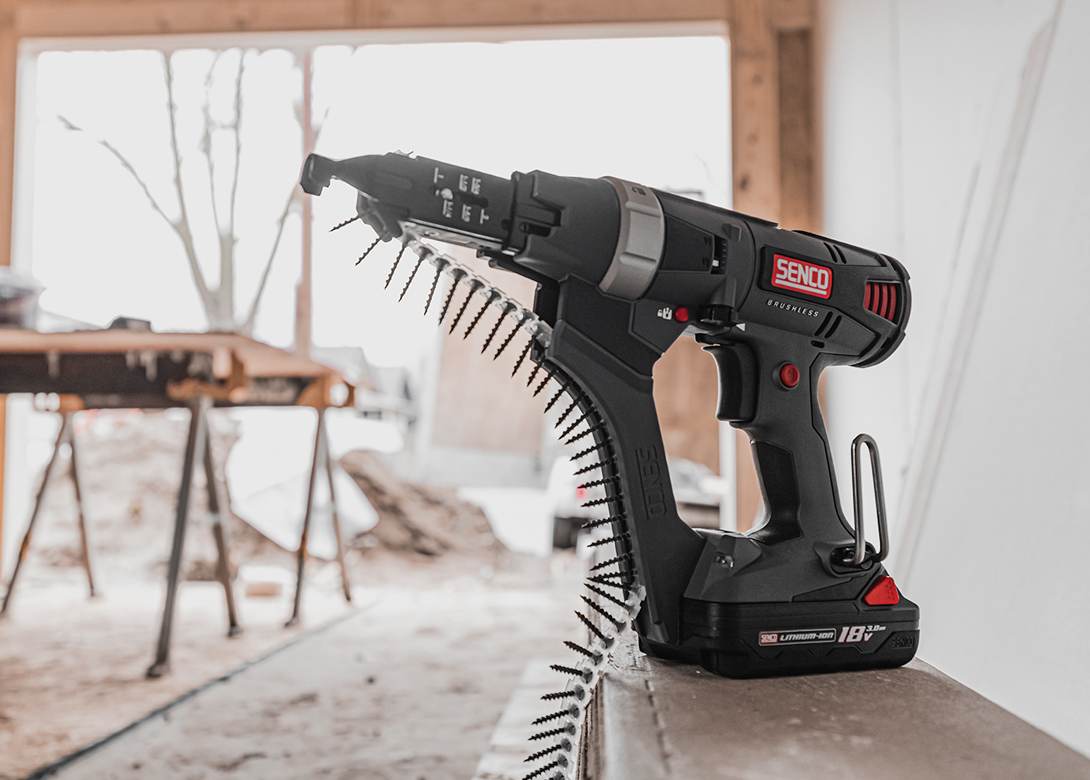 In 2001 Kyocera Senco Europe (SENCO) launched DuraSpin, an integrated auto-feed screw system, which places screws in front of the driver bit automatically and requires only one hand to operate. Now the company is introducing the DuraSpin 2.5, which it says increases screw fastening speeds by more than four times compared to loose screws – boosting job site productivity by more than 30%.
SENCO explains that the DuraSpin 2.5 is based on feedback from contractors and almost 20 years of experience with auto-feed systems, which have meant several upgrades have been made. For instance, the DuraSpin 2.5 features a selectable 2,500rpm – 1,600rpm switch on high torque tools. This means a user can reduce speed to maximise the capacity of the screw drill tip, which makes it ideal for working with heavy steel applications.
The new product also has a detachable front nosepiece, meaning mistakes are easily solved. Originally designed in 2016, the innovative nosepiece attachments are designed specifically for commercial construction professionals. Metal-to-metal fastening applications require any auto-feed system to access recessed channels up to 1.8 inches deep, and SENCO's channel fit nosepiece was designed to make feeding screws in these environments possible and easier than using loose screws. Typical applications include steel decking, hat channel, wall panel construction, resilient channel, metal truss a s s e m b l y , window framing and aluminium extrusions.
The tool also features brushless motors, which save up to 20mm of motor space – making the tool slightly smaller and easier to handle. Moreover, these motors are more durable and provide less downtime.
Another important improvement is the nosepiece combined with the 'feed on return'. This means the screw is already in place before a user screws, because the guide body pulls it in place when the previous one is released (with older versions, the screw gets in place with compression of the guide body). The special nosepiece is open on the side where the screw comes in, and prevents it from being kicked out on the other side. The shape of the nosepiece and the feed on return make sure that the user knows exactly where the screw is going to go. Just like previous versions of DuraSpin, the nosepiece is corner fit.
An additional advantage of the DuraSpin 2.5 is that it is powered by an 18V lithium-ion battery, which is smaller than the battery used on the regular DuraSpin. SENCO points out that this makes the tool lighter and consequently easier to work with.
The tool also uses collated screws meaning users can simply move the device to fasten screw after screw. The collated screws are easy to load in less than a second and the nosepiece is adjustable without tools. Because of this, SENCO says its DuraSpin screw gun allows users to drive more screws faster and with greater accuracy. This results in quicker installations, lower costs and greater profitability.
SENCO screws are professionally developed and tested to strict quality norms, however not every job requires the use of collated screws, so traditional loose screws are also available. These include wood construction screws, best-in-class AR+ screws and chipboard screws. "SENCO screws stand for strength, versatility and efficiency," states SENCO.