GESIPA® Birdie® cordless riveting tool
05 January 2023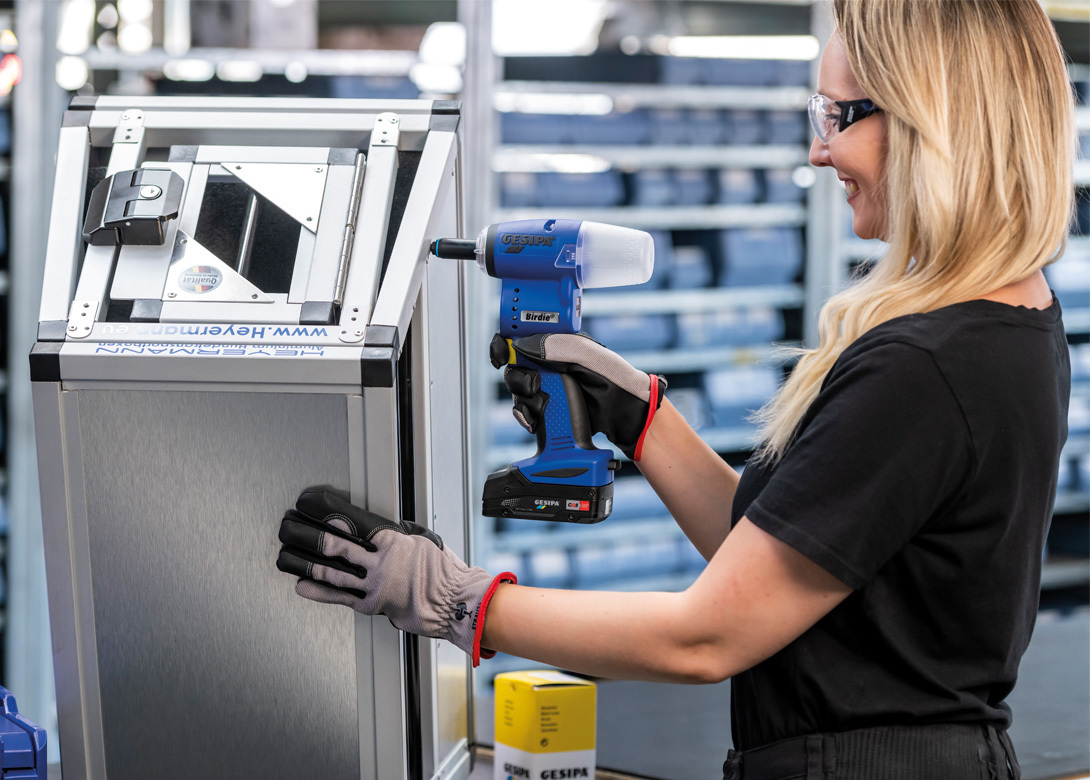 GESIPA® has introduced what it says is 'the smallest, lightest cordless riveting tool in its performance class' – the Birdie®, which weighs in at only 900g without a battery.
The new GESIPA® Birdie® covers a large working range, with a setting force of 10kN and a tool stroke of 25mm, helping it make light work of setting blind rivets with a diameter of up to 5mm in all materials. It has an ergonomic balanced centre of gravity with non slip handles and functions with a simple tap. Its 100% ball bearing mounted components in the drive unit, together with its wear-free BLDC motor, ensure efficient operation and an integrated light ring precisely illuminates the nosepiece and riveting point for use under poor lighting conditions.
Power recuperation allows the Birdie® to work longer, as much of the energy that might normally be lost is fed back into the battery, providing power for further riveting. If the battery does empty, the control system signals the need to recharge, both visually and acoustically.
The tool was developed to offer maximum practicability; it had to be simple though high-quality and cost-effective, while at the same time offer users the greatest possible freedom. One result of this approach is the tool's use of the proven Cordless Alliance System (CAS) battery. The CAS battery is now incorporated by over 30 manufacturers into more than 300 tools for various trades and means that multiple tools, including the Birdie®, can be operated using the same battery. 
The new 18V tool also comes with a non slip stand, or can be hung on a balancer using a standard karabiner; a transparent spent mandrel container also enables users to stay organised and tidy and see when it's time to dispose of obsolete bits.
With jaws that can be cleaned and replaced and nosepieces changed without the need for tools, the Birdie® is also easy to care for and its colour-coded nosepieces make the matching of blind rivets an easy task. The tool comes in either a GESIPA® L-BOXX, or a sales box, and includes one, two or no batteries, as well as being available with or without a charger. Further accessories, such as custom nosepieces and retaining nosepieces are also available.