Secondary operation machines for the fastener market
26 May 2023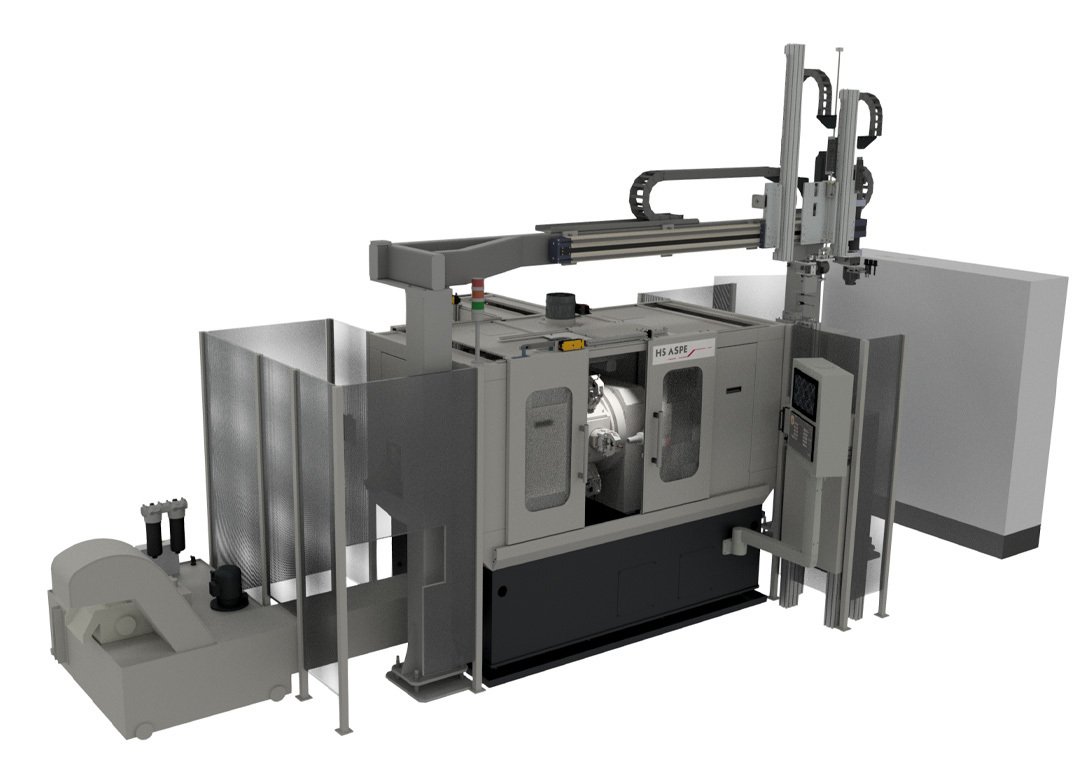 HS Automazioni, a SACMA Group company, is able to supply a wide range of automatic machines to run preformed parts obtained by cold forming – with the portfolio of machinery focused on those SACMA customers looking for a complete turnkey solution, from one solid and stable supplier. 
Located in Ciriè. close to Turin, about 150km from SACMA's headquarters, HS Automazioni Srl has 32 employees that design and manufacture a range of machines under the brand name HS ASPE, including tapping machines, combined machines, transfer machines and multi spindle turning machines. All components and electric equipment are also made and programmed by the HS Automazioni technicians. 
Within its factory, HS Automazioni follows the industrial strategy of SACMA Group – with outstanding assembly lines, divided by product family, following a modular system concept, and serial production, to make the machines extremely precise and durable.
In-depth portfolio of machinery
The range of HS ASPE branded machines includes automatic tapping machines, based on the reversible spindle architecture, are mechanically driven by a lead screw or brushless synchronised motion systems. Internal threads, within the range M2 to M36, can also be executed with standard taps in both the technologies cutting and forming.
Modularity is at the base of the automatic tapping machines. In relation to the characteristics of the application, it's possible to place single/double spindles – providing two autonomous working areas. Flexibility is also maximised, thanks to the possibility of working on two different parts in a completely autonomous process. Precision in operation is also achieved by means of the structural rigidity of the frame and the very fine design and engineering of the positioning/clamping devices. Orthogonality and concentricity, as well as the other dimensional/geometrical features, are also lifelong guaranteed. In terms of productivity, a configuration with four spindles, with an output rate up to 200 pieces/minute, represents the most complete machine architecture.    
Drilling and tapping combined machines are used to execute complementary operations in addition to the tapping. Operations like drilling, boring, facing, as well as chamfering, are performed sequentially or in overlapping – exploiting the single positioning/clamping of the part under process. That way the output rate is strongly increased. These types of machine can be created with 2, 3 or 4 working units.
Next up, HS Automazioni has conceived its transfer machines to work on medium/big sized batches of parts, characterised by the need for high precision. At the core of the machine there is the permanent clamping system, pneumatically or hydraulically powered, which combines precision, repeatability and rigidity.  The HS ASPE branded transfer machines are built on an orthodox bed, which guarantees very high rigidity joined with flexibility. This peculiarity allows the adoption of the top ranked equipment (Direct Drive Technology) and top operational performances – with a very high degree of customisation.    
When it comes to its range of CNC machines for secondary operations, HS Automazioni also ensures it meets the needs of productivity and precision required by this specific market. The range includes three machine architectures: Single spindle, double spindle and multi spindle (four or six) on indexing table. The machines are gifted with leading edge equipment (Direct Drive technology coupled with Torque motors), allowing top performances coupled with high precision. 
The multi spindle configuration also allows for maximum productivity, making the execution of diverse operations in overlapping modality possible, such as parts loading/unloading – keeping the autonomy over the single spindle. Parts sorting and feeding, which as operations are at the base of the performances, are designed and engineered to start from the drawing – optimising from the beginning the entire in-machine process. Most used solutions also include bowl vibrators, linear vibrators, motorised belts, robots, as well as pick and place units.
www.hsaspe.com/en