Saspi delivers speed and precision
25 May 2023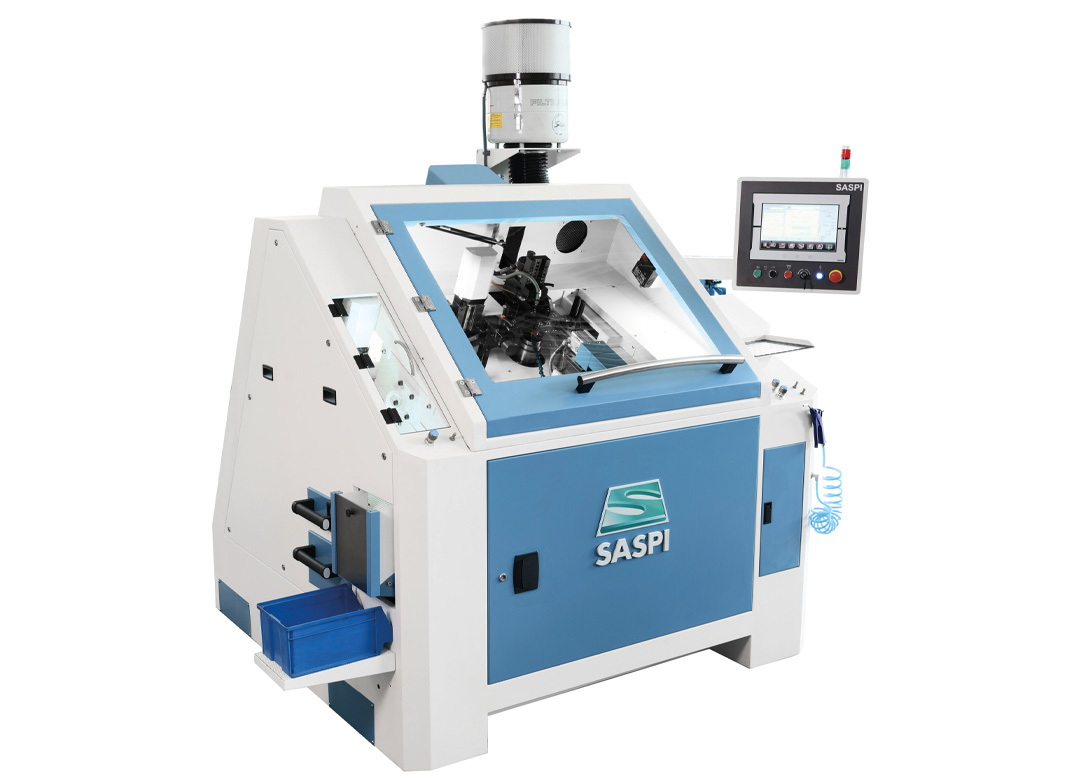 Spanish manufacturer Saspi states that its secondary operation machines are highly appreciated for their speed and precision, as well as their high technology and versatility. They also help provide customers with the opportunity to carry out various operation at the same time, whether threading, shaving, drilling, broaching or head operations.
Saspi has a range of thread rolling machines that it is constantly reengineering and updating to meet the current and future needs of customers, whilst guaranteeing the machines do not lose their renowned reliability and robustness. 
Recent innovations included within the new generation of Saspi thread rolling machines includes a new cast iron body design; servo driven camless machines; user friendly set-ups with motorised rails and feeding systems – with carbide inserts for longer life and easier replacement; better ergonomics and fulfillment of CE safety standards; as well as state of the art technology implementation for patented die pressure adjustment, electronic handwheel jogging and touch screen controlled die match – adaptable to the latest process monitoring technologies.
"These machines can also be equipped with an induction heating unit in which the pieces are heated to a certain temperature," mentions Saspi. "The machine ensures that the parts are heated to a desired temperature range, so the material does not lose properties and only suitable parts are threaded."
Saspi points the way
Another key machine within Saspi's portfolio is its MPA-14 automatic pointing machine, which is known for its ease of use and reliability. "The MPA-14 is a 3 in 1 machine and provides quick and easy changeover," reports Saspi S.A. "Its high speed and robustness is appreciated by customers in the automotive industry and its high precision and delicacy with parts is highly recognised in the aerospace sector. The machine is also fully motorised, including the centring, rails, top rail, as well as cutting depth. 
The versatile MPA-14 machine can point, drill and broach parts from M2 (0.078 inches) to M14 (0.55 inches) and lengths from 4mm (0.19 inches) to 150mm (5.9 inches). A rotating device can also be added to the MPA-14 for head machining operations.
Saspi points out that one of the main features of the MPA-14 is that every part is held as close to the end as possible during the pointing, facing or drilling process, regardless of the length. This helps avoid vibrations at maximum operation and ensures precision and finishing quality of the part, as well as tool life. 
The MPA-14 machines are used for pointing and facing, drilling, and broaching, and can be used for all type of materials – from different steel alloys and parts after heat treatment to materials used in the aerospace industry, such as titanium and Inconel. 
The latest version of the MPA-14 is the MPA-14CL, which does not include cams. "Every single movement of the machine is easily adjustable and configurable to customers' needs," highlights Saspi. "It will start as a pointing, drilling or broaching machine but its potential is beyond these processes. This user friendly machine introduces a brand new technology with all the experience and features of the well know SASPI MPA secondary operation machine."
Upgraded version of DOM-16
Another important machine within the Saspi range is its DOM-16, a reliable and easy to use secondary double operation machine, which it has recently upgraded with a completely new design. The DOM-16 can point, drill and broach parts from M2 (0.078 inches) to M16 (0.629 inches) with lengths from 4mm (0.19 inches) to 150mm (5.9 inches). 
Similar to the MPA-14, on the DOM-16 all parts are held as close to the point as possible. The DOM-16 machine is also a 3 in 1 machine with quick and easy changeover – thanks to its fully motorised set-up and high precision centring system, controlled by a touch screen.
"This type of machine is mainly made for the aerospace industry and highly appreciated for its speed and precision, as well as its high technology and versatility," mentions Saspi. "The machine's main characteristic is its ability to carry out three operations at the same time – shaving, drilling and broaching." 
www.saspi.es/en