High-end inspection and sorting system
06 April 2023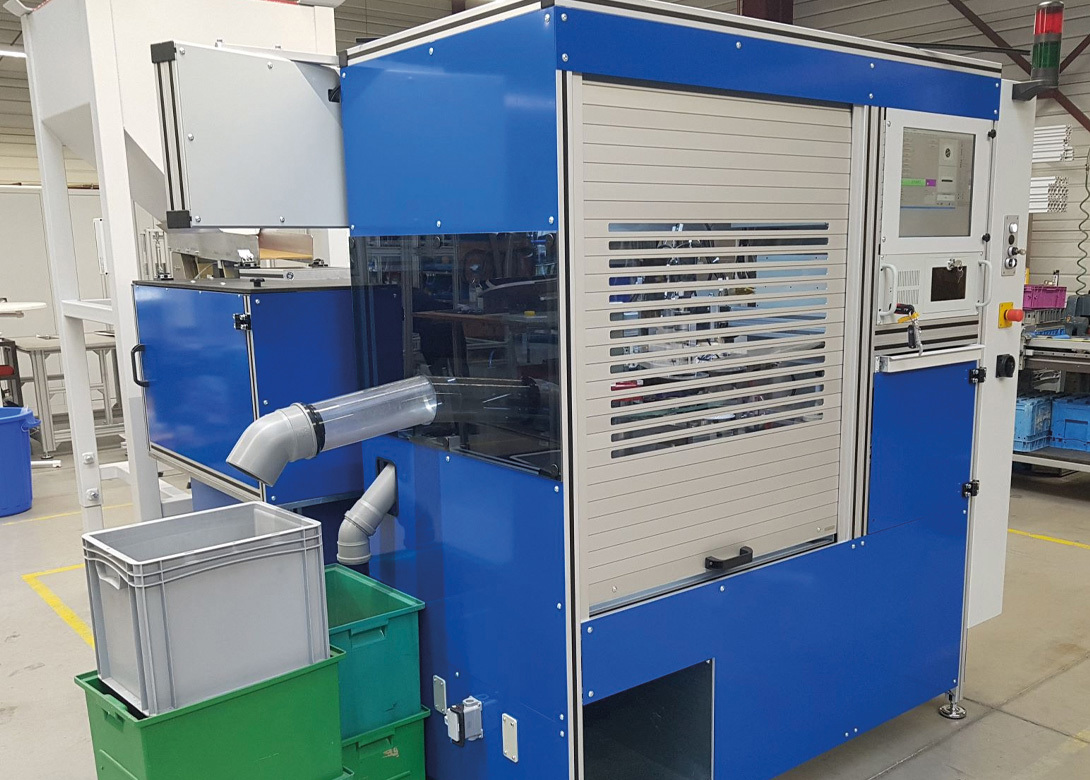 With over 20 years' experience in such areas as aircraft and automotive fastener inspection, GEFRA GmbH offers a wide range of inspection possibilities based around one of its latest test systems, the OPTISORT W800.
The OPTISORT W800 system's configuration suits various requirements, whether a client only needs a few testing tasks for a single fabrication part – even in very large quantities – or whether a large number of testing options are needed that can handle a wide range of parts.
A recent solution from GEFRA, the OPTISORT W800 has been equipped with a large number of different test stations, enabling dimensional tests, SFS surface tests, contour tests and hardness tests, which can all be carried out on one single system. 
In the first test station, the OPTISORT W800 glass disk machine employs GEFRA's telecentric measurement inspection system – covering vertical and horizontal planes. In the next station, the surface of a part undergoing inspection is checked from above and below for irregularities and scratches using the company's SFS (Shape From Shading) technology. This is followed by testing parts using bright field illumination, also from below and above. This station is used, for example, to check a sealing lip on a component. At the next station, an Eddy current test awaits to check material properties and detect any differences/anomalies, e.g in hardness. On the last station, a colour camera is installed to check for colour differences, oxidation, or coating defects, again from above and below. A total of eight cameras in six stations (two as SFS) and one Eddy current device, are used for this highly developed system.
GEFRA points out that the lighting at the individual stations is moved by a motor and the positions are saved in the inspection plan for each production part. If the part is to be checked again later, all lighting will be moved to the correct positions, automatically. In order to ensure efficient use of the system, the machine is also equipped with a special feeding device on which a vibration feeder bowl can be exchanged in quick, easy steps. This makes it possible to reduce the set-up time to just a few minutes when changing over to test a new part.
GEFRA offers its OptiSort inspection and sorting machines in two different types: The OptiSort ST with a steel ring disc for testing fasteners, screws, blind rivets and long rod-shaped parts; and the OptiSort W with glass disc for testing nuts, washers, rivets and other flat parts.
Up to 2,100 parts per minute can be tested, depending on the size of the parts and the inspection task. Testing begins by checking the dimensional accuracy of production parts, such as shaft diameter, head diameter, thread parameters and contours. In addition, checks for surface defects, scratches, cracks, symmetry, straightness, flatness, ovality, pattern matching, and differences in material quality, or hardness, can also be made. By using the colour cameras already mentioned, it is also possible to detect deviations in surface colours, which may, for example, represent coating errors. The SFS process can also be integrated into the systems for any bespoke, relevant requirements.
Running the system is the company's user-friendly software, GEFRA AutoControl, which is menu driven with image entry and is mostly self-explanatory and requires minimal training.
All that said, if a customer is unsure as to whether its parts can be inspected to the quality required, GEFRA can run sample parts on its demo machines to ascertain if it can meet specific testing and sorting needs using its OptiSort system.