From wire coil straight to full-thread screws – all in one machine
04 June 2019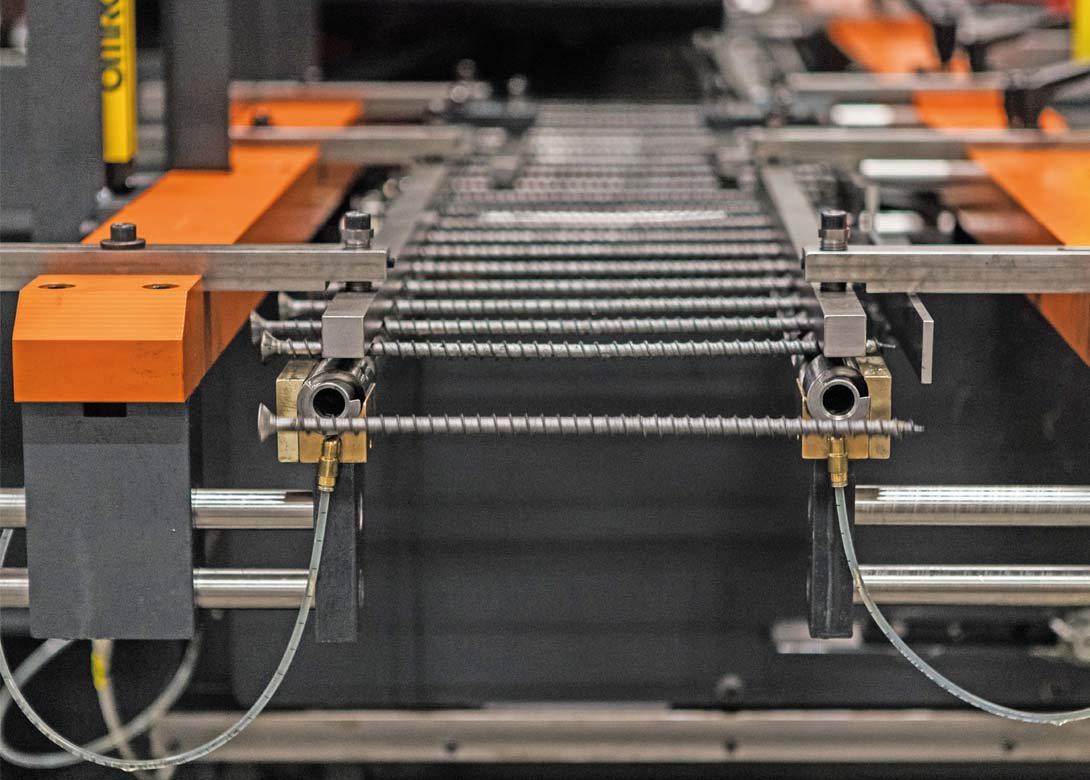 A new all in one machine from AMBA-Aachener Maschinenbau GmbH produces full-thread screws of 300mm length, and an outside diameter of 10mm, directly from the coiled wire. Typically, in the screw making industry, 30 to 40 threads are rolled per minute – but this does not include the forming of the screw head. AMBA points out that this new machine achieves a rate of more 100 screws per minute, including the screw head.
Amba states that its machine is the world's first to produce screws of this length and diameter, from the coiled wire to the finished product, in just one continuous cycle – from paying off, cutting to length and straightening the wire, forming the head and thread rolling.
Manfred Houben, one of three managing directors of AMBA, explains that the new machine is exemplary of a current trend to manufacture long metal components, with varying cross sections along their length, via cold forming instead of machining. "Cold forming processes achieve much higher throughput rates than machining operations because the items do not have to be individually fed, clamped, machined and ejected. In this way, discontinuous manufacturing becomes a quasi-continuous process. In certain applications this may result in a productivity improvement of one order of magnitude."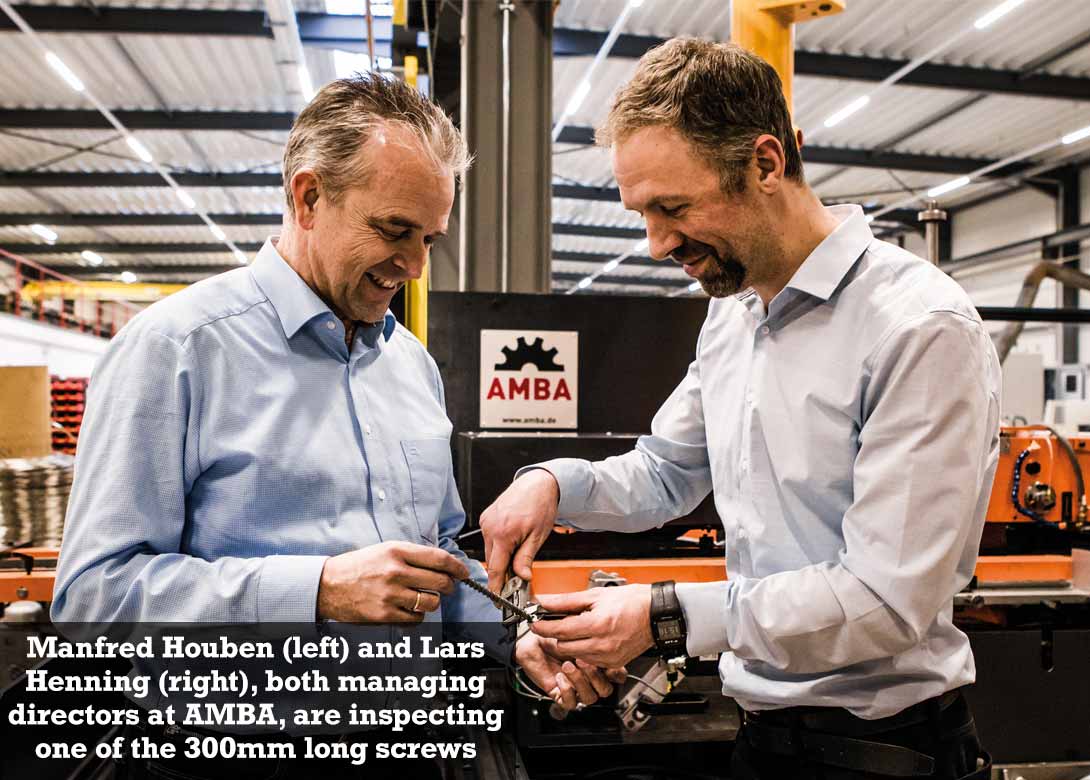 The all in one principle is transferrable to other products, such as pinned joints for bicycle rims. These joints used to be individually turned in a time-consuming process. Now a new machine developed by AMBA produces up to 100 joints per minute by cold forming. The company is currently planning a project intended to replace a three-digit number of automatic turning machines and the associated bar loaders with three AMBA machines.
AMBA on a growth course
AMBA order intake has been growing continuously for several years. As early as in 2018, the company more than doubled its workshop area and increased its staff from 50 to more than 70 people. Through the takeover of automation specialist Klinken Automation, AMBA now combines mechanical design and automation know how under one roof.
AMBA recently opened a new hall large enough for three machines up to 12m long, and weighing up to 35 tonnes, to be assembled at the same time and commissioned under real conditions prior to being shipped to the customers.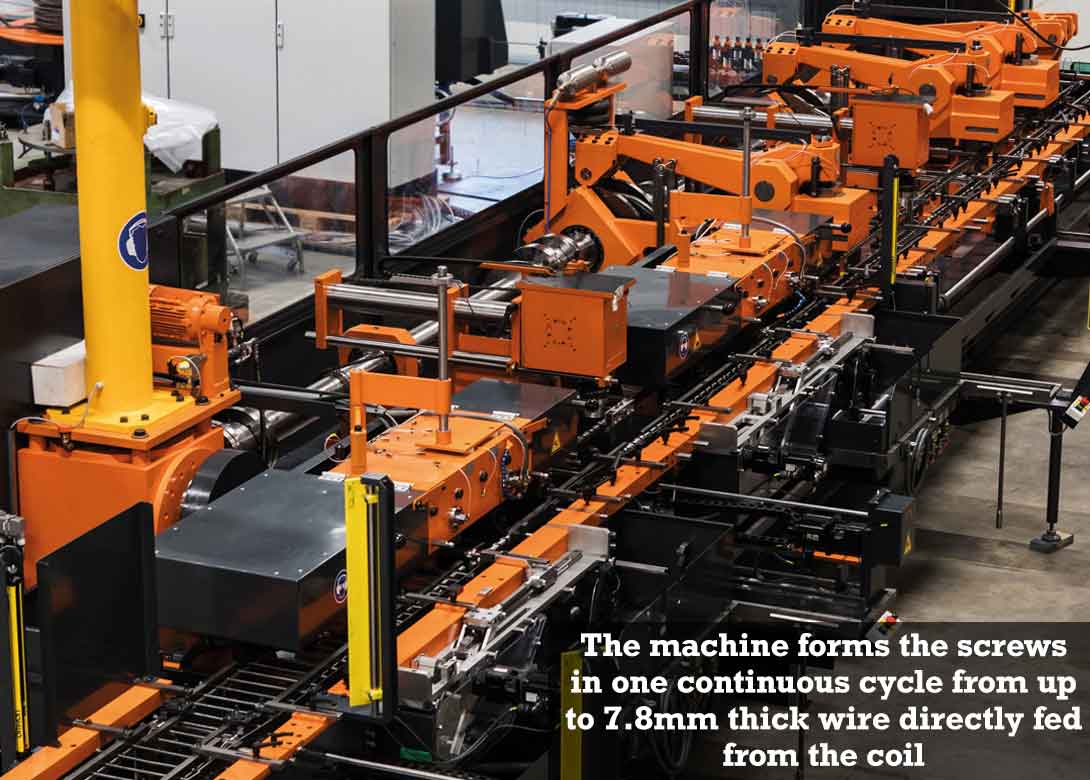 Manfred Gottschalk, managing director commercial of AMBA, is very happy about the growing interest in AMBA technology: "We have been receiving more and more requests from manufacturers who make large quantities of products from wire or tubes as input material. Other projects or requests are in connection with new types of components, particularly for the automotive industry, which for the time being can be produced by conventional techniques nowhere near profitability."
AMBA has also adjusted its corporate structure to the rapid growth. In January 2019, Lars Henning joined the company as third managing director. He is responsible for all technology related areas at AMBA – project management, electrical and automation systems, and development.