Dispelling the black art-training in the cold forming industry
21 June 2021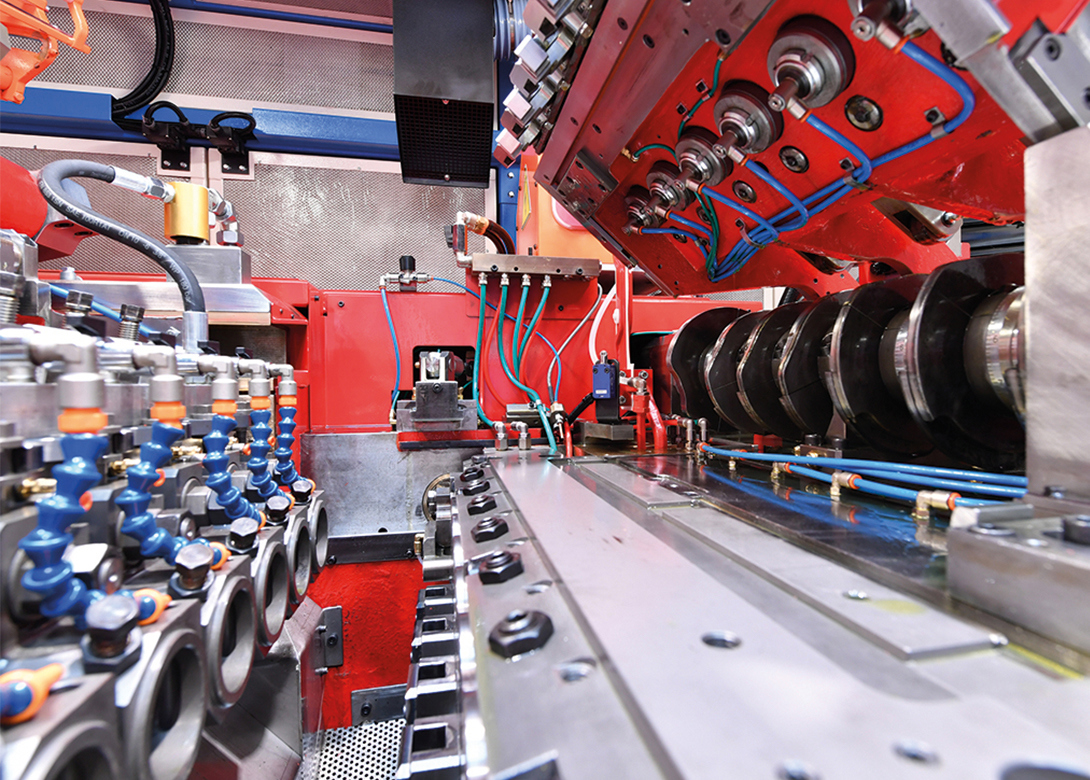 A recognised expert in both cold forging technologies and the development and training of its operational personnel, Independent Consultant Derek Barnes is keen to dispel the perception that operating and managing machinery is the mythical 'black art' it is often claimed to be.
Let's face it, our industry has been shrouded in the myth that getting cold forming machines to run and produce parts is a black art. Many managers and companies have fallen into the trap of believing this – even perpetuating it, either by not having an effective training programme or by using setter on setter training, which can be 'hit and miss' and often passes on bad habits.
My belief is that the machines we use are high precision and many of the parts that we produce have tight tolerances. Achieving this time and again demands that the equipment is set with precision and repeatability.
To do this, machine setters and engineers need to adopt a different approach in order to meet the demanding requirements of many cold formed part consumers. It's not about getting the part running at all costs; it is about how can we set-up efficiently each time we make a particular part. Most modern cold forming machines incorporate, at least a degree of automation and the ability to save the machine settings. This comes at a premium price, but the same is achievable on machines that are not servo motor controlled.
Before we go too far, let me be clear that cold forming machinery can be very complex, particularly multi-station transfer headers. Setting them so that they run well is not easy; it really does take skill to do it successfully. It is also fair to say that it isn't for everyone – it takes a certain mentality to do it well. I have often stated that it is easier to set a machine so that it does not run consistently then to set it so it runs without stopping.
We have a major challenge in the industry, about which everyone is aware. The workforce is getting older and young people are simply not banging on our doors to let them in. How do we change this?
Organisation, training and environment are the three elements that need to be satisfied to create a sustainable, efficient manufacturing plant and to attract the next generation into our wonderful industry.
Organisation
All areas and supporting functions that feed into the manufacturing plant need to be assessed and investigated to make improvements that will assist with the smooth running of the facility. If all aspects don't run in synchronisation, then the final output will be compromised and although a good standard of performance can be achieved, the real potential of the manufacturing cell cannot be realised.
Much of the focus falls upon the machines and the people setting and running them – rather than on the bigger picture and the whole of the support functions. This can definitely show positive results. However, to really unleash the power of the system as one unit, work must be put into all areas. Standardisation plays a huge role in unlocking the potential and although it sounds a simple concept, it contains a lot of complexities that must be addressed.
Training
Training and development of machine setters is obviously a key part of the scenario and too many companies fail to invest enough time and attention here. Correct training involves a standardised approach to setting-up the machines, removing unnecessary waste and improving efficiencies. That is not only in output but also in problem solving machine running issues and reducing scrap.
It is essential to develop a documented training programme that includes and utilises machine training manuals, setting measurements and dedicated drawings. The manufacturing pack is the starting point for setting up a machine and should contain all the necessary information that the setter needs to complete the job in the most efficient way.
The training should be carried out by a dedicated trainer, to ensure a consistent approach and develop best practice. Ensuring that all operators are setting the machines in the same way is a particularly important factor in reducing both changeover times and troubleshooting machine issues, particularly if you are rotating setters or operating shifts.
The trainer must themselves be an experienced setter. He or she must also have the patience and ability to train and to understand people's individual learning needs. Learning how to train is a skill in itself and a new trainer will develop their own style through experience, to get the best out of each individual. For new trainers it is important to have a mentor to guide them through the process and act as a sounding board.
At all stages of the training process the progress of the trainee must be recorded and feedback given to them. Once they are assessed as being competent, they should be signed off as ready to start running production. However, the training shouldn't stop there.
The ongoing development of machine setters' skills and knowledge comes after a period of initial training followed by production time to gather experience. This provides time for their understanding to grow sufficiently that they will be able to offer useful constructive feedback. This has two effects: One to demonstrate the level they have achieved and identify what additional training/information they need to continue their development. Two, to allow the trainer/engineer to develop their own training skills and methods, in order to continually improve the standard of training.
Environment
The factory environment is important to encourage the correct behaviours in people. A clean well ordered facility adds to the efficiency of the manufacturing cell. Being able to conveniently locate the necessary tools to do the job and reduce wasted movement is sometimes an unappreciated aspect. 5S and Lean manufacturing methodologies must be employed in a successful manufacturing environment. A clean working environment is deserved by shop floor staff, adding to their job satisfaction, and motivation, and managers as well as shop floor personnel should play their part in achieving this. The environment also plays a big part in helping to attract new customers. The first impression gained by visiting customers or prospective customers is extremely important. A clean well ordered factory shouts out 'quality product'.
The ability to see things differently to the preconceived normal is the ability to drive forward a manufacturing area and really achieve great performance. The way to attract new people into the industry, train those people to be effective and at the same time create a team that is motivated by great performance and job satisfaction, is to embrace the above philosophy.
If you are interested in dispelling the black art and implementing a sustainable training culture in your company then please contact me for further discussions. 
derek.barnes@coldforgingsolutions.com