Approaching zero defects surface treatment for washers
11 June 2021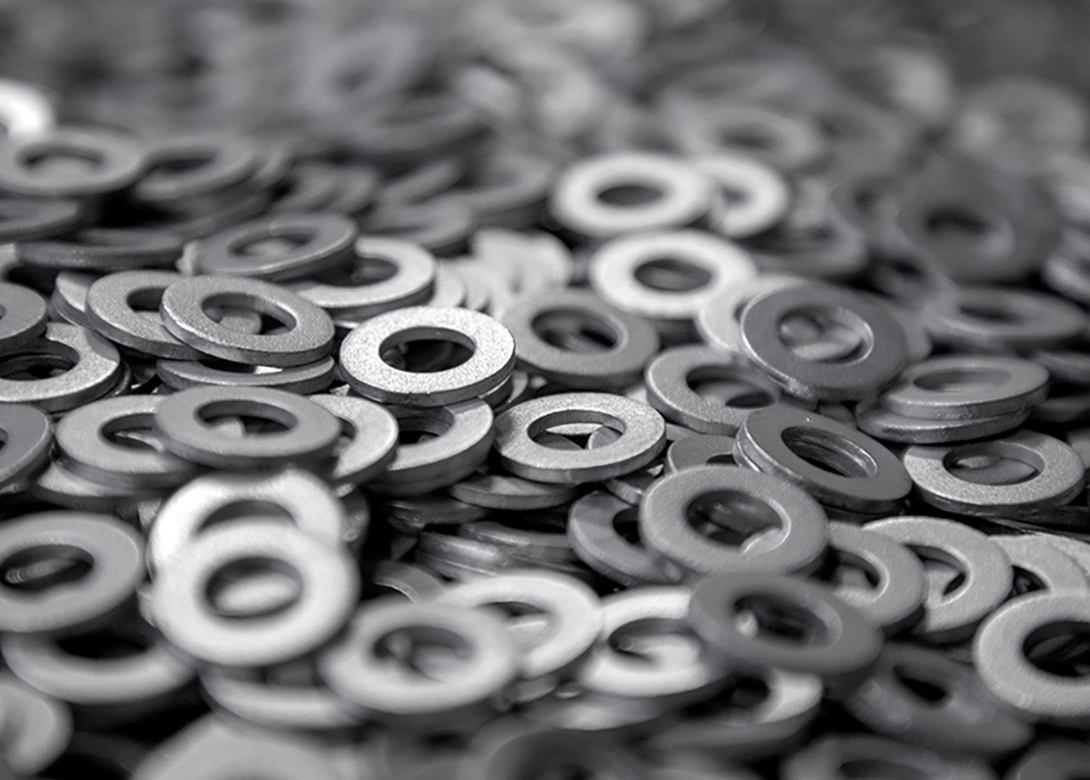 Netherlands-based Thielco Steel Solutions Group has a long history with the corrosion protection of washers, disks, rings, and other stamped parts, and has recently decided to focus even more on this segment of the industry.
Offering hot dip spin galvanising, mechanical plating and Geomet® zinc flake coating, Thielco can be counted on for an objective review of each of the surface treatments for a specific application.
When it comes to washer type products they all share the fact that they are mostly flat or have the tendency to stack nicely. This in turn causes them to stick together in any process in which they are dipped into a fluid as a bulk, such as liquid zinc or zinc flake coating, and as a consequence they are coated as little stacks. A similar example is when a drop of water falls in between two glass panes – that one drop is enough to lock the planes together.
Hot dip spin galvanising, submerging the parts into hot zinc and spinning them immediately after to fling off excess zinc, is in high demand when it comes to washers because of the sturdy and cost-effective protection it provides. However, until recently, this process suffered from the beforementioned sticking issues, leading to rejection rates exceeding acceptable quality levels by far.
In 2020, Thielco invested in an innovative, custom-made pre-treatment process, specifically for washers. The result is a more uniformly distributed zinc layer with improved adhesion, but most importantly, virtually without any sticking and stacking parts. This solution is highly efficient as it has a high output; is integrated in the process; and eliminates the step of sorting and rework afterwards.
Whilst a perfect solution for about every other application, the combination of zinc flake coating and washers has proven to be difficult. The technology has strong benefits – high corrosion protection per micron; relatively low temperature; and no risk of hydrogen embrittlement. But again, unfortunately, relatively small and light washers tend to collate. By taking measures to avoid this happening as much as possible, it reduces the output of the process and therefore leads to increased costs.
Thielco proposes mechanical zinc plating (MP) as a solid alternative to zinc flake coating for these types of products. MP shares many benefits of zinc flake coating, but without the downside. The entire plating process is carried out in a perpetually rotating drum, ensuring zero defects due to sticking or stacking. It provides the product with a thin layer of zinc, built up per micron (from 6 to 50 microns) with corrosion resistance per micron on par with zinc flake coating. Again, there is zero risk of hydrogen embrittlement and the process is conducted at room temperature, not affecting the material hardness.
Thielco envisions mechanical plating as the best alternative for washer type products and has recently opened a new production facility for the process, supporting the facility that has been in operation for over 20 years. The new production line is completely computer controlled for full traceability, and replicability on automotive level, and provides a solid foundation for the expansion of mechanical plating on the European market.