Mobile Kanban shelf for floor plan flexibility
13 December 2021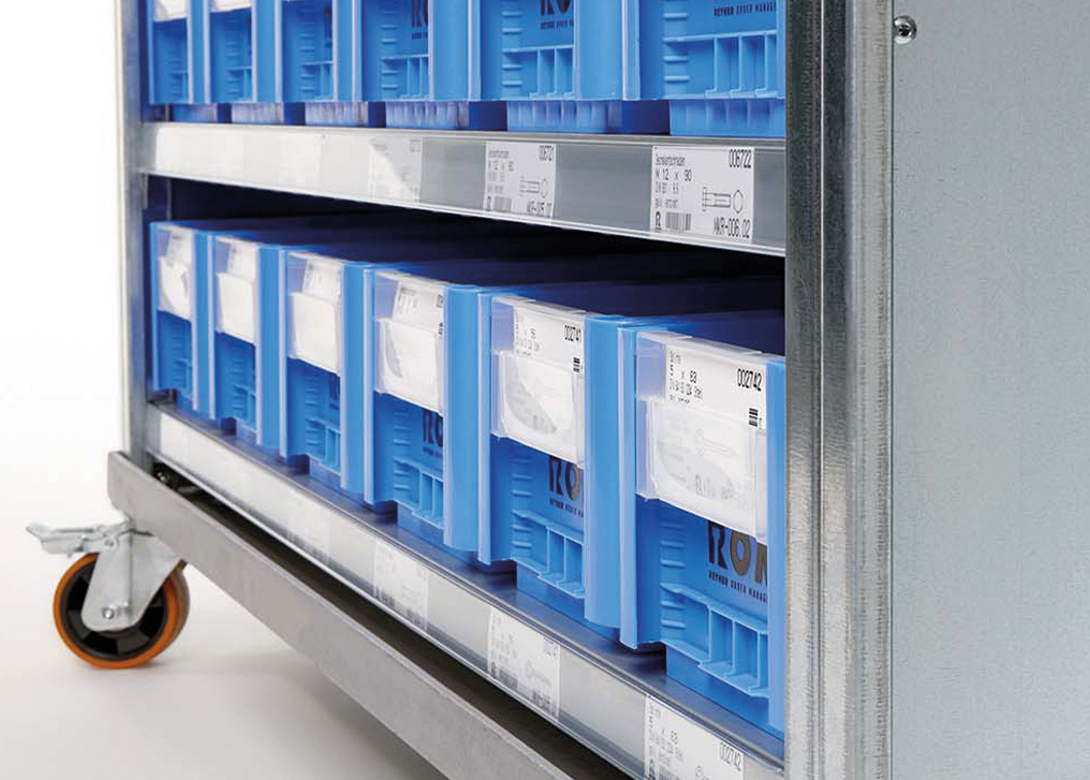 Lean production principles increasingly require layout flexibility, which is why REYHER has introduced its new mobile Kanban shelf, with its future oriented design, in order to  contribute to increased productivity at assembly workstations.
Owing to its stable static design, with a load-bearing capacity of up to one tonne, REYHER's mobile Kanban shelf is optimised for housing a lot of material in a limited space. The shelf consists of sheet metal on the front and riveted plugged-in shelving from a brand manufacturer – produced in accordance with RAL-RG 614 quality specification for storage and operating units.
With a total of eight levels, including a shelf for empty bins, the new mobile Kanban shelf can hold 42 ROM | LTB Kanban bins using a two bin system. REYHER Nchfg GmbH & Co KG points out that there is also a push through guard to prevent the front bin falling out when a new bin is added from the back. Plus, four sturdy swivel castors on the mobile frame enable the shelf to be manoeuvred without problem in the smallest of spaces. Finally, a locking mechanism prevents undesirable movement and provides a stable stance.
Easy access to material from ROM | LTB Kanban bins
Combined with the ROM | LTB Kanban bins, the mobile Kanban shelf makes an effective contribution to increased productivity at assembly workstations. Using the sliding mechanism, the bin can be transformed from a transport bin to an open fronted bin with only one hand movement. This makes it easier to collect materials from ROM | LTB bins in the mobile Kanban shelf.
Reliable Kanban supplies with ROM – REYHER Order Management
Using ROM – REYHER Order Management provides REYHER's customers with the highest supply and process reliability. Modules can be combined, with the options of RFID technology, barcode systems, flexible labelling, and modern data interchange – enabling customers to build an
all round seamless package for smooth materials supply.   
www.reyher.de