ZAGO celebrates 30 years
18 May 2023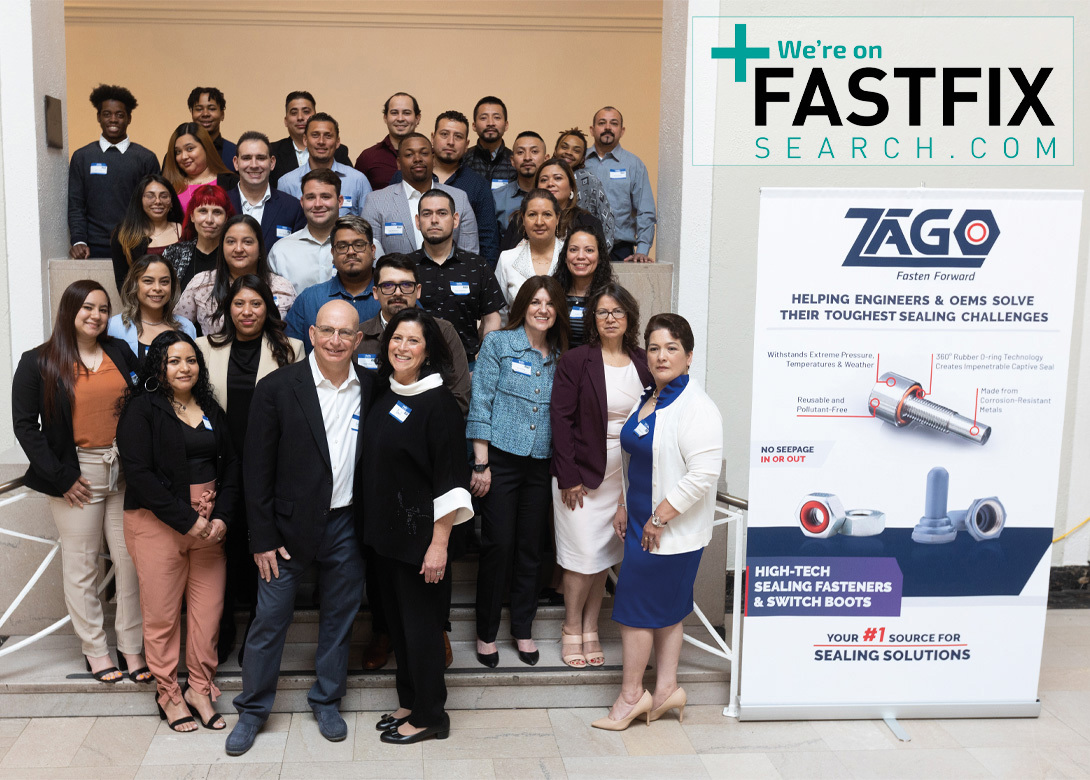 ZAGO, a manufacturer of high-tech sustainable sealing fasteners and switch boots, is celebrating 30 years of providing sealing solutions to engineers, manufacturers and distributors worldwide, as well as hailing being a woman-owned business. 
Co-founded by married couple, Gail Friedberg Rottenstrich, a corporate attorney, and Harvey Rottenstrich, an electrical engineer, ZAGO Manufacturing Co has continued to thrive in Newark, NJ, USA, where it started 30 years ago, and today employs 35 women and men all from different backgrounds, cultures and ethnicities. 
To mark its anniversary the company held a party for its employees, which was a huge success. It included guest speakers, with Michele Siekerka esq (pictured right), president and CEO of New Jersey Business and Industry Association (NJBIA), speaking about how ZAGO makes her proud to go to work and the company represents the way New Jersey businesses should be ran. She also mentioned how ZAGO genuinely cares about its team members and is a leader in manufacturing and business. 
Next to speak was Emily Manz, senior vice-president of business development at Invest Newark, who spoke about ZAGO beginning, investing and continuing to stay in Newark. She explained why it is important for other businesses in the community to see ZAGO's success, "because it is possible to recruit, develop talent and grow within the community."
Becoming woman-owned
In addition to its 30th anniversary, ZAGO has also taken the opportunity to celebrate being a woman-owned business. Out of eight management level positions, women occupy six of them at the US-based company. Jackie Luciano, vice-president at ZAGO, explains: "Back in March it was Women's History Month, and it is only fitting that we recognise the pivotal roles women play at ZAGO and in shaping the manufacturing industry."
Jackie joined ZAGO 15 years ago as a part-time bookkeeper, while raising her young children, and advanced to a leadership role after earning her Rutgers MBA in finance. "Gail and Harvey envisioned ZAGO being a diverse employer and a great place for both women and men to work and flourish."
Alejandra Damacela, contract review/buyer and 10+ year veteran of ZAGO, who is also the mother of two little children, fully agrees: "Among the reasons I love working at ZAGO is the level of support given to all employees. For instance, the business offers tuition reimbursement, so associates can pursue higher education and advanced degrees. I earned a Bachelor of Science, Marketing, in Spring 2021, from Kean University and for that I am truly grateful."
Co-founder and CEO Gail Friedberg Rottenstrich explains: "When it comes to leadership roles and owning a manufacturing company, women are vastly underrepresented. There are many qualified women in manufacturing, and in other industries, who can excel in this sector – but they have to see themselves in these positions. Both Harvey and I realised that ZAGO should become a woman-owned manufacturer to show women, explicitly, and implicitly, what is possible."