Thread tooling excellence
27 May 2020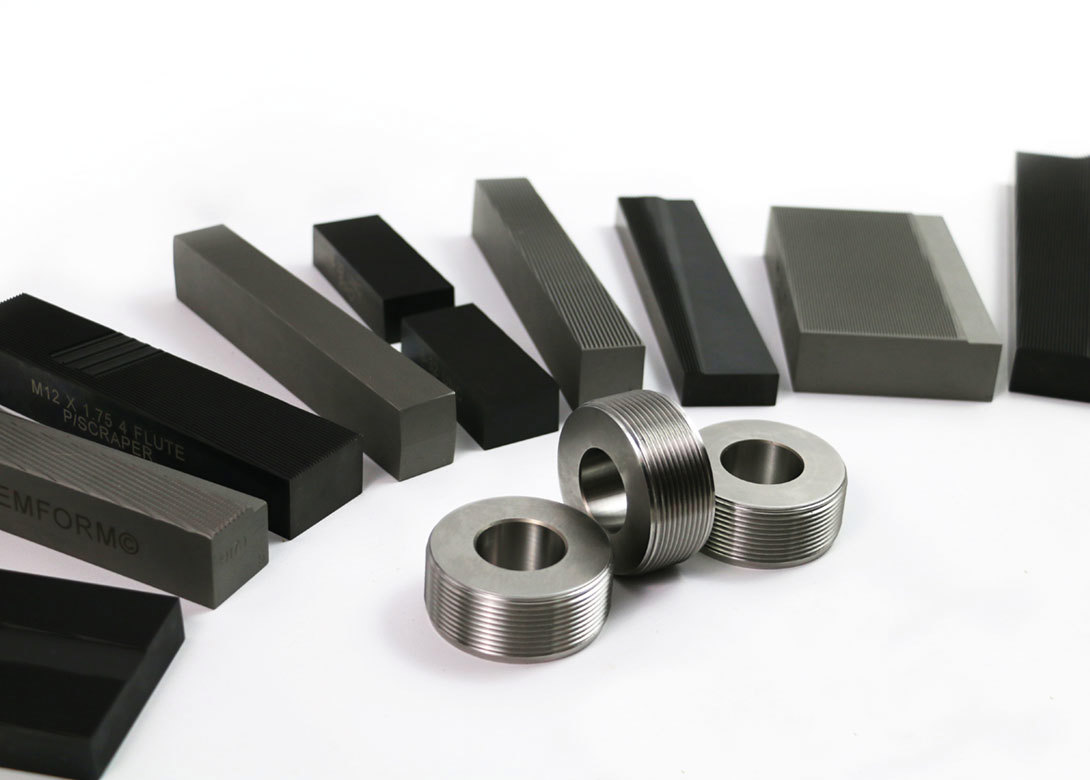 Being at the cutting edge of the industry and technology is something normally associated with multinationals. However, the family business of RLS Tooling Ltd proves this isn't always the case.
Founded in 1989 as a specialist form rolling die manufacturer, RLS Tooling has since expanded to provide a comprehensive range of tooling for most thread rolling applications, as well as form rolling.
RLS' product range includes flat thread rolling dies, tangential chasers, knurling dies and circular thread rolls. These products are sold worldwide either direct or through one of its agents or representatives. The company's manufacturing operation extensively uses CNC machine tools and its technical staff have CAD systems to assist the development of special tools and forms.
"Our high performance thread rolling dies are used worldwide by manufacturers of fasteners for the construction, automotive, rail, white goods, aerospace and wind turbine industries. We make a full range of flat dies for standard threads, many special thread forms and licenced thread forms. RLS hold licences to manufacture thread rolling dies for the Taptite® range, as well as MAThread® and Excalibur Screwbolt® products," explains Marcus Smith, managing director at RLS Tooling.
To complement its extensive range of flat dies, RLS Tooling also manufactures a range of circular thread rolls. It makes rolls for most two roll machines – up to a maximum diameter of 315mm – and the Fette three roll system. In the interest of maximising tool life, RLS also offers a regrind facility for a large part of its range.
The trend towards rolling tougher and more demanding materials has continued, and this has in turn made RLS review its steels used to produce rolling dies. The company now offers dies made from D2, a range of traditional high-speed steels and a range of powder metallurgy type steels. Tool life can be further enhanced using a variety of coatings.
RLS uses its ISO 9001:2008 quality system to control all operations and processes from point of order to despatching of completed tools. "This quality system is used throughout our organisation to ensure that we consistently manufacture tools that match the needs of our customers. Our responsibility for quality is shared by our entire workforce who are all committed to continuous improvement of our processes and procedures," comments Marcus.
RLS also operates a personal improvement programme for its staff, which encourages individuals to improve existing skills and to take on additional training that will enable them to become multiskilled – a benefit to both the company and staff members.
Regg Rolling agent
RLS is also the UK agent for Regg Rolling, a designer and manufacturer of high precision two and three dies spline and thread rolling machines. Regg Rolling produces very robust machines for cold rolling of high-tensile materials such as 12.9 steel, titanium, Inconel and other exotic alloys. The machines are supplied with PLC or CNC controls for a quick machine set-up and simple use. A newly designed hydraulic system allows a shorter cycle time and less maintenance. The combination of all these factors allows a high repeatable production combined with a longer die life.