The highest quality products by FAR
13 March 2023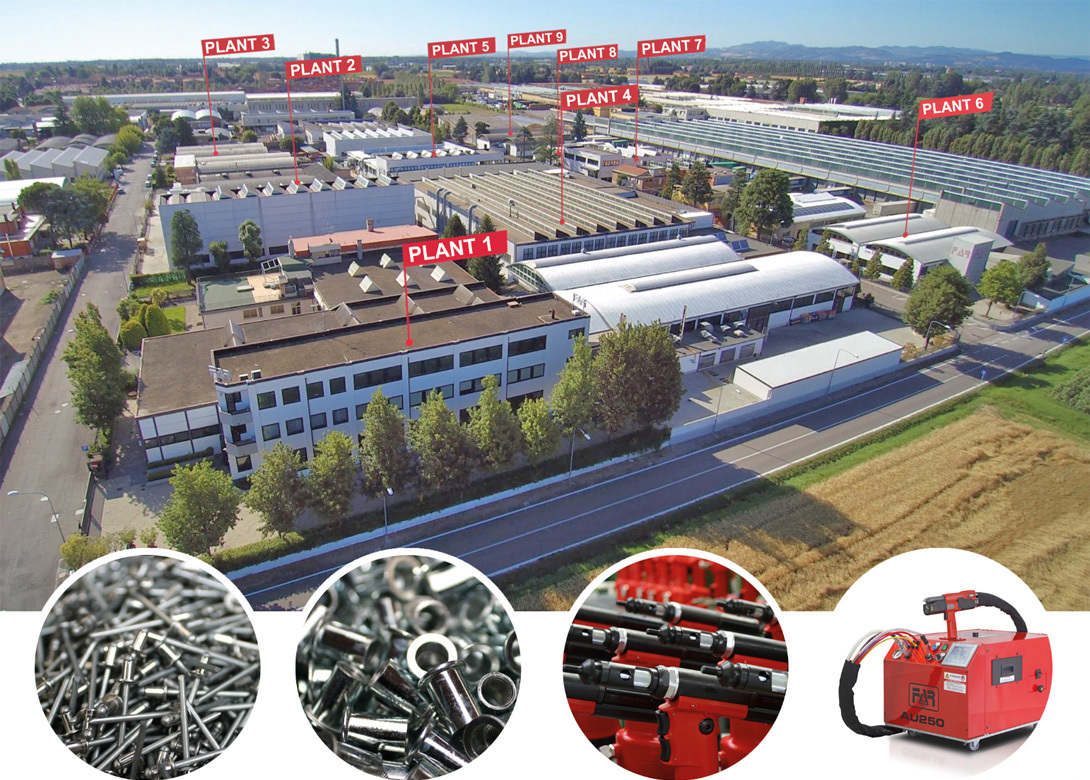 A proud Italian manufacturer, FAR has the ability to produce 100% of its product range at its factory in Bologna, in the north of Italy. Through an extensive stock capability, the company is also able to deliver its goods everywhere in just a few days – either by truck, sea or air. 
FAR (Fabbrica Artigianale Rivetti) was founded by the Generali family in 1957 and the company is still 100% family owned. The initial phase of the company's growth was in the 1960s when it focused on the manufacturing of blind rivets – in an era where English and American manufacturers were the fastening market leaders and the only ones capable of dominating these technologies. 
The first challenge for FAR was to enter the Italian market, at the time one of the most important markets in Europe for industrial manufacturing processes. A few years later, FAR also started the development of its manual tools range. 
In the 1970s, FAR started developing its range of pneumatic and hydro-pneumatic tools and invested heavily to achieve significant results in the Italian market during the 1980s. The growth was continuous and solid, which enabled FAR to target other European markets throughout the 1990s. 
The manufacturing of rivnuts was also started in the 1990s, which was supported by massive investments in machines. Next, FAR entered the millennium with a widened range of portable tools, as well as tools for assembly lines. In the early 2000s, with the growth of Asian fastener manufacturers in Europe, FAR took the strategic decision to focus its production only in Italy and to specialise in a high-quality range of products.
After 2010, the R&D department at FAR started designing the first customised semi-automated systems and the company looked to expand its distribution both in Europe, North America and Oceania. Today, FAR sells to over 75 markets worldwide and is one of a few manufacturers of fastening technologies that specialises in rivets, rivnuts, professional tools and automated systems.  
FAR distributes its technologies to several, and quite different, profiles of clients, such as distributors and dealers, as well as system integrators and end user manufacturers – who often require customised technologies. 
All of these different profiles of clients have different needs, which is why FAR ensures it supplies a unique level of service to every customer. "This service is an untangible part of the FAR offer, especially when it comes to prompt answers on
technical and commercial matters; a first class stock management service for the shortest lead times; as well as support with logistics and connections with qualified forwarders; plus consultancy on all documents for export and support with imports as well," explains Massimo Generali, owner and managing director of FAR Srl. 
When it comes to customised fastening technologies the team at FAR can also provide consultancy and cross-competences on fasteners, tools, and automated systems, to make sure it covers ever client application.
To guarantee it can provide this level of service to every customer, FAR invests its time, energy and money in ensuring it keeps up to date with the latest developments, which enables it to anticipate the requirements coming from markets in different parts of the world. "FAR managers regularly visit customers and attend national and international exhibitions to check markets, sectors and main competitors' innovations," adds Massimo.
"New video communication systems and new after sales methodologies have also been implemented over recent years to provide technical assistance and training to technicians in different part of the world. Plus, the network of tool repair service stations has been further strengthened to make sure original spare parts and solutions can be submitted to clients. In addition, demonstrations of tools and automations are now facilitated in several markets thanks to local FAR showrooms recently activated in the UK, Poland, the USA, Canada and in Oceania," mentions Pierluigi Cassani, export sales & marketing director at FAR. 
"A lot of our focus is also being paid to digitalisation in quality control in production; in automatic warehouses; and the entire logistic area; with the aim to increase traceability, detect faulty products and minimise errors," adds Massimo. "Increasing care is also paid to the selection of suppliers and to validate the entry of the raw materials and components. In fact, the entire FAR organisation is monitored to increase efficiency and productivity in every day operation."
Massimo concludes: "'Made in Italy' means a lot to us. This phrase means to work responsibly; to serve our clients promptly; to continuously innovate our technologies and increase our productivity; as well as to keep our engineers developing new solutions and ensure we are dedicated to the most promising projects. 'Made in Italy' means to focus on a high-quality range of products, respect quality protocols and improve services. It means having passion in all we do, everyday. It also means to renew the Italian tradition in manufacturing technologies and serving clients, which was one of the strongest in the world until the 1990s and is now facing new global challenges and changes." 
www.far.bo.it/en