Partnering with Marcopol
18 November 2020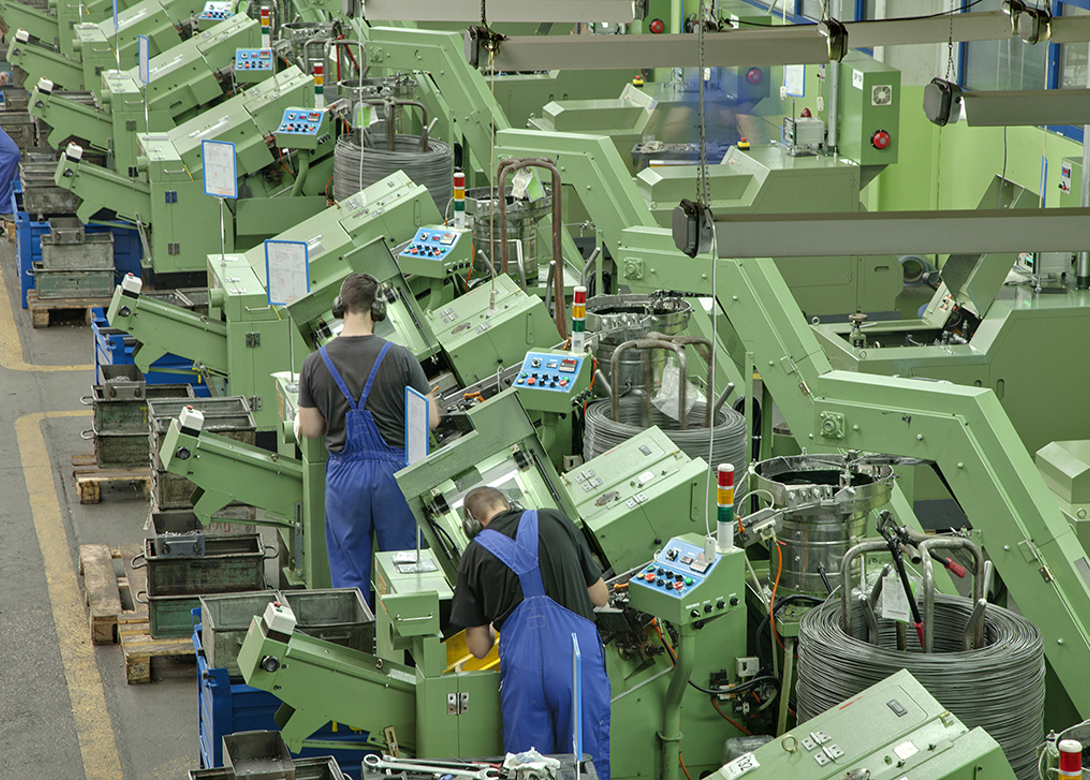 Marcopol's comprehensive offering as a Polish manufacturer and supplier of fastener and fixing elements – for many industries – distinguishes it as a highly valued partner for customers in over 40 countries worldwide. Here Anastazja Janus, export and foreign markets business development director at Marcopol, sheds some light on the business and its role as a European distributor and manufacturer.
Marcopol's production facilities, with its own bespoke machinery, enables the company to quickly execute orders, including a wide range of standard products and customised products – adapted to the individual needs of customers. Through its modern machine park and production capacity the company is able to produce goods of a total weight of up to 500 tonnes per month.
"We have two state of the art factories in northern Poland that enable us to meet the needs of our customers. In addition, we have our own heat treatment plant, as well as our own tooling department," points out Anastazja. "This means we can produce fasteners and fixings quickly, including specialised orders, to the very highest quality – whilst controlling the complete production process."
Vast product portfolio
The company is able to produce from carbon and heat treatable steel (Class 4.8, 5.8, 6.8, 8.8 and 10.9) as well as from stainless steel (A2, AISI 304 and A4, AISI 316 Class 50 and 70). Marcopol is able to produce metric bolts and screws (from M2.5 up to M8, with a maximum length of 220mm); screws for thermoplastic materials, self-tapping screws, wood screws and chipboard screws (from 2.2mm diameter up to 8mm, with a maximum length of 220mm) as well as self-drilling screws (from 2.9mm diameter up to 6.3mm, maximum length of 150mm, and for special customer requests from M3 up to M5 – maximum length 150mm).
Marcopol can also produce threaded rods (with metric thread, thread for wood, for sheet metal, for plastics, and a combination of the above mentioned materials – from 3mm to 8mm diameter, with a maximum length of 220mm). Threaded rods with metric thread can also be produced from stainless steel Class 80 and 100. Marcopol is also able to entice customers with its range of serrated screws, which are available in carbon steel and stainless steel, as well as its ability to produce thread forming metric bolts and screws.
"All products can be manufactured with various types of recess, such as Philips, Pozidriv, slot, kombi, six lobes, hexagonal and special recesses. Marcopol can also supply the products with a wide range of coatings including zinc plating (white, yellow, black), nickel,
zinc-nickel, zinc flake coatings, hot dip galvanising, pre-applied coats (e.g Dri-loc, Eslok), Delta Seal, colour painting, varnishing and other special coatings according to customer's technical requirements, as well as in accordance with RoHS. Finally, the products can be delivered with a declaration of conformity and with the required certificates on request of the customer," explains Anastazja.
Another key development trend at Marcopol is the requests for product customisation. "Alongside standard products, customisation is becoming increasingly expected by customers. It's all about producing high-quality, custom-made fasteners and fixings," points out Anastazja. 'We've been providing both standard and specialised products for such markets as furniture, construction, window and door joinery, electro-technical, electro-mechanical, household appliances, sports equipment and others for many years now and the number of industries using our products is constantly growing."
Packaging service
Not only can Marcopol produce fasteners and fixings quickly, it can also customise packaging in accordance with its customers' needs. "We also provide a full packaging services as part of what we offer," mentions Anastazja. "A very wide range of standard products are available in stock and this ensures short delivery times. It really is a perfect solution for companies that do not want to waste their time packaging goods themselves. We make this process considerably quicker and more profitable."
This packaging service also includes completely packed assembly sets on request – depending on customers' individual needs. In addition to fixing elements and fasteners, the sets may also include manuals and warranty cards. "Through our 'confectionery' process our customers can combine fixing elements and fasteners to the exact quantities they require, whilst picking entrusted products," explains Anastazja. "All ordered elements are packed in plastic bags, according to customer instructions. We offer plastic film of various thickness and colour. We can also add identification labels or print a label directly on the film. Through our modern, multi-station packing line we can provide simultaneous completion of multiple elements and each set is electronically verified as correct. The bags are then packed into cardboard boxes in the final stage of the process – once again according to the instruction of the customer. This means the goods leave the packing line packed aesthetically, securely and – most importantly – quickly."
Quick delivery
Alongside its production facilities, Marcopol has over 12,000m2 of modern warehouse, with some 31,000 pallet spaces, which enables it to hold high stock levels – with continuous availability of over 30,000 products in 40 product groups. "We can deliver orders quickly thanks to our own production facilities and thereby maintain
high-levels of inventory. We differentiate ourselves by ensuring full stock availability for immediate deliveries," explains Anastazja. "That is why we implemented a new logistics management
system – Qguar WMS Pro (Warehouse Management System Pro), which supports all of our warehouse processes, from the acceptance of goods through to their storage and release. This has helped us increase traceability and shorten our delivery times considerably."
The modern warehousing system also guarantees efficient order process for Marcopol's extended sales network, which includes 12 branches in Poland, as well as foreign branches in Russia, Lithuania and Estonia.
Guaranteed quality
The company also has its own quality control laboratory, supervised by external bodies. Detailed control procedures, using top class measuring devices, guarantees the highest execution quality and product repeatability for the customers. "Product safety and quality are the cornerstones of our strategy," states Anastazja. "We look to maintain the highest standards in these fields, working on the basis of a certified Quality Management System conforming to ISO 9001:2015 and ISO 14001:2015 standards."
The newest acquisition, which is used for product testing, is a state of the art tensile testing machine. "This new testing machine provides high accuracy and repeatability of measurements, which in turn allows us to guarantee high-quality products. We strive to constantly improve quality standards by investing in our own laboratory."
Marcopol's vast capabilities and services have been put to the test during the current Covid-19 pandemic, but the company has been able to handle the situation. "Working during the pandemic has been complicated for sure, for everybody, but I can say that Marcopol has dealt with it very well both in our domestic market, as well as in exports," states Anastazja. "I think that a huge plus here is the wide range of items we can offer and the high-level of availability of products in stock. For instance, when the requests from furniture producers reduced we noted an increase in requests from the construction industry. Also the quick production of special products by Marcopol, as well as quick deliveries, were very useful for customers who had experienced postponed supplies from other sources. 
Anastazja adds: "I think that a lot of companies, producers and distributors in terms of the pandemic realised how important it is to have safety of the supply chain. In terms of quickly changing conditions, and the unstable situation on the market, having a reliable European supplier that is able to quickly deliver the standard products, as well as produce items according to special order – in-line with such services as quality control, customised packaging (including ready to use sets of items), quick transport, competitive price and with short delivery time – are esteemed by customers more and more."