NORMA Group's testing process for joining technology solutions
24 November 2017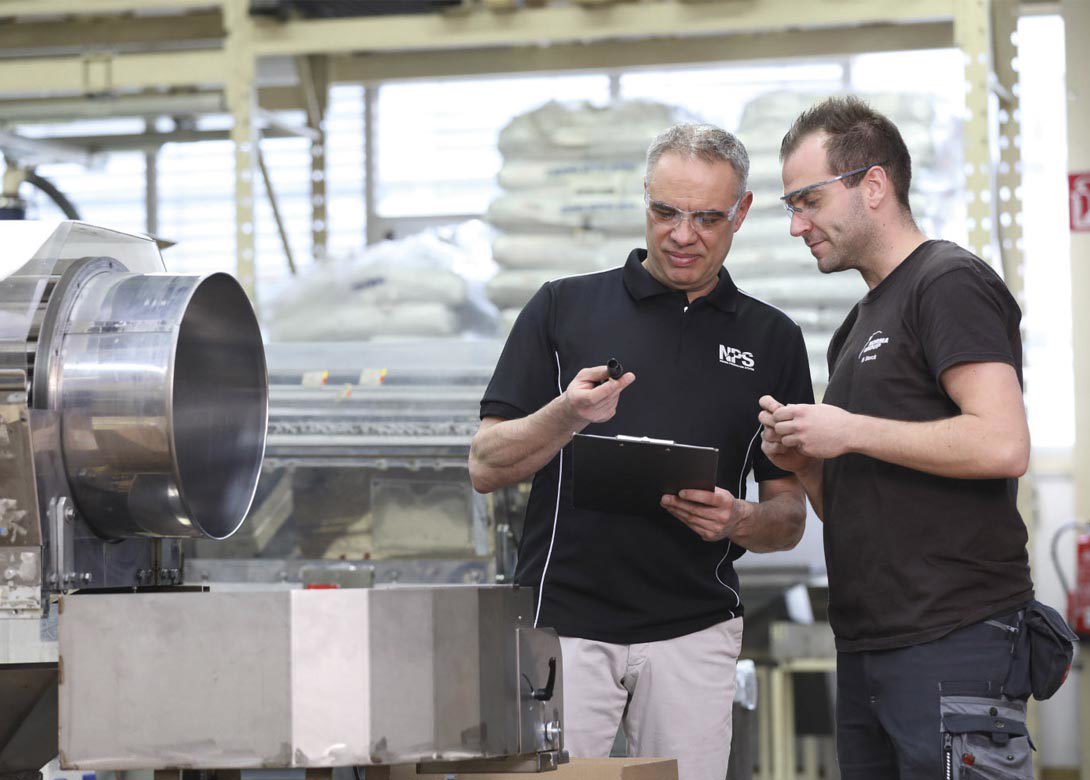 Here Peter Golla, team leader of the test lab in Maintal, Germany, describes the process of product testing at NORMA Group and how it is influenced by current trends. 
Product testing is a very dynamic field. This includes both the testing that is performed when developing new products, as well as in-production quality testing of existing products that are already manufactured in series. As the applications in which joining technology solutions are used are constantly evolving, testing requirements for the products and the testing methods themselves are also changing. For example, higher emission standards in the automotive industry lead to smaller engines that are combined with turbochargers –hence rising temperatures in the exhaust gas system. Therefore, the temperature that a clamp in the exhaust gas system needs to withstand increases. Consequently, the temperature that the clamp is exposed to during product testing also needs to be adjusted.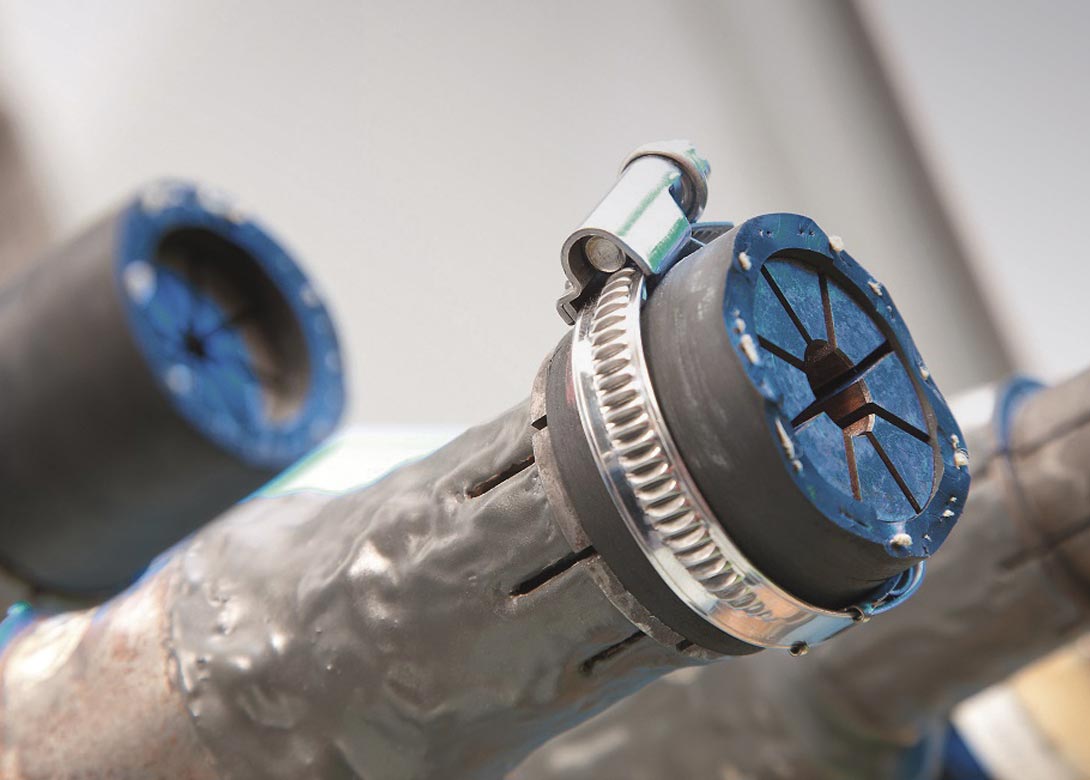 NORMA Group's joining solutions are used in many applications, such as cars, trucks, heavy-duty vehicles, agricultural machines, ships, buildings or infrastructure projects – such as the Gotthard Base Tunnel. With 35,000 products delivered to more than 10,000 customers in over 100 countries, the requirements for each product can vary considerably. Sometimes, we even need to test the same product in different ways, to fulfil the requirements of different customers, applications or national regulations.
For example, China has different regulations on which substances may be disposed of via wastewater than the US. If you are testing the corrosion resistance of a coupling for wastewater pipes, you need to take this into account. In theory, you could look at all regulations and requirements for each product and then test for the maximum requirement for each parameter. However, this makes testing lengthy and expensive, and might increase material and production costs. For this reason, products are usually tested to precisely fulfil the respective requirements of each country, application and customer.
Apart from the application, it is always important to consider the assembly instructions specified by the customer in product development and testing. For example, when you install a connector in a very narrow space, you need to allow for some bending of the material during the installation process to slip the connector onto the pipe endings. 
At NORMA Group, testing usually follows a three step process:
1) Clamping force and assembly: Connectors need to stay securely fastened, even under high-pressure, changing temperatures, mechanical stress, etc. Joining technology solutions, small as they sometimes may be, can have a big impact, as they are 'function-critical'. 

If only one product breaks or leaks, the function of the entire system can be affected. Just think about a car where a fuel line comes loose
or a skyscraper where a wastewater pipe starts leaking.
At the same time, we cannot fasten the clamp or coupling with too much force onto the connection as we would risk damaging the hoses or pipes. If a pipe coupling exerts too much force onto the pipe endings, they could eventually start leaking or break.
Clamping force or tensile strength can be tested with a 1-channel, 4-channel or 8-channel test device, for example, depending on the specification (e.g. DIN) for each product, which prescribes the clamping force test method. 
2) Temperature testing: Once we have optimised the clamping force, we look at how the product behaves in regard to differences in temperature. The temperature the product itself reaches can range from -40°C (-40°F) up to 900°C (1,652°F). The temperatures generated to perform these tests are obviously higher, e.g the hot gas testing facility can generate up to 1,200°C (2,192°F) to test V-profile clamps, which are used in the exhaust gas system of vehicles.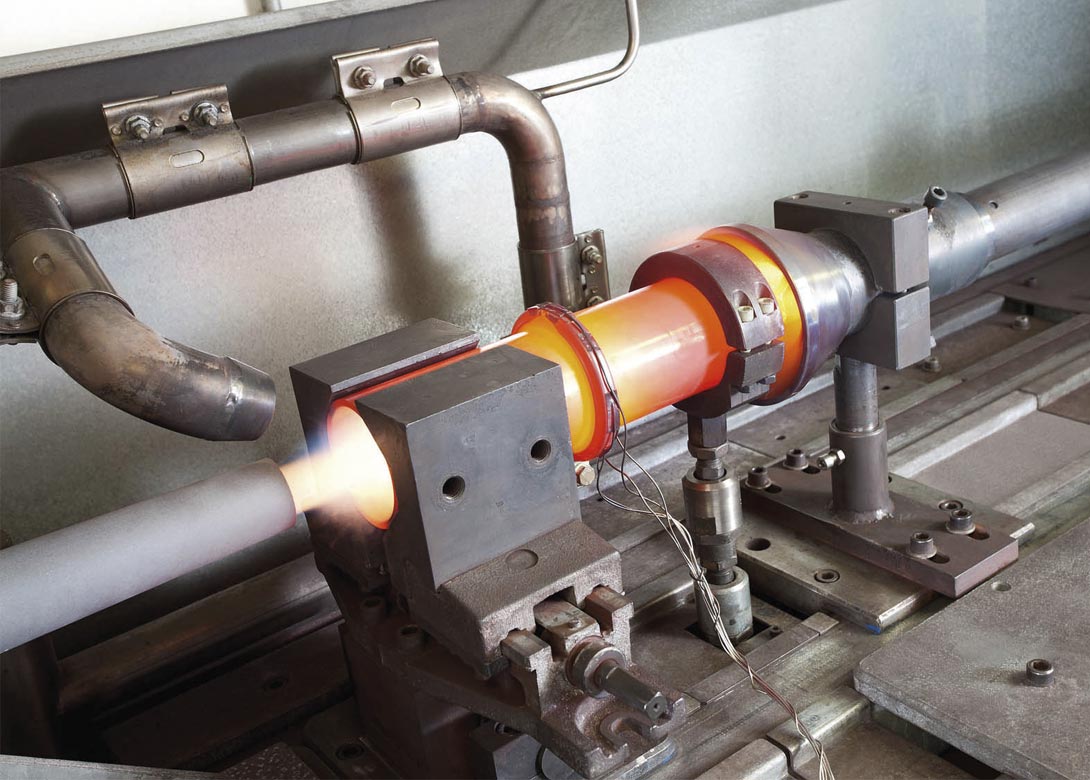 3) Lifecycle testing: In the last stage, we look at the product's longevity in realistic application conditions, up to the level of the module in which the product is used. This is to make sure that each product lasts a lifetime, i.e. provides a secure connection as long as the application it is integrated into is used without the need for replacement.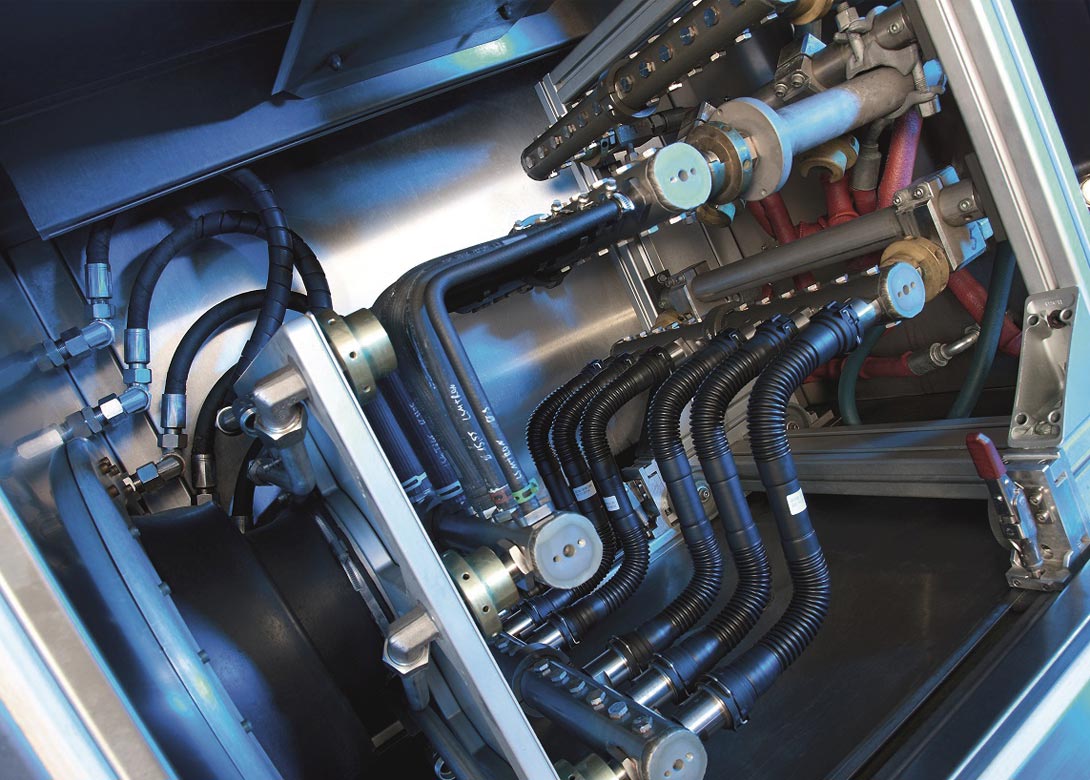 Usually, lifecycle testing comprises complex and time-consuming PVT tests, i.e. combinations of different pressures, vibrations and temperatures.
Depending on the product and on regulations and customer requirements, other parameters are also tested for. Often, we look at corrosion resistance, flame resistance, seal, pull-off force or twisting torque.
With twelve test facilities in Asia, Europe and the Americas, NORMA Group's philosophy is to develop and test products where they are manufactured. This speeds up the process, brings it closer to the customer and makes it more transparent. Regularly customers visit NORMA's labs to have a look at the testing facilities.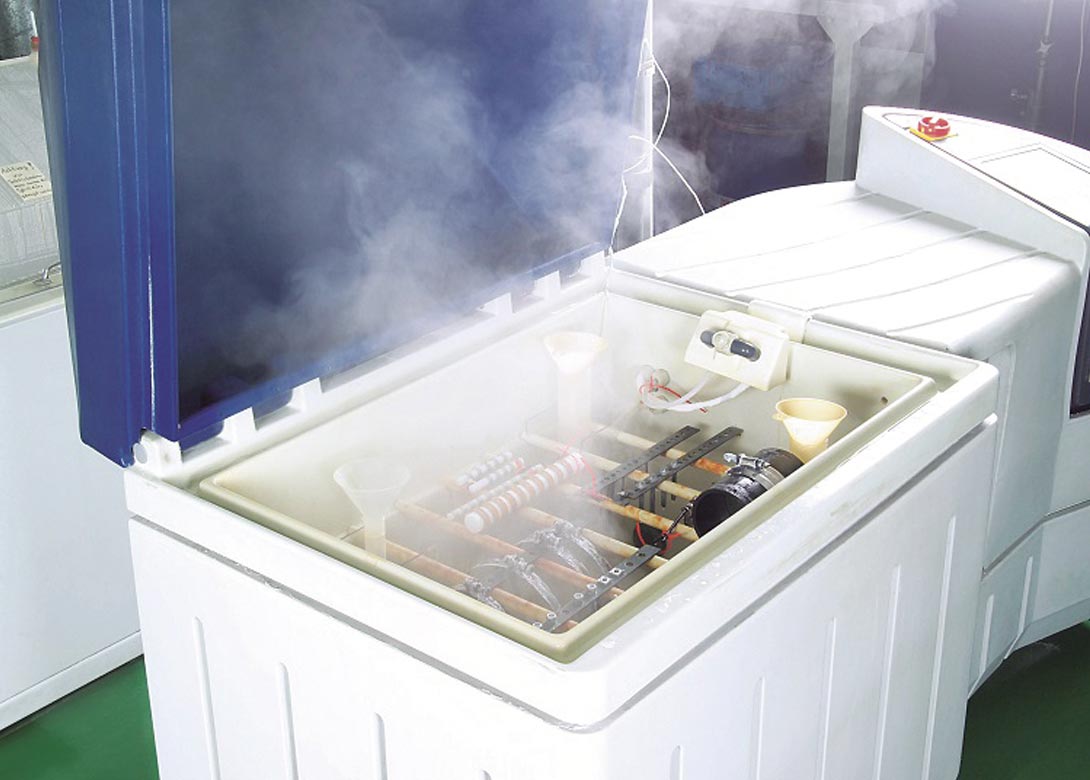 Apart from the yearly calibration of all machines used in the labs, NORMA Group also cooperates with external partners to ensure valid testing methods and data. It helps to ensure its customers' trust in its testing facilities and methods. Customers need to be certain that a product tested by NORMA Group will reliably fulfil their requirements in the long-term. In-production testing for continuous and quick quality checks right on the shop floor are also crucial for ensuring the quality of every single product, because every single product will eventually be used in some application and therefore needs to be absolutely reliable.
NORMA Group's test labs around the world can exchange data in real time by remote access to the data logging systems. Digital platforms make the data instantly accessible to any user around the world with an access permission and login. An engineer in Germany can program an experimental set-up in China via remote access, for example. Through the digital sharing of data, the test labs are becoming increasingly interconnected. This makes it easier for the test engineers to exchange knowledge and to implement the same standards in all labs globally. Overall, the trend seems to be that test methods and network methods are increasingly merging.
Apart from data sharing and interconnectedness, we see a trend in testing towards increasingly big sample sizes in order to boost statistical power. Some decades ago we tested a couple of material test samples. Today, we are able to test thousands of test samples. More specimens mean more data. That is why in the modern test labs of today, you need to consider data logging, storage and server capacities, besides the actual testing facilities and methods.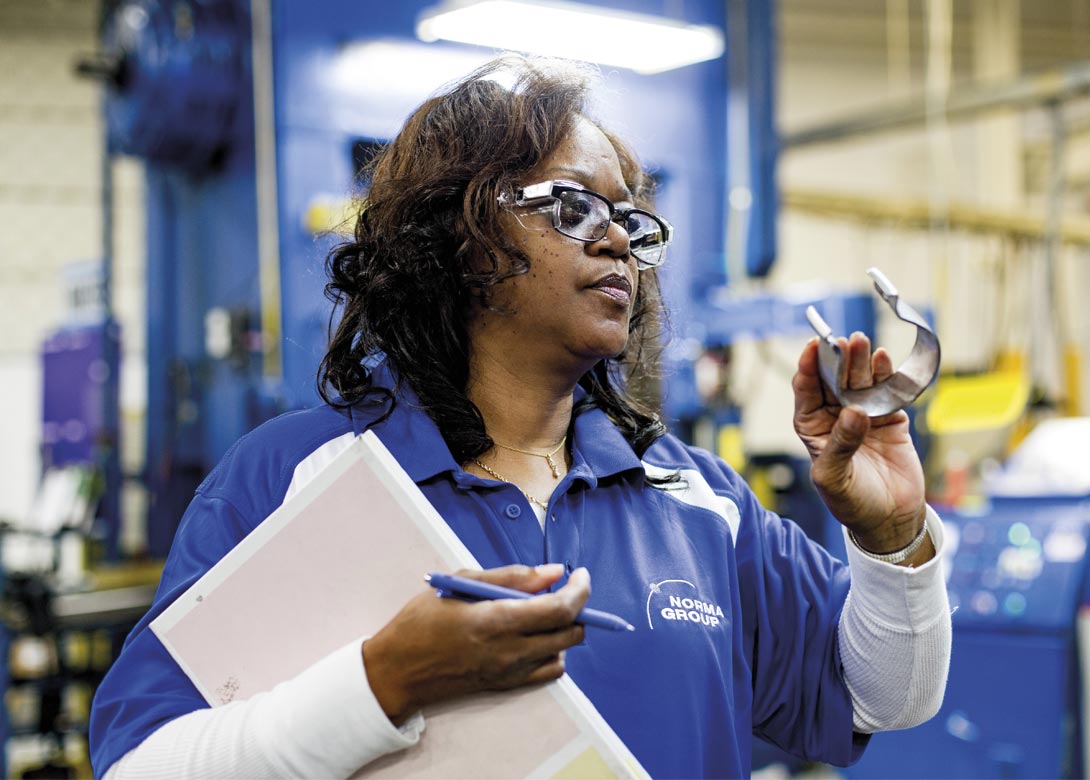 In addition to implementing the same data logging methods, NORMA Group has launched further initiatives to ensure the same standards of quality and reliability in all test labs worldwide. For some standard tests, machines from the same manufacturers are used. This includes leakage, burst pressure, tensile and pull-off force tests. In contrast, for the complex and product specific lifecycle testing, NORMA Group often needs to construct the machines individually. This is why training the test engineers is very important. All colleagues who become test engineers at NORMA Group undergo a comprehensive in-house training to make them familiar with standards, procedures and processes. For some testing methods, there can be a significant variance, which arises from the person conducting the tests. Even if the machines are standardised, the person carrying out the test can have an impact on the results. For example, a left-handed engineer might insert the specimen into the machine in a different way than a right-handed engineer. This is obviously a factor that falsifies the data and there are industry-wide initiatives to eliminate this possible source of error. Training the engineers is one effective measure. In addition, the in-house training helps the test engineers build a network amongst each other to exchange their knowledge and share ideas. 
About 350 employees work in NORMA Group's Research & Development (R&D) organisation globally, which includes the test engineers. Every year, NORMA Group invests approximately 5% of the turnover generated by its Engineered Joining Technology business in modern test capacities, as well as in developing new technologies, products and solutions. In 2016, the company invested several million Euros in expanding the test labs, especially in increasing the capacities and capabilities for tests performed on plastic products, for which we see an increasing demand. Our employees in R&D, the test labs, and in product engineering, are constantly working on developing new solutions and optimising existing systems.