Nord-Lock® strengthens its industry leading position with unique CE Marked securing washers
14 November 2023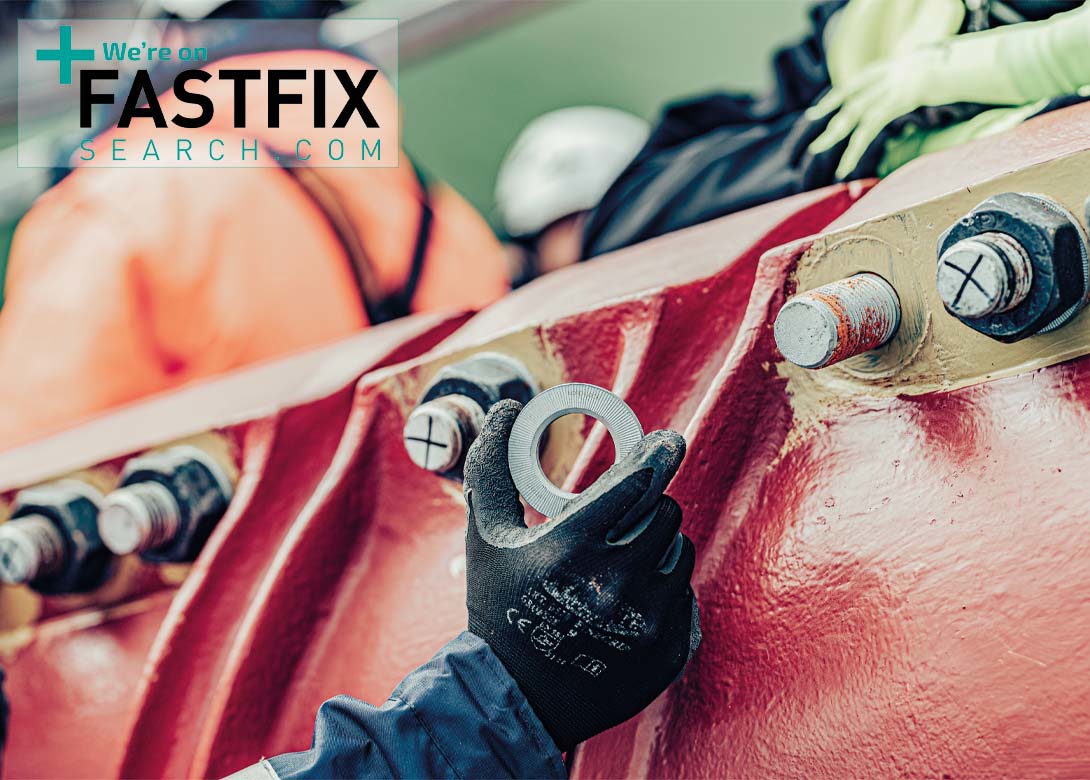 When Nord-Lock®, part of the Nord-Lock Group, introduced its innovative wedge-locking technology in 1982, the company swiftly rose to its current market leading position as the global leader for bolting solutions. Now, the company is once again breaking new ground by announcing the addition of CE Marking to its wedge-locking washers. 
By achieving CE Marking for its securing washers, Nord-Lock® explains it has accomplished a feat that no other global supplier has achieved – putting the company in a unique position in the building and construction industry.
CE Marking is a requirement for anyone supplying products to the building and construction industry within the European Union ensuring products comply with the EU's rigorous safety and quality regulations. The milestone of attaining CE Marking for securing washers reinforces Nord-Lock's raison d'etre – protecting customer investments and keeping people safe. By implication, it also reassures the already established perception of Nord-Lock as the given partner when safety and reliability really matter.
"We are thrilled to introduce CE Marking for our wedge-locking washers, reinforcing our commitment to delivering excellence in engineering and design," reports Graham Souter, vice-president and head of the Nord-Lock Business Unit. "This achievement demonstrates our dedication to compliance and safety, providing our customers with a competitive edge in their operations." 
A testament to quality  
Nord-Lock points out that to declare that a product is of 'high-quality' can mean a lot of things. So, the phrasing often gets applied somewhat by default in advertising and communication activities, occasionally without tangible efforts or actions behind it. However, in the building and construction industry, with products and components carrying the CE Mark, quality is verified through rigorous processes and protocols. Constructors and manufacturers can thus be rest assured that using products with CE Marking means they reach more than satisfactory quality standards.
The way to guarantee desired levels of quality in CE Marked products is through a Declaration of Performance (DoP). This is a 'document that provides information on the performance of a construction product', as stated by the European Commission. To obtain CE Marking for construction products, manufacturers need to have a DoP in place. 
To ensure that the DoP is legitimate, reliable, and accurate, the EU uses AVCP (The Assessment and Verification of Constancy of Performance). For standardised products, manufacturers can monitor and declare the quality performance of their products themselves. However, for components such as Nord-Lock wedge-locking washers, another more extensive system is applied.
Washers assessed by independent expertise
The AVCP system implemented by Nord-Lock for its wedge-locking washers involves third party involvement, meaning that the DoP is audited and verified once a year by independent and notified assessors. 
"Adding CE Marking to our washers reassures constructors that one of their smallest but most critical components continuously passes stringent quality assessments," says Frank Götz, senior expert at Nord-Lock Group. "And considering the growing need for reliable securing measures, as projects are getting bigger and existing constructions age, being able to provide securing washers with CE Marking is a step in the right direction."
Easier to comply with regulations
Other than reassuring high-quality standards, one upside of using CE Marked securing washers is that any building and construction business, in any EU market, can seamlessly reap the renowned benefits of these washers when compliance with regulations is assured throughout the assembly process. With a locking mechanism that uses tension instead of friction, Nord-Lock wedge-locking washers keep bolted connections tight and secure. Even when subjected to severe vibrations or dynamic loads, operators do not have to worry about bolts in critical connections loosening.
"If you face a specific bolting challenge, chances are Nord-Lock has solved it before. With CE Marked securing washers now being a reality, it will be easier for anyone involved in the EU's building and construction industry to get up to speed with the safest and most reliable bolting solution available."
Durable bolted joints in steel construction
The saying goes 'everybody can tighten a bolt', but a properly designed joint involves a multitude of factors, from preload and friction to tool calibration, settlements, as well as dynamic loads.
Nord-Lock higlights that while the requirements for welded joints have evolved steadily over the years, to the point where it's now common to have certified professionals to execute and approve welded joints, a simple bolting protocol from anyone is sufficient for critical bolted joints. Unfortunately, even this minor requirement is not always available.
The fact that critical bolted joints are not subjected to similar quality requirements as welded joints can lead to problems in steel construction – with one of the biggest risks from unsecured bolted joints, subjected to any kind of dynamic loads, being the loss of preload and loosening, which could lead to several negative consequences, such as production downtime and unintended movements. That is why Nord-Lock believes that the purposeful and sensible choice of one or more measures is one of the many responsible decisions of the designing engineer.
Challenges: Preload, slackening and self-loosening
Nord-Lock underlines that the design principle in steel construction is historically based on a rivet. Having remained unchanged, most steel bolts are designed non-preloaded. This runs contrary to the design principle of a bolt itself, where you always want to leverage the benefits of proper clamping and pretensioning.
Loss of preload in bolted joints can occur due to slackening or self-loosening.
Solutions: Nord-Lock washers and European standards
In general, overcoming slackening involves implementing design principles, but self-loosening can be solved with Nord-Lock washers. The washers are validated as an effective securing element for bolted joints by European Technical Assessments (ETAs).  
www.nord-lock.com