Minsavit and Carlo Salvi: Synergic companies 'Made in Italy'
19 September 2016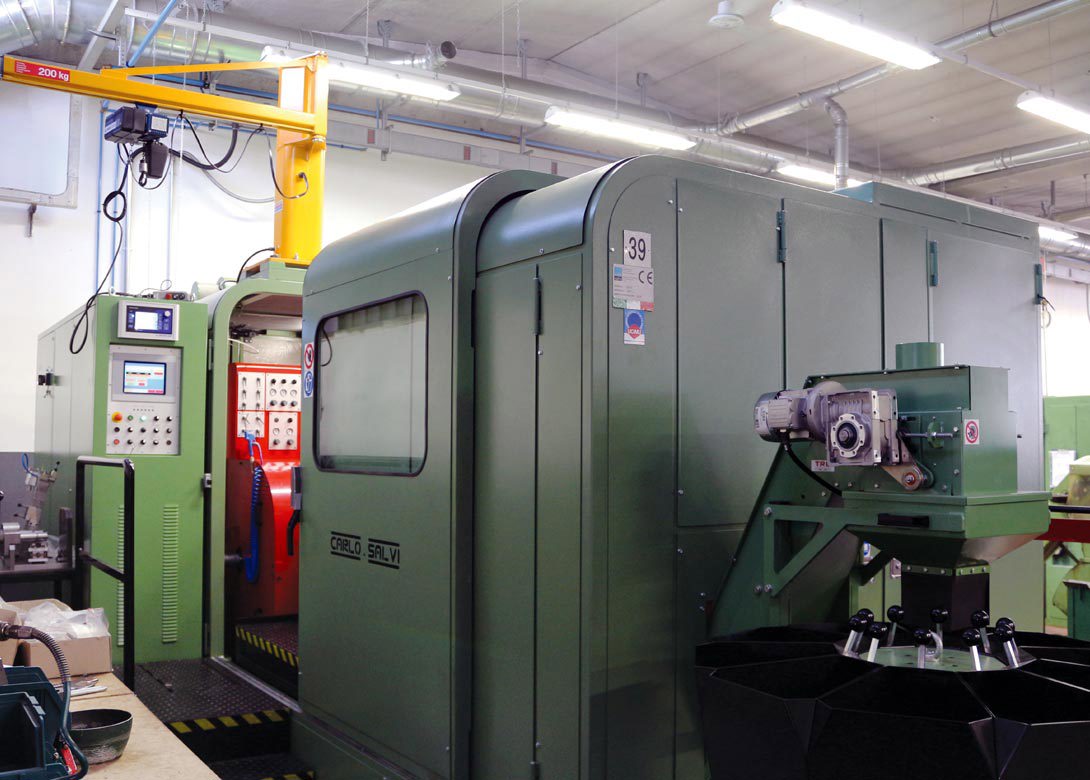 Founded in 1981 by Ambrogio Sangiorgio, who decided to start working solo after working for decades in the engineering industry, Minsavit Srl is a manufacturer of fasteners and special screws – located in Brianza to the north of Milan.
A family-based business, Minsavit is currently managed by Mrs Enrica Sangiorgio, the founder's daughter, and her husband Mr Paolo Fumagalli. The company's production – which has held ISO 9001 certification since 1998 – is ready to satisfy demand from several fields, such as automotive, motorcycle, furniture, building, as well as the household appliances industry. For the future, the company has ambitious growth plans and is focusing on innovation and employment of the most modern technologies, to help dramatically reduce the possibility of human mistakes, such as in precision manual measurement.
Minsavit's main strong points are the quality of the finished parts, the punctuality in deliveries of orders, and, above of all, the flexibility granted by a family management, light and highly responsive to customers' requests. It guarantees 'Made in Italy' quality with production carried out completely in Italy from raw materials of exclusively European origin.
Minsavit production can be according to customer's drawing, sample or customised. The main destination country of Minsavit production is Italy. However, during the last three years, thanks to the addition of an export manager, the Fumagalli family has started approaching new markets in Europe and succeeded in entering niche industries where the flexibility of the Italian companies is considered an added value.
Minsavit represents the real excellence of 'Made in Italy'. During the last few years important investments have been made. The production site has been expanded and more and more technological and performance machines have been purchased – helping to guarantee even higher quality to customers.
With the addition to the company of the third generation, Matteo Fumagalli – mechanical engineer and nephew of the founder – Minsavit is planning further investments on monitoring equipment, which is even more advanced than current equipment. The last addition to Minsavit's machinery range is the Carlo Salvi model 248 E, a 2 die 4 blow header, which epitomises leading Italian entrepreneurship. Despite already having headers of other important producers, Minsavit decided to buy the 248 E model (pictured right) for its advanced technology, which can support and help the operator during tools set-up.
"It is well known that Carlo Salvi machines are 'operator friendly'. By just entering a command on the control board, it is possible to act on the machine," points out Minsavit. "Also, jobs that have already been run on the machine can be easily stored and recalled if the need arises, saving precious time."
The 248 E model has been specially developed to minimise changeover times. Its technology and speed is such that it can be run profitably for not only large volumes but also small batches. Standard features of the header model 248 E include a linear wire feed, without rolls and without wire stop; K.O die side and a punch side; a motorised lifting/lowering of transfer unit; as well as conveyor, bad part divert and transfer fingers.
The Model 248 E header can be enriched further with optional items such as a quick change kit, which includes a punch block unit, transfer unit, cutter holder unit, cutter centring jig, punch centring jig and transfer centring jig.  
To handle materials such as titanium and super alloys, which can not be formed with the cold heading system, the header can also be equipped with a pre-heating system. The customer can decide to install the heating system with coil housed on the die holder or have the resin bonded inductor positioned into the bedframe. In the event of special production needs, it is possible to install both types of inductor if required.
To support this technology Carlo Salvi SpA also offers very accurate and affordable tooling and a prompt service from its comprehensively stocked spare parts warehouse, which represents excellent added value for those companies that choose the Carlo Salvi brand.