Kaleliler – continuously improving
18 May 2022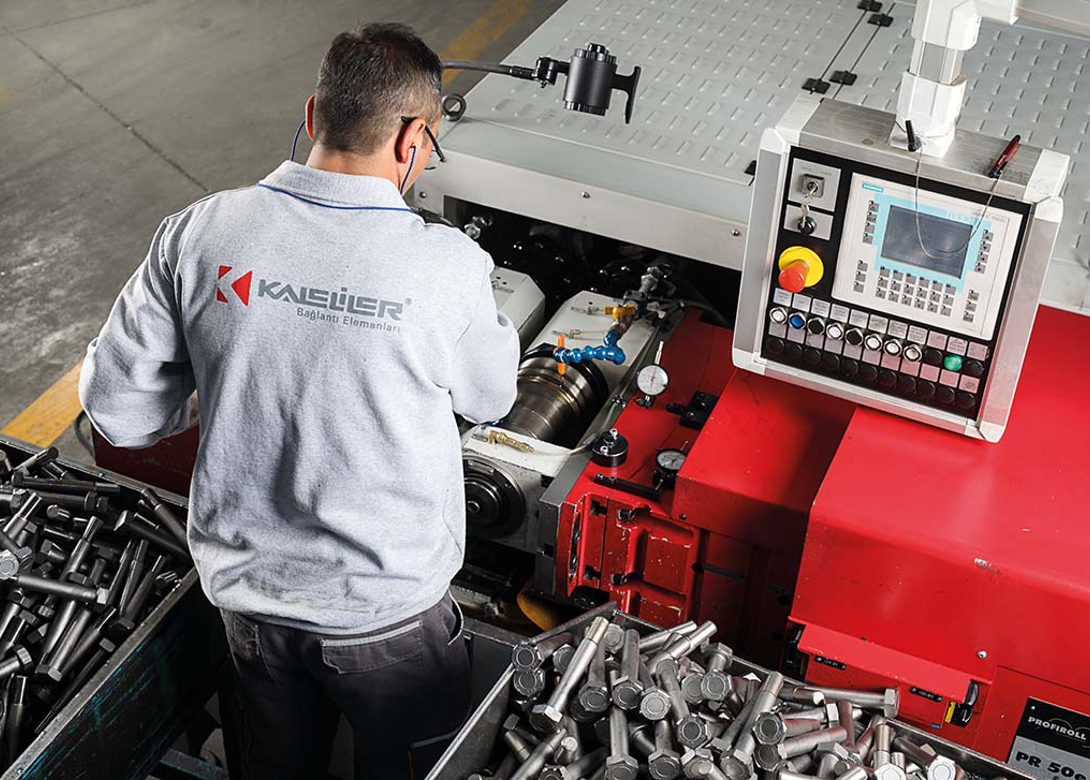 Turkish manufacturer Kaleliler believes in continuous improvement for its product quality, manufacturing capability, stock capacity, and services it provides, which is why the company has recently made some significant investments in its production facilities.
Located in Saray industrial region in Ankara, Kaleliler Baglantı Elemanları is an industrial enterprise that has established itself as a solution partner not only in Turkey, but also in Europe – thanks to its extensive capabilities.
Kaleliler is able to produce bolts, nuts and threaded rods, as well as a wide range of special fasteners, within a range of M12 – M220. "Our company is very flexible and is able to work on projects according to the needs of our clients," explains Kaleliler. "Through our highly qualified technical staff, we can adapt our production to produce many kinds of special items based on drawings or special specifications. Thanks to our wide range of raw material, in stock, we can also provide fast delivery times for high-quality products."
A key factor in Kaleliler's success has been its philosophy to look to expand as it produces, which has enabled it to grow as its business develops. "Over the last two years, even with the challenges regarding the Covid-19 pandemic, we have made several investments in order to increase our capacity – whilst at the same time improving our production quality and efficiency."
The investments Kaleliler has made include a new hot dip galvanising line – which is fully automatic and includes an environmentally friendly pre-treatment line (ultrasonic and mechanical cleaning) and is operated without acid usage; as well as a new induction line that is also fully automatic and has helped Kaleliler increase its hot forging capacity and production capabilities.
Other investments include a new friction test machine, which operates within a range of M12 – M72; a new tensile test machine of 5,000kN (500 tonnes), which will carry out tests within a range of  M22 – M72; as well as a new thread machine for nuts, which will be used for threading nuts within a range of M36 – M52.
Made in Turkey
Kaleliler also believes there are significant benefits of being a Turkish manufacturer, thanks to the geographic location and the flexibility that is associated with Turkish companies. "Since Turkey is a part of Europe, even it is not in the EU, it means Turkish companies can work very smoothly with the European market when it comes to following EU regulations. The transport time is also very short, which helps to quicken the delivery time," points out Kaleliler. "Thanks to the low labour and energy costs in Turkey, which are increasing but still lower than the majority of Europe, we are able to provide high-quality products and a first-class service – all at a very competitive price."
Another area where Kaleliler believes there will be an opportunity to grow is regarding the anti-dumping duties that were announced on some Chinese products at the beginning of 2022. "We have already had several companies visit our factory and audit our capabilities and we are confident this will lead to business in the future," states Kaleliler. "The anti-dumping duties will certainly be a great opportunity for us to expand even further in the future. I believe Turkish manufacturers will be able to grow their businesses and make new investments due to this opportunity. This will then help to grow export sales in fasteners and will help to restore our economy too."
Kaleliler continues: "I believe the next five years are really important for not just Kaleliler, but all Turkish companies and people, especially if we can stabilise the political conditions and take advantage of being a modern, civilised, hardworking country, which has a great potential. At Kaleliler we have some additional investment plans for our production line and heat treatment department. For the long-term our aim is to be one of the top manufacturers of high-quality steel fasteners in Europe." 
www.kaleliler.com.tr/en/home