Janus Perspective: Brighton Best International Inc
20 January 2022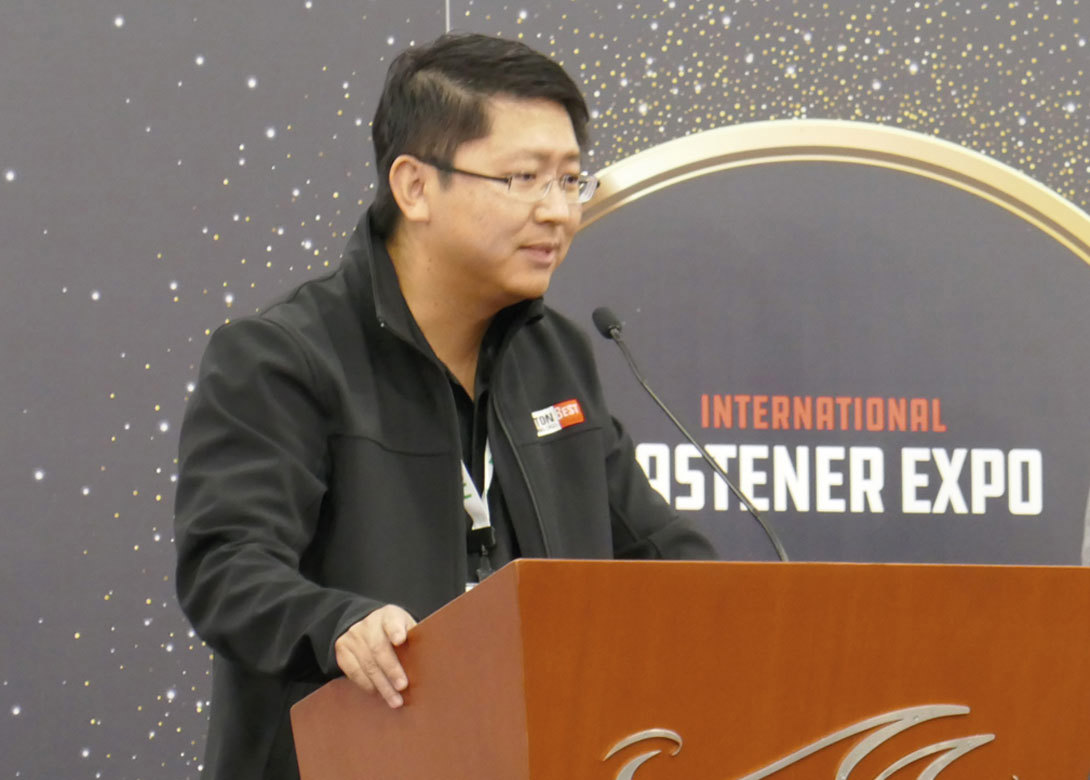 A review and preview of the global fastener market

Named after the Roman god who is often depicted as having two faces – due to its ability to look to the future and to the past – the Janus Perspective is a unique feature that includes a wide cross section of global fastener business leaders, who have all contributed their retrospective of 2021 and thoughts on prospects and challenges for 2022.
Jun Xu, president
When discussing 2021, we cannot avoid discussing 2020 because the two years are intricately related. In 2020, when Covid-19 triggered lockdowns around the world, we saw demand reduce by over 30%. Companies were struggling; workers were being let go; and no one was thinking about anything but survival.
Quickly governments passed trillions of dollars of stimulus, which buffeted the worst of what the economy and our world could have become. However, the increase in money supply into the hands of consumers drastically increased demand at the same time that most companies were still only thinking about surviving and not recovery.
Economics is based on an equilibrium of supply and demand. With factory closures/port closures/manpower shortages, coupled with the demand spike, the supply chain stressed and buckled. In the supply/demand equation, demand is much easier to manipulate than supply. Auto-depositing billions of dollars of stimulus is done much faster than the building of more container ships, or trucks, or the ability to hire and train new employees. Hence, when demand picked up, the supply chain cracked. If the story of 2020 was about Covid-19, the story of 2021 was about a supply chain crisis sparked by a supply/demand in-equilibrium. So, what does 2022 look like?
In 2022 I believe we will see more volatility, although in a different form. 2022 volatility will come with less amplitude, but higher frequency. I think of Covid-19 as a large rock being thrown into a pond. The first wave is the largest. The second wave more moderate, but essentially a reaction to the first wave. As time wears on, the waves get smaller in amplitude, but faster in the rate of change. I believe this is what we'll be facing in the coming years. In 2020, and 2021, we saw the first two waves. The waves were large and wide, so movement was in a consistent direction. 2020 was about managing the reduction in demand and the health and safety of our families and colleagues. 2021 was about managing the demand surge, the supply chain, and customer's expectations. Although we believe the first half of 2022 will look similar to 2021, the latter part of 2022 will be much more uneven as competing currents start to affect our economies. Material costs may stabilise, but will ocean freight, trucking, or labour? Will demand be more uneven with the current high inflationary prices? These waves will not be single directional. In fact, they may accelerate, conflict, or cancel each other out.  Where we will be at the end of 2022 is anyone's guess.
The only certainty we have of the future is that volatility is accelerating. Will there be other large rocks thrown into the pond in 2022? Just on our horizon are the threat of new Covid-19 variants, Omicron or otherwise. What about the geopolitical risk and landscape? Our world is getting more divided every day by politics, and potential flash points are getting warmer, not cooler. What about the new EU trade tariffs? Is this really the best timing with the current parts shortage?
Businesses are becoming more challenged because news is coming in faster than ever before, and everyone is expecting a reaction. While some elements we must quickly react to, I hope we also train ourselves to see through the daily noise and chart a path where you want to see your business in the future.  If the waves are noise, try not to oscillate with the waves, but look through the waves. There, you'll find your moving average. Riding and reacting to each wave, especially as they increase in frequency, will exhaust you and everyone around you.
I'll just conclude with this. One fundamental truth is that the future belongs to those who believe in it.  Because if you believe in it, you will invest in it.  If you do not invest in your future, the future will pass you by. This is why as leaders, we must maintain a sense of hope and optimism for the future. Keep a steady hand on your ship and best wishes to everyone. Whether manufacturers, distributors, or wholesalers, we are all in this global industry together.