Hot forging – up close and personal
29 February 2016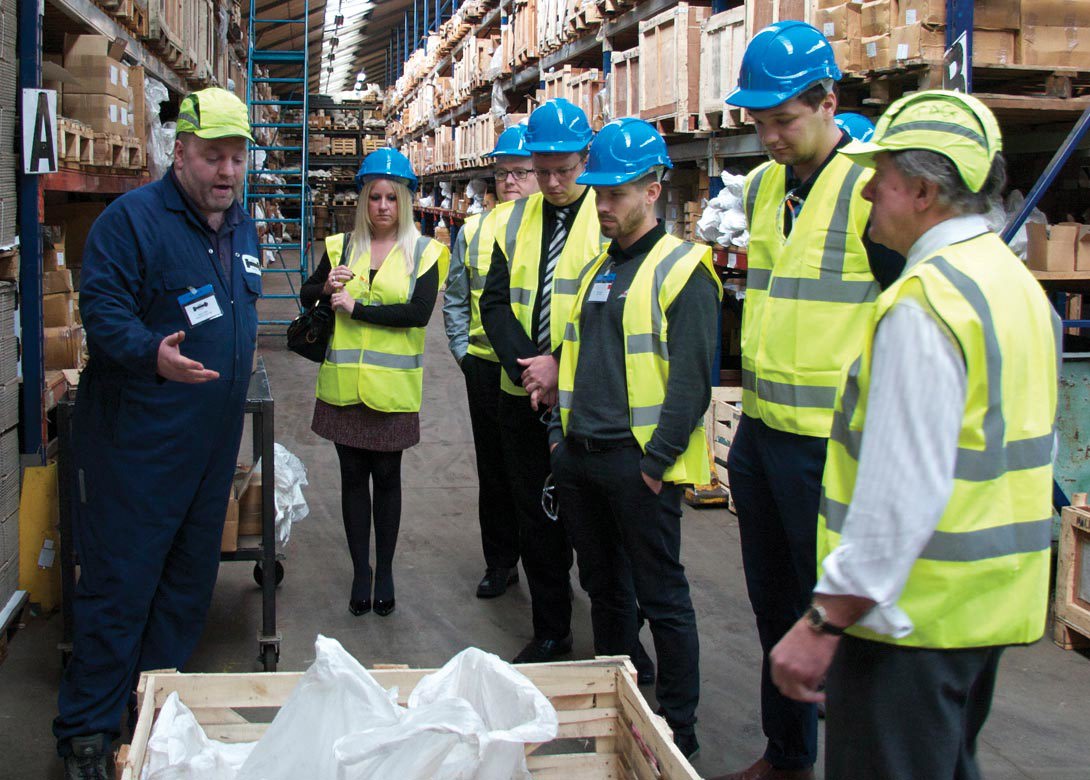 On 10th November, Smith Bullough, slightly nervously staged its first open day for invited fastener distributors. What it provided was an excellent and thoroughly authentic opportunity to witness first-hand this forging specialist's manufacturing and quality control processes.
Tim Garton, managing director at Smith Bullough, welcomed around twenty representatives from UK fastener distributors to the 20,000 square feet (6,000m²) premises in Wigan, which Smith Bullough acquired and moved into in 2006. The company is the result of a merger in 1995 of two bolt manufacturing businesses that trace their history to the nineteenth century, when nearby Atherton was a major nail and bolt manufacturing centre.
Today, Smith Bullough is recognised as a responsive, quality committed hot forging and machining operation, producing a wide variety of special bolting. It also, as a unique outcome of its long history, now holds the UK's largest inventory of finished imperial BSW and BSF dimension fasteners.
The company is committed to solely supporting and supplying through fastener distributors. "You are our sales force," said Tim Garton, explaining why he and commercial director, John Hilton, believed it was important that distribution customers could see and understand Smith Bullough's manufacturing processes.
In preparation for the factory tour, plant section managers provided personal presentations of the Smith Bullough process – from customer drawing to final quality inspection and despatch. The nerves were apparent but so too was a unique authenticity and exposition of the reservoir of experience amongst this company's twenty-five employees. Barry Taylor, forging and tooling manager, epitomised the point. Starting in fastener manufacturing aged 15, Barry admitted he was now coming up to his sixtieth birthday. Retention and continuity of that knowledge is emphatically a priority for the Smith Bullough directors, underpinning a systematic in-house training programme and support to ensure employees can obtain knowledge and qualifications externally.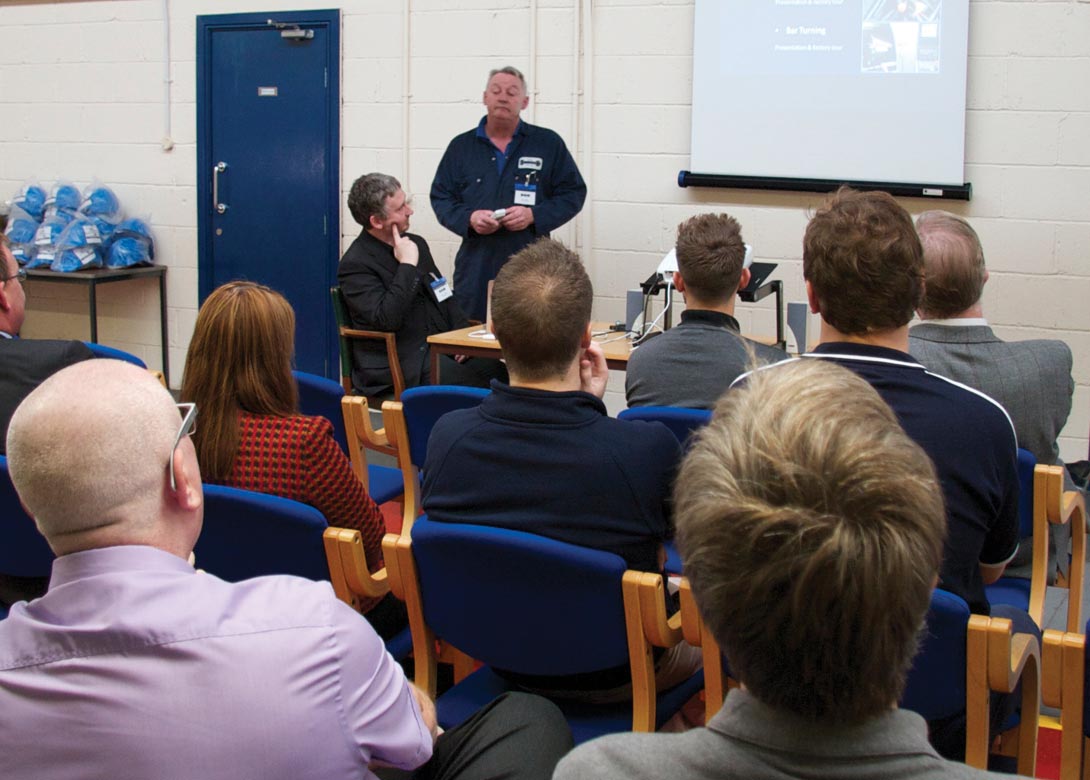 As well as BSW/BSF bolts and set screws, Smith Bullough holds a large inventory of imperial and metric blanks, enabling it to rapidly thread and carry out secondary operations to customer specifications. CNC machining capability also means the company manufactures special engineers studs and precision components in stainless steel and exotic alloys, as well as carbon steel grades.
The tours began in the commercial office, allowing visitors to put faces to voices and names more familiar on the phone or email, a demonstration if any were needed of how personable this company is. Guided through the warehouse, visitors moved on to see product being readied for heat treatment and coating by external contractors, able here, as at all stages of the tour, to ask questions of the people responsible for the job.
Certificated and fully traceable rod and bar is sourced from within the UK and stocked in preparation for being cut to length for hot forging. Blanks are induction heated before being transferred to two stage forging presses. Thread forming is primarily by circular die rolling machines although Smith Bullough has flat die rolling technology and produces cut thread components. Alongside the threading and secondary operation area, Smith Bullough has its own tooling design and manufacturing shop, adding further to the company's responsiveness.
Finally, visitors were given demonstrations of Smith Bullough's capability to critically evaluate raw materials, in process parts and finished products. In addition to hardness testing and microscopic inspection, the company has a tensile tester, ultrasound scanner to detect in material defects, plating and surface coating thickness tester, and shadow profile projector. Less usual for a relatively small UK fastener manufacturer, is an optical emission spectrometer to analyse chemical composition of materials.
This was not a polished PR event – and was far better for not being so. It was a thoroughly genuine 'open house', characteristic of this business: An authentic opportunity to see hot forged fastener manufacturing 'warts and all'.
Tristan Gilbody, key account manager at Francis Kirk & Son Ltd, was amongst attendees and commented afterwards: "Absolutely everyone involved made a noticeable effort to be welcoming and approachable, and it was certainly worthwhile to gain a better understanding of the Smith Bullough operation and company ethos. Tim is right to be very proud and enthusiastic about his business."
Tristan continued: "Credit must go to the staff, several of whom I suspect don't present to groups on regular occasion, for their willingness to explain their roles, their history with the company and to then answer questions. We didn't have much idea of Smith Bullough's history but now we have seen first-hand how the company is run and the variety of products it offers, we will certainly be sending more enquiries their way."
Glyn Brown, managing director of Archerdale Limited, also felt the event was valuable: "The tour of the Smith Bullough factory and offices was indeed an interesting and educating experience. We have had an account with the company for many years and have long recognised its valuable place in our supply chain."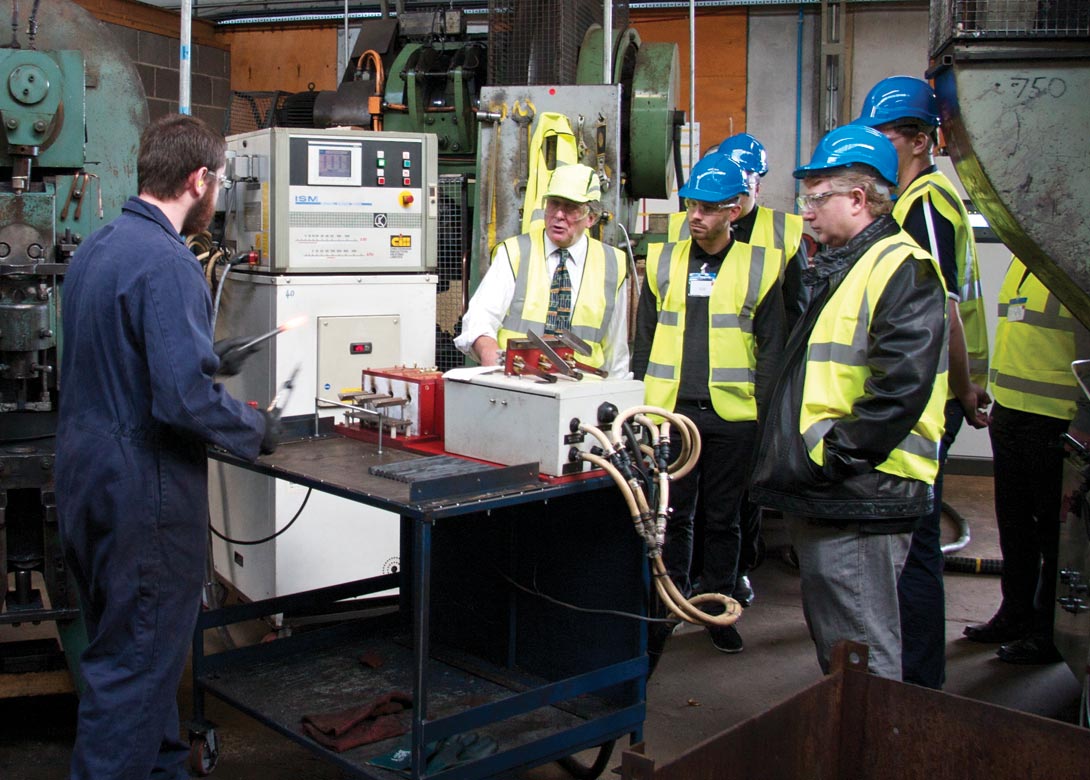 "As part of our ongoing training programme I was pleased to accept on behalf of myself and two colleagues the invitation to visit the company. Part of the training highlighted that a good number of our employees had not actually seen a bolt produced other than on video."
Glyn continued: "The tour proved to be a great insight into specialised bolt production. Its process was explained from conception of the bolt requirement to completion, with particular interest in the extensive range and ability to produce top quality special bolts fully tested and certified."
"Driving back over the Pennines my two colleagues commented on how much they had learned from the presentation and both agreed that it would be a great help to further their education in our great industry!"
Smith Bullough is keen to do it again so hopefully UK distributors can expect another open day soon. If so, take up the invitation – it will be a worthwhile day's investment to really understand this form of fastener manufacturing. Meantime there is a good photo gallery and presentation on the company website, which also provides full details of the Smith Bullough's manufacturing ranges and capabilities.