High-speed loading system for heavy parts and long blanks
04 October 2021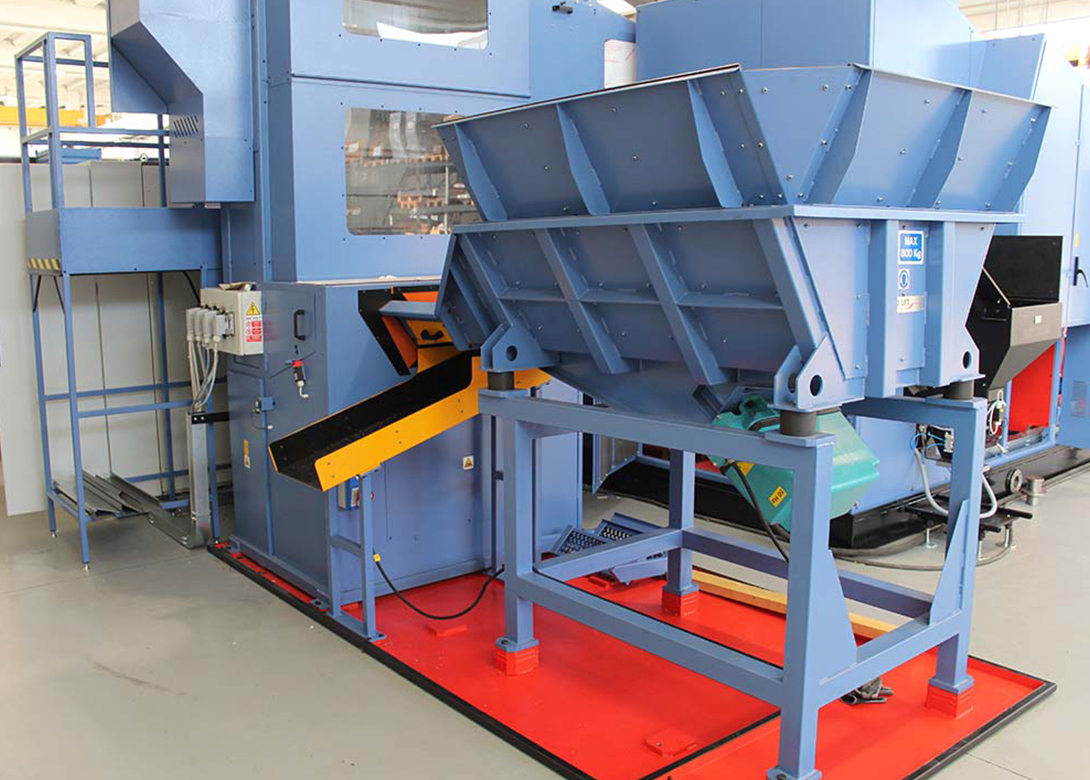 To ensure efficient production, thread rolling, and secondary operation, machines must be equipped with feeding units specifically designed for the type of part to be machined. The new vertical feeding system TS1200-R from Tecno Lift, is available for heavy-duty screws, bolts and special parts with various lengths.
The Tecno Lift vertical feeder TS1200-R consists of a controlled vibration loading hopper that always supplies the correct quantity of workpieces to the vertical lifting device. The load is controlled by a sensor that stops the vibration when the channel is full, with the vibration produced by two servo controlled unbalance vibro motors. The load surface is also covered in polyethylene to reduce the noise level and to avoid damaging the workpieces. It has a load carrying capacity of 0.9m3.
The machine also features a controlled speed vertical lifting device with flights (working width 1,200mm) transferring the screws at the required height. The thickness of the elevation bars can be defined according to the geometry of the parts to improve lifting capacity and prevent the parts from being damaged or dented while being conveyed.
At the end of the lifting device, the blanks are discharged onto a pair of counter rotating rollers. The rollers have an adjustable speed and can be adjusted both axially and vertically to select and direct the blanks into the linear vibrator feeding rails. The linear vibrator consists of two parallel plates, which can be adjusted to the blank to guarantee perfect alignment with the feed guides. Surplus blanks pieces drop down a lined, soundproof channel into the loading hopper.
For a quick changeover, all the adjustments of the device are fully motorised. From the touchscreen panel it is possible to manage the motorised adjustments and save all the positions for each part code to restart the production immediately. Even the vibrating hopper can be equipped with a dual channel to discharge the parts from the hopper to shift immediately to another kind of product to be fed.
The vertical feeder is placed on a pan to facilitate conveying and positioning and prevent any liquid on the blanks from leaking on to the floor. "The TS1200-R is the best compromise to feed heavy parts and long blanks to reach higher speed – without damaging parts versus the use of very large traditional vibratory bowl feeders," comments Tecno Lift Srl.
Part of the SACMA Group, Tecno Lift Srl designs and manufactures vertical feeders, hoppers and belt conveyors for feeding to production machines used in the screws, bolts and general fastener industry. 


www.tecnoliftitaly.com