Hafren expands to meet growing demand for security fasteners
04 June 2020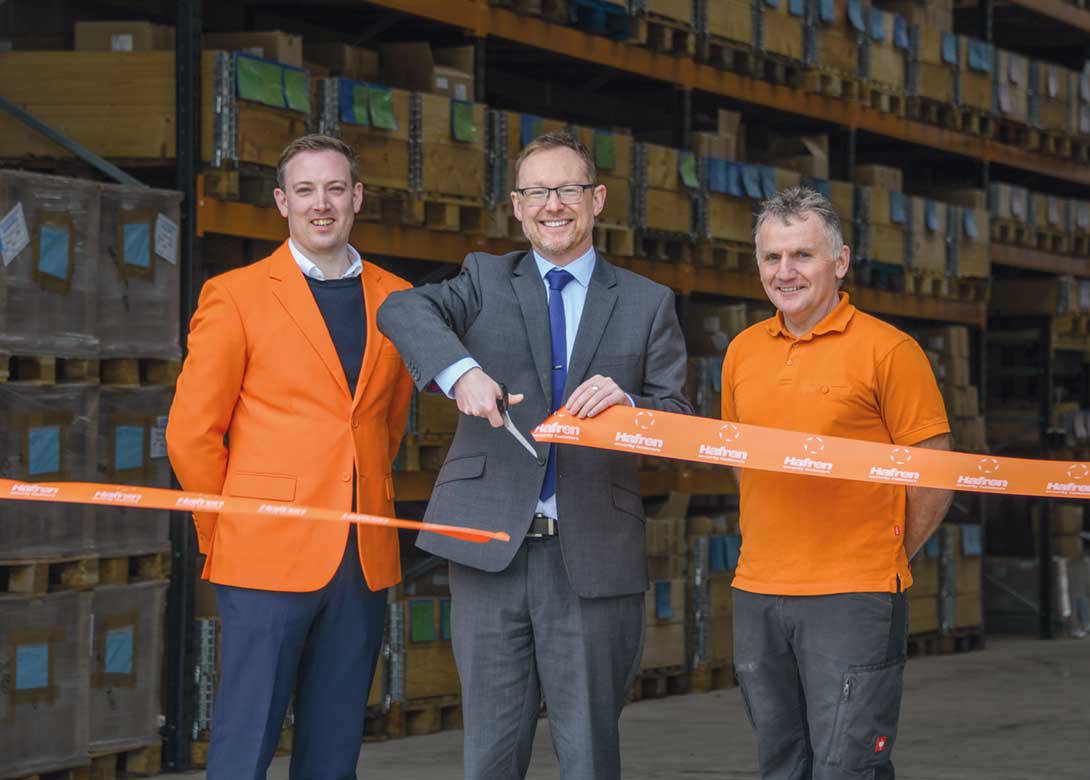 The 9th March 2020 was a momentous day for Hafren Security Fasteners as it cut the ribbon on its new purpose-built storage facility – adjacent to its head office in Newtown, Wales.
Matthew Lynes, managing director at Hafren, commented: "It is a great day for Hafren as the global home of security fasteners expands again. This new building is more than 3 times larger than our current warehouse facility; we have built it to meet and exceed the growing demands of our clients, to safeguard and create more jobs, and to keep us one step ahead in everything we do."
To help celebrate the completion of the storage facility Hafren was visited by Assembly Member for Montgomeryshire, Russell George, who cut the ribbon for the official opening. Russell commented: "I'm delighted that this growing company is securing well paid jobs in the Newtown area. Hafren is committed to Wales and this investment further secures the company's future to the local area, which supports the local economy."
Having more storage space will provide Hafren with increased capacity and flexibility to enable it to offer distributor customers an even better service, in terms of stock availability and delivery speed. It also helps to future proof the business ahead of supply chain threats and transportation issues that could crop up due to external unforeseen incidents, such as BREXIT and Covid-19. The extra space can also be used for expanding the range of specialist security fasteners and adding more unique and bespoke solutions to the company's range.
Matthew Lynes adds: "2020 is our 25th year in this market. It has already seen the launch of one new range and we're putting a lot of time and investment into R&D and innovation. We are globally the first company to stock a range of A4 stainless steel security screws, which will no doubt be popular with customers looking for a security fastener that can withstand the harshest environments. Sustainability is key to our business and in-line with our ISO 14001 certification we have launched our new range of 100% recycled cardboard packaging. We have also just added our first fully electric vehicle to our fleet. Watch this space on new products and many more exciting developments to come!"
Hafren is continuing to innovate and bring new and bespoke products to the market. A few months ago, it added a former TWR Racing/Jaguar Land Rover engineer to its R&D team – helping to continually keep the company ahead of the ever developing threat and requirement for new and unique security screws, nuts and bolts.
Securing the UK's deserted streets
With the UK in lockdown and social distancing measures introduced, scores of businesses, hospitals and other key infrastructure sites are vulnerable to opportunist thieves. So, what can be done to help protect unmanned premises?
Hafren Security Fasteners' specialised screws, nuts, bolts and enclosures can be used in a wide range of applications to increase resilience to tampering and attack. These applications include CCTV, perimeter security such as fences and barriers, lighting, access control, alarm systems, and window and door security.
In fact, they are used anywhere property and infrastructure needs to be secured against tampering, theft and vandalism. The principal is simple; deny, deter, delay and detect. The added safety measure of security fasteners deny removal with conventional tools – as they are either permanent or only removable via the matching security tooling.
This increased layer of security will often deter criminal from attempting theft as it may appear too difficult and if they do attempt tampering with the assemblage, the special design and hardened stainless steel will make it extremely difficult to remove (the delay element). While the criminal is being delayed by the security fasteners it means the crime is much more likely to be detected, as their efforts to overcome the security fasteners will likely be heard or witnessed.