Evolving for the future
07 June 2018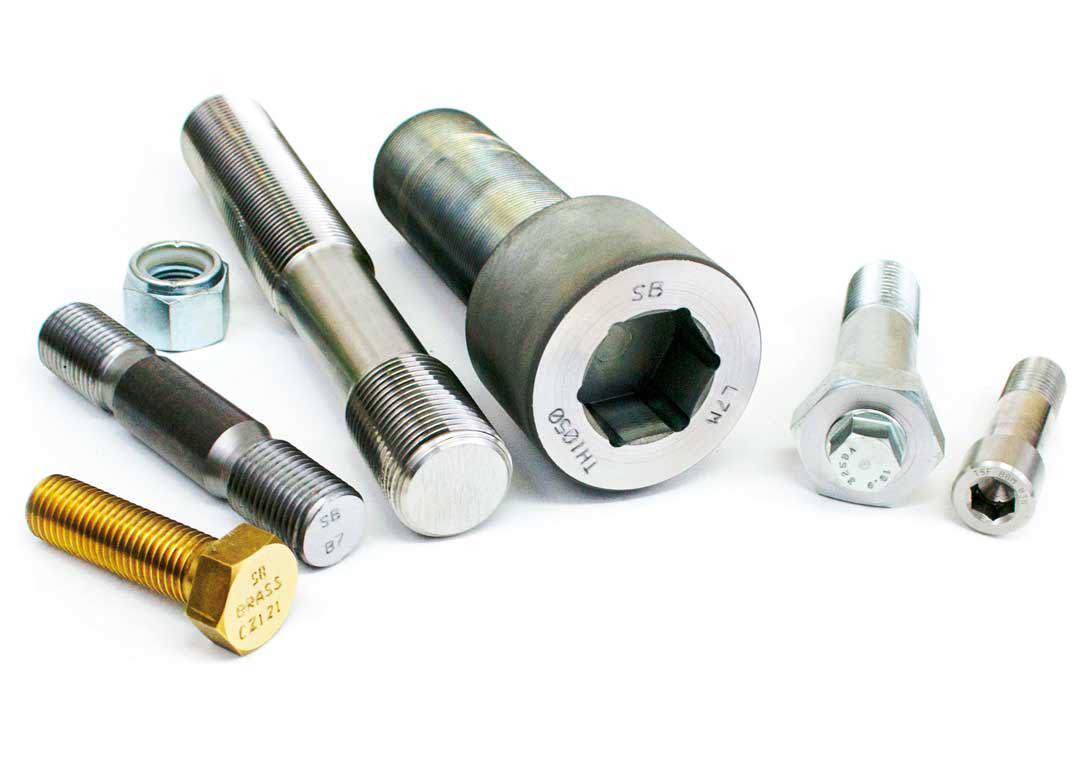 Smith Bullough Ltd is in the final stages of reorganising its manufacturing, quality department, warehouse and offices – helping it to optimise processes across every aspect of the business.
A hot forging specialist of non-standard metric and imperial special fasteners, Smith Bullough has been based at its current site since 2006 and needed to create further space to continue to grow as a business. "Over the last 12 years at this site we have steadily expanded our product and sales range, which in turn has led to us needing more space for machines," explains Tim Garton, director at Smith Bullough. "The redesign of the floor plan has been a very big project for us, but by going through the process we have been able to streamline our entire production."
The redesign has included knocking down an interior wall and expanding its production floor into the QC area. It has also introduced a mezzanine floor at the end of its high-bay warehouse for further production, with its QC lab relocated underneath. LED lighting will also be introduced to the production area – providing a better working environment for employees.
"We work with a lot of advisors where possible and when we first decided to extend the factory we contacted our local Business Growth Hub, which have been very helpful," mentions Tim. "Initially, we were planning on extending the factory, as we have plenty of space on the overall site. However, after speaking to the consultant we decided the best strategy would be to introduce the mezzanine floor – which was a simpler process and also more cost-effective, as well as time efficient."
Smith Bullough is also of introducing a barcode tracking system on the shop floor, so it can see at what stage each product is during the production process. "Through our own customised system, which syncs with our proprietary system, we can look into the timescale of when certain products are going to be produced. This means we can group and organise the production process to become more efficient," points out Tim. "Having these skills in-house means we can introduce new systems, and adapt current systems, so we can improve processes and generate exactly what we need."
Hot forging non-standards
An expert in hot forging straight from bar, and with the ability to cut semi-finished blanks to non-standard lengths – with non-standard thread, Smith Bullough is able to produce special products in Grade 4.6, 8.8, 10.9 and 12.9. Secondary operations available include chamfering, cutting, rolling, grinding, drilling and CNC operations.
"The products manufactured could be technical fasteners and need to be produced correctly," explains Tim. "We respect the drawings and make sure every product conforms to the exact dimensional and mechanical requirements. Where required we can also work with customers, and even their customers, to achieve the product and service required. Thanks to the experience we have within the company, and on the shop floor, we can partner with customers to achieve something special. You can have all the machines in the world, but without the people and the knowledge you can't produce the right types of products."
Smith Bullough also uses its experience to optimise and adapt its current machines to use new materials and produce new products. "The machine doesn't know if it is forming a mild steel blank or a 316 stainless steel blank," points out Tim. "Thanks to the expertise we have within the business, we are able to adapt the machines and develop new processes. Whether it is brass, non-ferrous, copper, A2 or A4, it doesn't make any difference to our forging machines. It may take a bit more tonnage, but the principle of the tooling is the same."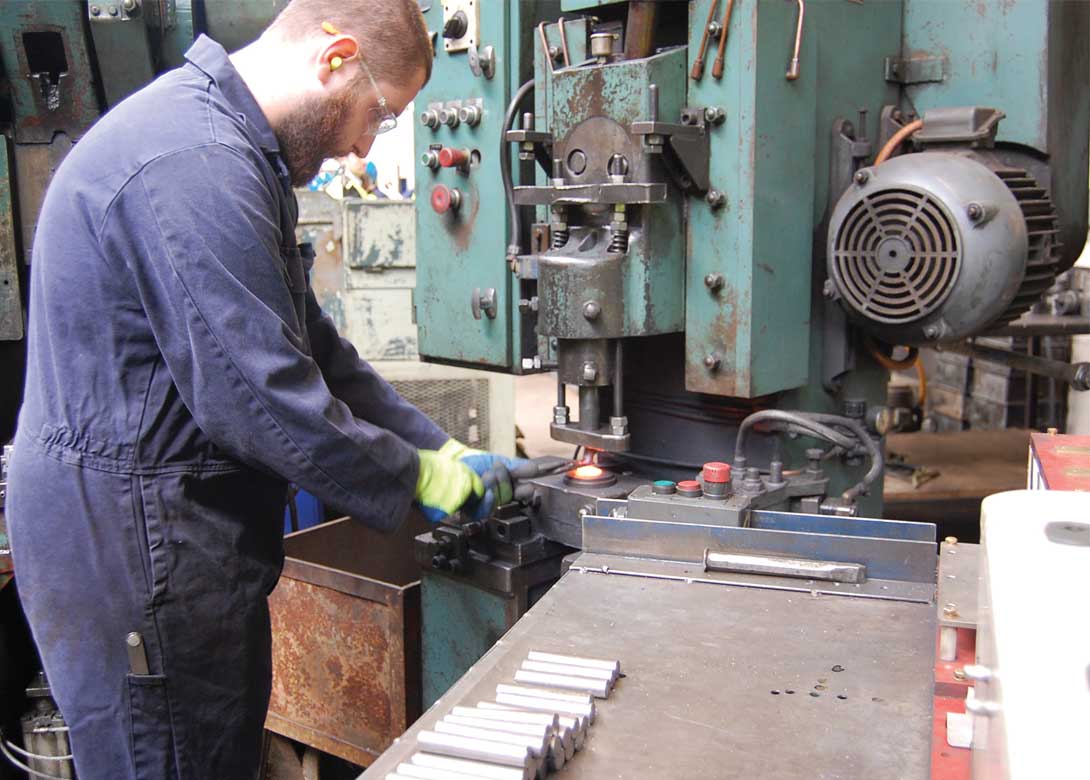 Made in the UK
For Smith Bullough a big advantage of being a UK manufacturer is the schemes available from the government that help it to further develop. "In addition to the Business Growth Hub, which helped with our expansion, we also work with Catapult Centres, which are centres designed to transform the UK's capability for innovation in specific areas and help drive future economic growth," points out Tim. "The one that is most relevant for us is the Advanced Forming Research Centre in Renfrew, Scotland, which approached us to see if we had any issues we could work with them on."
Tim continues: "One challenge we faced was if we were making a big head, we could experience catastrophic failure of the tools after making only a few. Although there were several projects from other SMEs in consideration, our project was chosen by the Renfrew centre and we started working with them on design simulations. We had two guys come down from Scotland to see what we could do and see our processes. We also talked about the challenges we faced. As part of the partnership, we provide the time and the raw material, and they carry out the simulations, design and manufacture the tools, and undertake trial production. It will prove a very positive collaboration and we are seeing some very good results already."
Continuing to learn
Another step the company is taking to help it continuously develop is to encourage its production staff to further their education – with employees receiving an annual bonus for each business-related accreditation they achieve. "Not only does the employee benefit from further developing their knowledge, as a company we benefit from them putting that knowledge into practice," comments Tim. "We also give our employees projects to work on within the production process to see how we can improve each step. By doing this we have achieved some really positive results."
Getting the next generation into the business and passing on the skills and knowledge of the machines is also a key topic for Smith Bullough. "We have a lot of employees with a wealth of knowledge, so it is important this skill set and experience is passed down and kept within the company," explains Tim. "That is why we have introduced an apprenticeship scheme, which is proving successful."
Looking ahead
Having expanded its operations, as well as its processes, the next step in Smith Bullough's progression is to educate the market on its capabilities. "Traditionally, we were perceived to only produce the old type standard threads – the BSF/BSW," says Tim. "However, because our general engineering skills cover such a wide variety of processes, we can offer a lot more than many of our customers realise. We have significantly expanded our range to now include a whole host of possibilities – such as metric fine and metric 12.9. We can also work with customers if they have specific or unusual designs or material requirements. Our challenge is to get them to understand what we can do, which is why we are keen to continue the manufacturing workshops."
Smith Bullough's manufacturing workshops involve customers visiting the company to gain further understanding of forging processes, as well as its full capabilities and production. "People that work selling nuts and bolts don't necessarily understand the process behind manufacturing the products," explains Tim. "Our manufacturing workshops go through each stage of the process and have proved very popular. It gives us an opportunity to have discussions with customers and we are keen to do them once again in the future."
Tim closes: "There have been a lot of developments at the company and we are keen to let our customers know. However, one thing that has been constant is the quality of the products we produce and our commitment to supplying and supporting the fastener distribution industry."