BIAFD demonstrates commitment to training
24 August 2015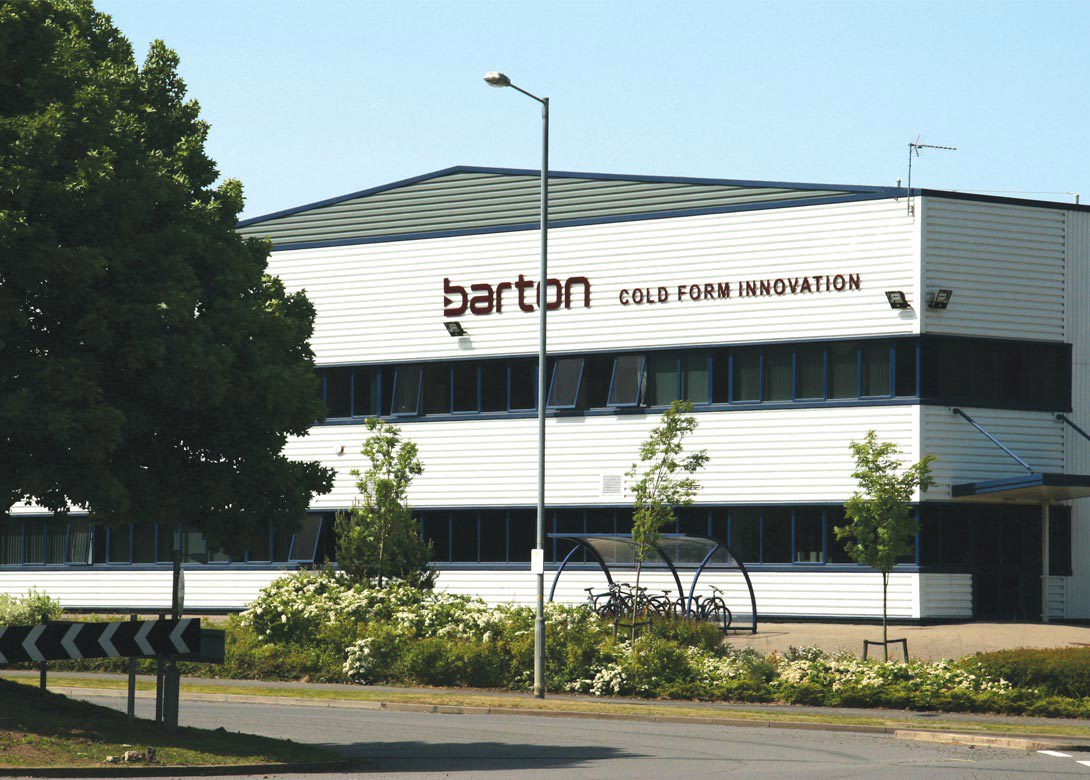 In June the British & Irish Association of Fastener Distributors staged its first 'Fastener Forming Seminar and Plant Tour' at Barton Coldform (UK) Ltd, a showpiece UK fastener manufacturing facility in Droitwich Spa. The event followed the relaunch of BIAFD's Introductory Fastener Training Manual, available exclusively to the association membership.
Thirty-eight delegates attended the one day event ranging from purchasing and sales personnel to directors of BIAFD member companies. The seminar opened with a presentation on cold forming technology from Kevin Beirne, district manager of National Machinery LLC, which manufactures and supplies advance manufacturing equipment globally. Outlining the advantages of cold forming for the manufacture of fasteners and parts, Kevin's presentation included a series of animations illustrating the cold forming progression and the variations of upsetting and extrusion that can be deployed to form simple and complex parts. The presentation also considered the major technology developments now incorporated into advanced, multi-die cold and warm formers to improve accuracy, efficiency and productivity.
Kevin Beirne, National Machinery LLC, explaining cold forming
Clive Cross of Forming Solutions (UK) Limited focused on the development and modern technologies of rolling, underlining that the rolling process has advanced far beyond just forming threads and provides a wide range of other manufacturing capabilities. He considered the different methods of rolling, employing flat, cylindrical and planetary dies. Forming Solutions is an independent first tier supplier of products and systems related to cold forming manufacture and is the UK agent for the SACMA Group.
Clive Cross, Forming Solutions (UK) Limited, discussing rolling technologies
Clive was joined at the seminar by Frederic Nathan, from SACMA, supporting him in a presentation that looked at Ingramatic's development of advanced rolling technologies.
Wrapping up the classroom session, Phil Matten, who organised the event for BIAFD, briefly contrasted the hot forging process and its continued role in the production of larger diameter fasteners and in providing short run production of both standard and special fastener products. To illustrate the process he screened one of a number of excellent videos hosted on the website of Non Standard Socket Screws Ltd.
Following a light lunch, Managing Director Andrew Nuttall, introduced Barton Coldform and explained its development, business and manufacturing capabilities. He then led one of four group tours of Barton Coldform's modern, 5,100 square metre production facility.
Andrew Nuttall (left) explaining the manufacturing processes to BIAFD members
Commenting later he said: "It was very much a badge of honour for us to be chosen to host the BIAFD seminar and demonstrate what we are doing to drive the continued increase in reshoring of manufacturing back to the UK from the Far East.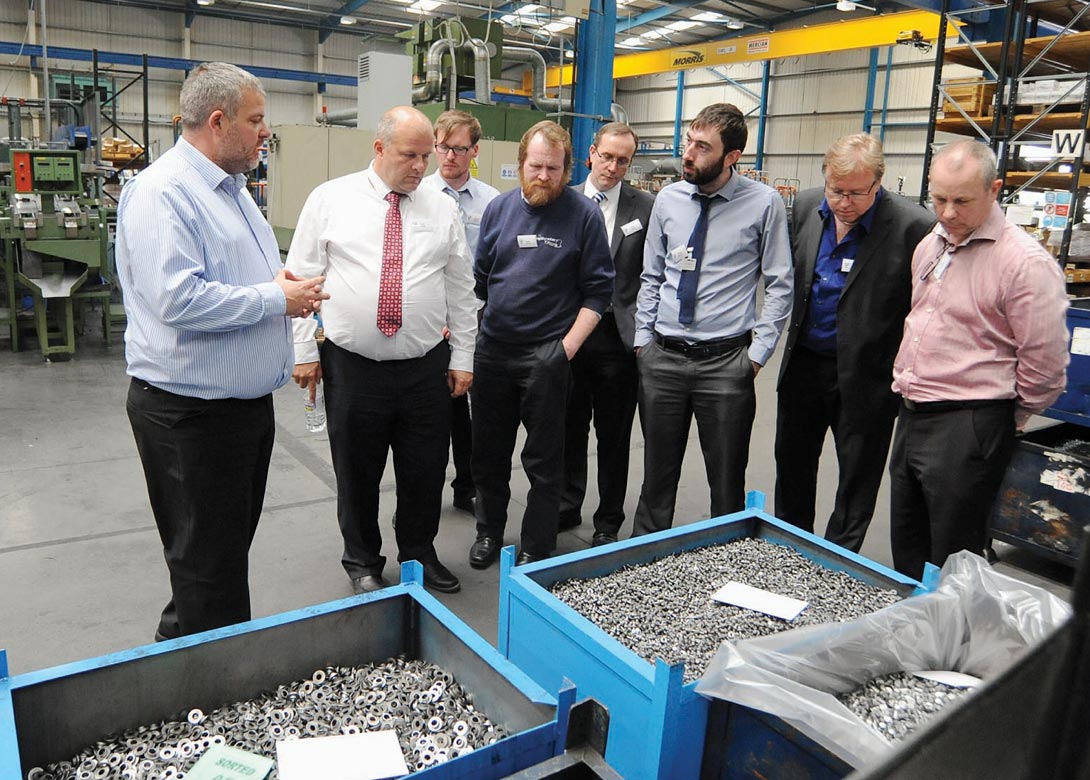 There's no substitute for actually seeing first-hand how we work, and the members who joined us were really engaged in the day and the feedback we received was extremely positive. Given the success of the day we will certainly be looking to replicate an event like this again in the future."
A feedback survey conducted by BIAFD clearly confirmed the value derived by delegates of being able to see all the forming processes close up and first-hand.
David Furness, Rapierstar managing director, and a BIAFD director, particularly valued the chance to bring distributor personnel, including members of his own team, to the event. "It is great to see behind the scenes of a UK manufacturer which is enjoying strong growth," he said. "There's only so much you can learn from information and videos, so this was an outstanding opportunity for BIAFD members to see, hear and feel the manufacturing processes up close.
BIAFD is extremely grateful to Barton Coldform for opening up its doors, providing excellent facilities for the seminar element of the day, and taking the time to provide a really informative tour of its very impressive facility.
BIAFD director David Furness with Andrew Nuttall during the plant tour 
We are similarly grateful for the commitment from the speakers, who represent the acknowledged global leaders in fastener forming equipment. They were extremely generous in investing their time and resource to contribute to a better recognition of the technology and engineering processes that lay behind the production of even the simplest fastener."
Following the success of this event and a previous visit to the Wire Rod Mill at Tata Steel, Scunthorpe, the Association is now working on the potential for a series of seminars and plant visits covering all the stages of fastener production to further demonstrate its commitment to ensuring BIAFD members are better informed.
New Introductory Fastener Training Manual
With the same objective, BIAFD earlier this year launched a completely updated version of its 135-page Introductory Fastener Training Manual. Aimed at new entrants to the industry, but equally useful for longer serving distribution personnel to refresh their knowledge, the manual comprises eleven modules and a detailed glossary of fastener terminology. Each module concludes with a brief set of questions, allowing students to confirm their understanding of that section of the manual. The manual introduces basic fastener types, considering different thread and drive types, before reviewing fastener materials and strength grades. Four modules are dedicated to the stages of fastener manufacturing followed by modules on 'Quality' and 'How Fasteners Work'. The remaining modules present the different groups of fasteners and fixings, providing brief descriptions of examples together with images to assist recognition.
BIAFD members in Barton Coldform's quality department
The manual is hosted online so that the modules can be downloaded as and when required. This ensures the manual can be regularly updated and that the module in use will reflect recent changes.
The Fastener Training Manual and seminars are just two benefits exclusively available to UK and Irish fastener distributors as members of the BIAFD. The Association also holds two General Meetings a year, which always feature presentations on current topics, whether technical and market focused or on regulatory developments, like the Construction Products Regulation or EU trade measures and other factors influencing the global supply of fastener products.
Full information on the activities and services of BIAFD, including how to join the Association, can be found on its recently updated website.
The next BIAFD General Meeting will be held near Manchester on Thursday 1st October. BIAFD will be offering a special trial lunch and meeting package to UK and Irish fastener distributors interested in finding out first-hand what the association offers.