A single source for high-quality fastener products
15 December 2017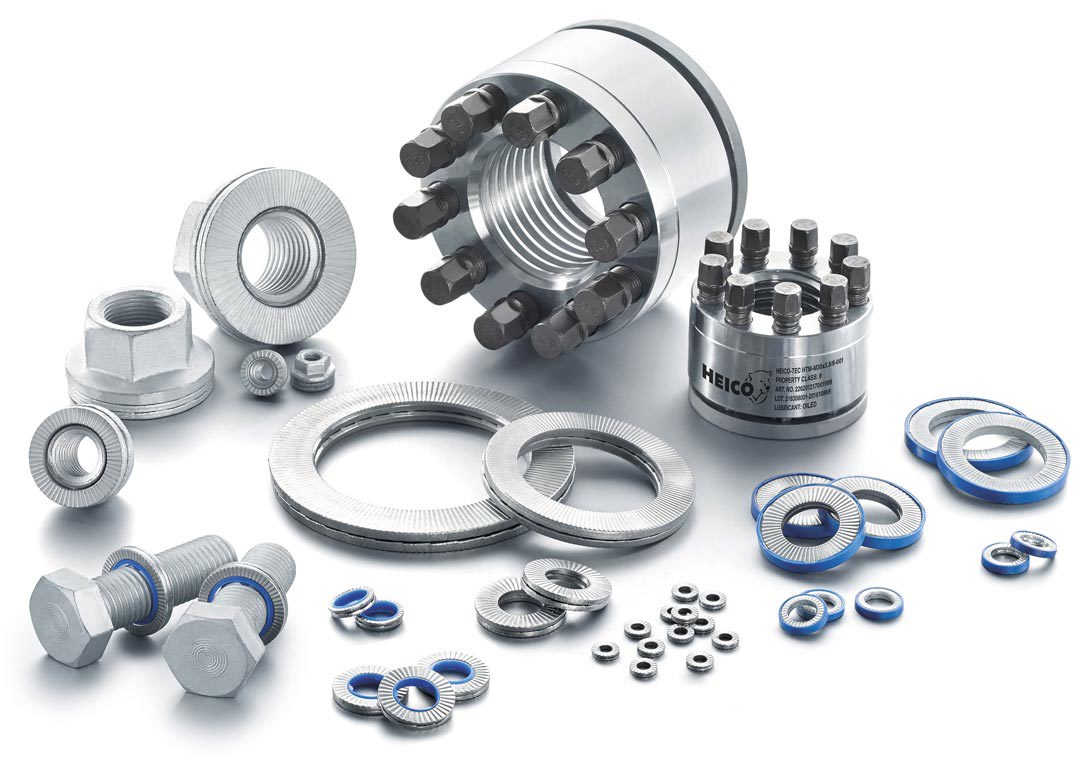 HEICO Group, based in Ense in Westphalia, Germany, has been at the forefront of fastener technology since its inception well over 100 years ago. With over a dozen subsidiaries and employing over 430 people, the Group is well placed to provide the highest standards of fastener production.
The family owned business has a long tradition of forming metal – initially by producing upholstery and furniture nails, before expanding into cold forming of industrial fasteners. In recent years, an innovation drive has seen the company launch the highly successful HEICO-LOCK® wedge lock washers range.
HEICO prides itself on offering a single source for high-quality fastener products from the development of customer specific parts to tempering and surface finishing, as well as quality testing and logistics. This is supported by a process of continued capital investment in its already extensive machine plant, which is highlighted by the recent introduction of an in-house induction hardening operation, as well as setting up its own in-house testing lab providing support in the development of new and innovative bolted connections. Together with undertaking detailed testing options on behalf of customers.
In addition to this investment the Group is committed to a policy of continual process improvement and the highest manufacturing standards, demonstrated by its ISO/TS 16949 certification – the internationally recognised Quality Management System specification for the automotive supply chain.
As Jan Bernd Heimann, company director of HEICO Group, explains quality is key: "Our continual commitment to ensuring the highest standards of quality is integral to what we do and full compliance with ISO/TS 16949 ensures we set the very highest standards when it comes to production quality and quality control. Indeed, I think it is this commitment to the highest quality that differentiates German fastener manufacturers from the competition."
Jan Bernd Heimann continues on the competition theme: "There is no doubt that one of the main challenges for the German fastener market, and indeed the wider German economy, is the rising number of competitors from outside the country. But the important thing is to treat this increasing competition as a challenge that must be met and this can only be done by adhering to the highest quality standards."
The automotive industry is an important market for HEICO's cold forged parts and the company's in-house tool design facility provides the necessary expertise for dealing with complex part geometries. The use of segment tools and warm forming processes enable the most complex geometries to be formed using modern multistage presses – capable of up to 6 stage forming of wire diameters from 2mm – 16mm. Drilling, threading and rolling processes, as well as turning and milling operations, are also available.
For HEICO new product innovation is also key with the HEICO-LOCK® wedge locking system being developed by the company to counter the effects of dynamic loads and high vibration causing loosening of bolted joints by self-rotation. 
The system forms the basis of further innovations in the HEICO-LOCK range including the HEICO-LOCK® ring lock washers that have an outer plastic ring that ensures the individual washers are permanently held in the correct position; and the one piece HEICO-LOCK® wedge lock nut that combines the HEICO-LOCK system with a flanged nut – providing a reliable, faster and cost-optimised bolt security solution. 
Delivering anti-vibration security for HV sets according to DIN EN 14399-4 and DIN EN 14399-8, the HEICO-LOCK® HLK-washers have a chamfered internal diameter that ensures optimal surface contact with the increased under head radius of HV bolts and also has German Institute for Structural Engineering (DIBt) approval.
The new HEICO-LOCK® combi-washers have an inner locking ring with inset tabs that grip onto the bolt thread. With easy mounting and permanent connection, the system provides real flexibility as it can be combined with all commercially available bolts.
HEICO's bolt security expertise has also seen the development of the HEICO-TEC® tension nut for use with large bolted joints. With HEICO-TEC no electric, hydraulic or pneumatic tools are needed for installation, just a conventional torque wrench. It meets all the requirements of ISO 898-2 and can replace any hex nut from the same strength class.
"With quality and innovation at the heart of its business HEICO Group continues to fly the flag for 'Made in Germany'."