60 years of Unifix
14 March 2023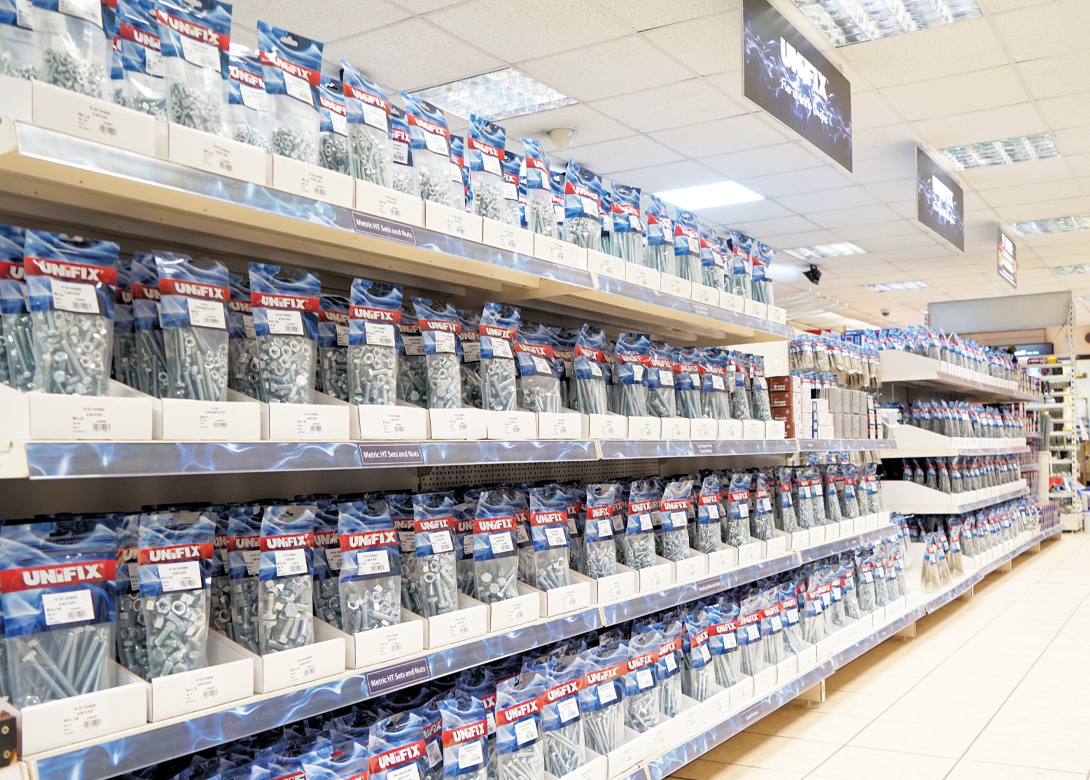 Established in 1963, Unifix is celebrating its diamond anniversary as a strong and recognised brand – having been embraced by the market and become trusted by merchants, distributors and tradespeople alike.
With a rich history within the fastener and fixing market, Unifix has been able to stay at the forefront of the industry thanks to its commitment to quality and reliability. "For Unifix to still be leading the industry after sixty years is a testament to the reliability and quality it has delivered to generations of trade customers," points out Ian Doherty, CEO at Owlett-Jaton. "As soon as customers use Unifix products, they understand the attributes, as well as consistency provided, and they build trust with the brand. This is something you can only build over time and it is what we have been able to do with Unifix, which is why it is still so strongly supported within the market."
Unifix was acquired by Owlett-Jaton in 2012 – with the company working over the last decade to continue growing and developing the brand, whilst ensuring it remained true to its leading reputation. "We quickly recognised that Unifix was best known as a brand for the value it delivers to customers," explains Ian. "We have therefore looked to keep this as a consistent message when it comes to the product portfolio. We have done this by ensuring that the Unifix range, as with all Owlett-Jaton products, is sourced exclusively from ISO 9001 factories, that have been physically visited and audited to ensure product quality."
In addition to ensuring the ongoing quality of the product range, Owlett-Jaton has also looked to continue the brand recognition, which Ian believes is becoming a vital part of the fastener market. "Undoubtedly branding has become very important within the fastener sector and to have such a strong brand in Unifix really does put us at the forefront of the industry. Our customers trust in Unifix and know it can deliver the reliability and quality for every product within the portfolio."
The Unifix range has continually grown over the last 60 years and now features a bigger portfolio than ever before – with over 6,000 products. "Unifix is a generalist brand and is not focused on a particular product or assortment," mentions Ian. "This has enabled us to create a comprehensive selection of Unifix branded products – supplied in the packaging required for different needs and supported by the stock and service associated with
Owlett-Jaton."
One area where that has been a big development for Unifix was the launch of the Trade and Retail bag range in 2017, which was introduced to meet the different needs of trade people and how they use fasteners. "The decision to launch the Trade and Retail bag range was based on speaking to customers and understanding their requirements," points out Ian. "It has been nearly six years since the launch and the Trade and Retail bag range is now a key part of our offer – with a very strong demand."
Ian adds: "When it comes to packaging, we look to meet the needs of ever customer, which is why, in addition to the Trade and Retail bag range, we have a variety of options available depending on the individual needs. It is about giving the customer the best solution for what suits them and their customer base, which is why we are always looking to develop new packaging solutions to meet the needs of the marketplace."
Another area in which Owlett-Jaton has looked to develop the Unifix brand relates to its merchandising at stockholders, which has become another key area within the market. "Brand recognition and merchandising is relatively new to the trade side of the fastener industry, but there can be no doubt that over recent years a lot more is being sold in the trade counter environment and they are becoming more and more like a regular retail shop. Of course, there are still those customers that simply want a product number, but the majority no longer want just a 'hole in the wall'. They want to look and browse the products on display, so with that in mind we have developed our merchandising capabilities," highlights Ian. "Being able to provide support with merchandising, and create bespoke solutions for individual stockholders and merchants, has enabled us to continue to grow the Unifix brand and make sure it is in front of customers."
Owlett-Jaton has also introduced a merchandising service, where it can work with stockholders to create the most optimal shelving system for their trade counters. "We have recently invested in this side of the business and developed new merchandiser executions, which will again directly benefit Unifix and its customers," adds Ian. 
As part of the Owlett-Jaton family, Unifix also benefits from the overall services and capabilities available to Owlett-Jaton customers. "Unifix is at the forefront of the business and is now our core range brand," states Ian. "Being part of Owlett-Jaton means that Unifix customers can benefit from our high stock levels, technical support, as well as our carriage paid service and next day delivery." 
He adds: "As we continue to invest as a business this will also benefit Unifix, the product range, and the customers' that trust the Unifix brand. For instance, we are continuing to invest in people and have recently added three additional area sales managers, and a new merchant channel manager, so that we can get 'boots on the ground' and go out and talk to customers face-to-face."
Owlett-Jaton is also regularly investing into new product lines for the Unifix range. "We are continuously looking to develop and add to the range depending on customers' needs and where we see niche opportunities within the market. For instance, we will be shortly introducing a new range of flange bolts," explains Ian. "Customers want products that they can rely on and through the Unifix portfolio they have products and a brand that they know and trust."
Ian concludes: "Sixty years in business is a real achievement and we are very proud to be celebrating another exciting milestone, having recently marked the 75th anniversary of Owlett-Jaton. We are immensely proud as to how Unifix has flourished; and through our brand strategy and investment we are confident it will continue to succeed over the next 60 years and beyond." 
www.owlett-jaton.com