2017 EU import trends
31 May 2018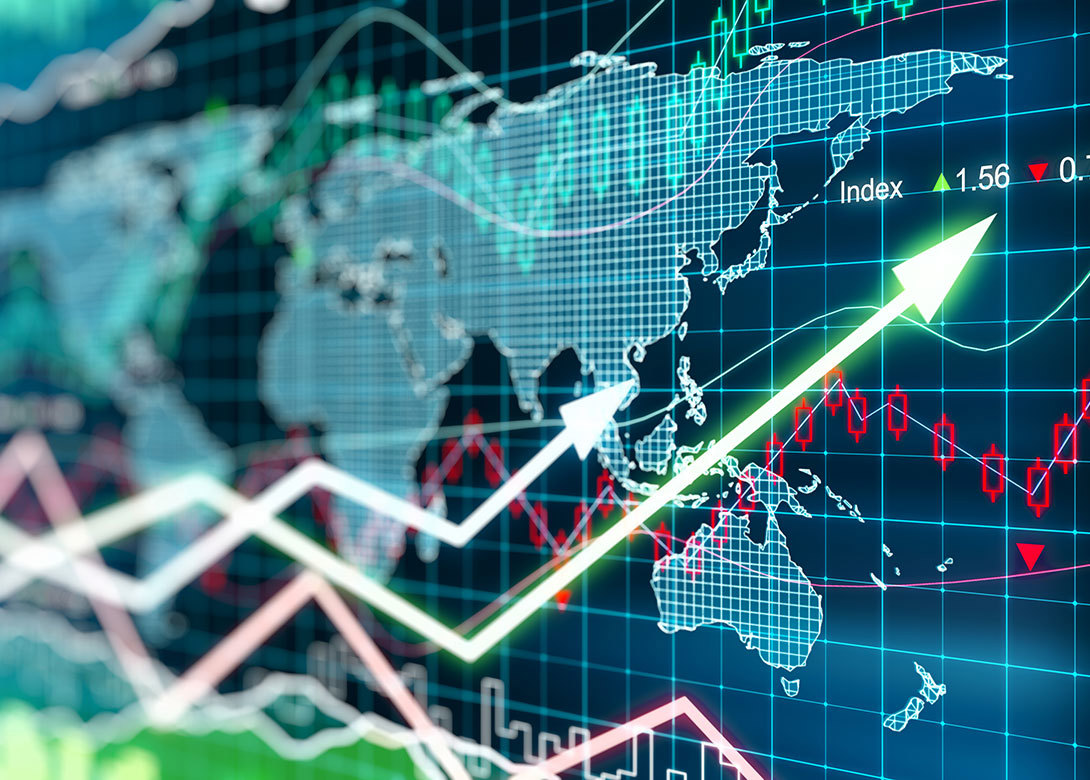 Eurostat data providing details of 2017 fastener imports into the EU's twenty-eight member countries was recently published. Here's a brief summary, looking firstly across all fastener types and then specifically at those subject to EU prior-surveillance import licensing.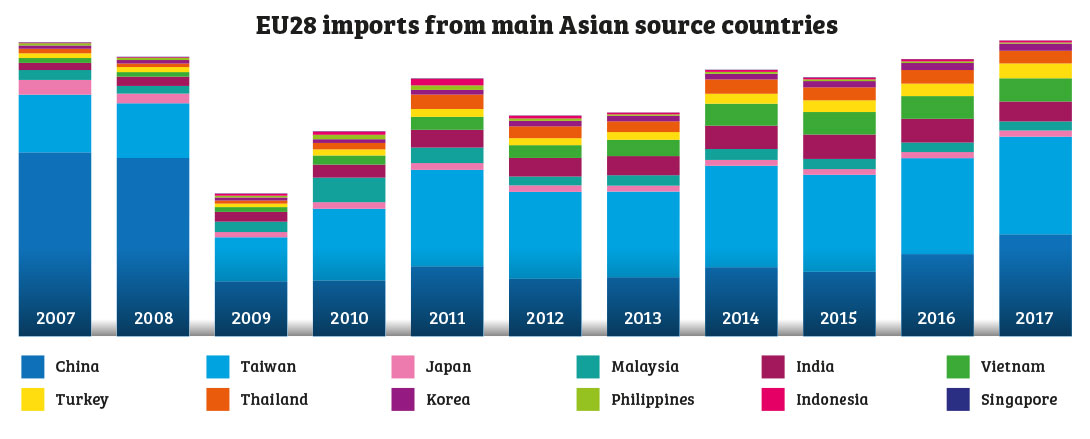 The above graph summarises imports of all iron/steel fasteners under the 7318 CN4 tariff code from the main Asian sources over the last decade. It shows the dominant import share commanded by China prior to the implementation of EU anti-dumping tariffs. In 2009 and 2010, the effect of the tariffs can be seen, but overall import volumes were suppressed by the financial crisis. Inventories were slashed and there was a strong swing towards short range, shorter lead time sourcing. As markets recovered and importers returned to long range, longer lead time sourcing, purchasing refocused on Taiwan from which imports continued to grow – even after the anti-dumping duties on China were repealed.
Other countries also became increasingly significant. Some of these import volumes represented transhipment of Chinese fasteners via third countries – progressively blocked by EU investigators. However, the growth of genuine manufacturing capacity in other countries also becomes increasingly significant. Vietnam's growth – nearly five-fold in ten years – reflects the continued pursuit of lower manufacturing costs. Turkey's 300% growth, by contrast, reflects its expanding manufacturing capacity for higher grade fasteners, combined with short delivery times to major European markets.
The following pie charts compare 2007 and 2017 import shares, again for all iron/steel fasteners. Total import volume from these countries was around 7% higher in 2017 than in 2007. What the charts really demonstrate, however, is how many other countries, in addition to China and Taiwan, now play a significant role supplying fasteners to Europe.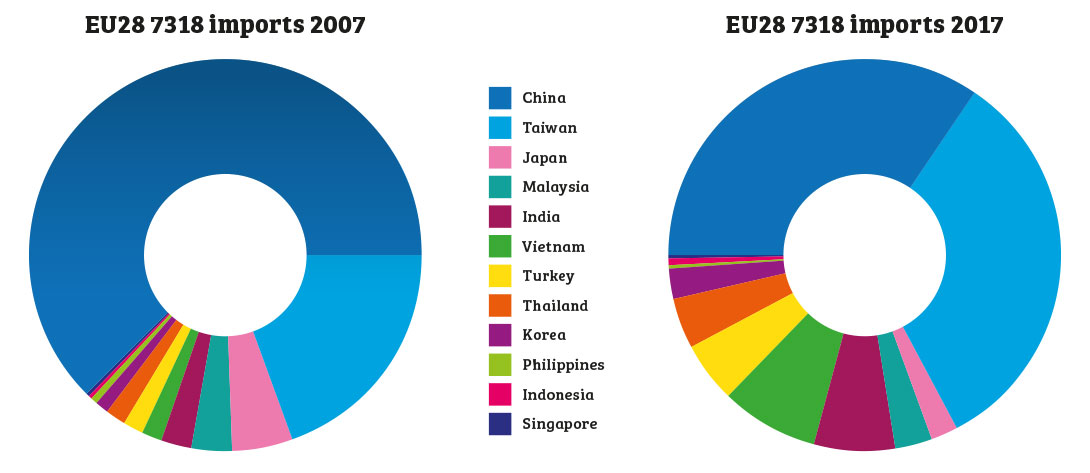 Following the repeal of the anti-dumping duties on carbon steel fasteners from China the import trends have, inevitably, come under intense scrutiny. The pattern, however, has proven less linear and far harder to read than many anticipated. The graph below focuses, this time, solely on the products subject to EU prior-surveillance measures and on the key comparison between China and Taiwan.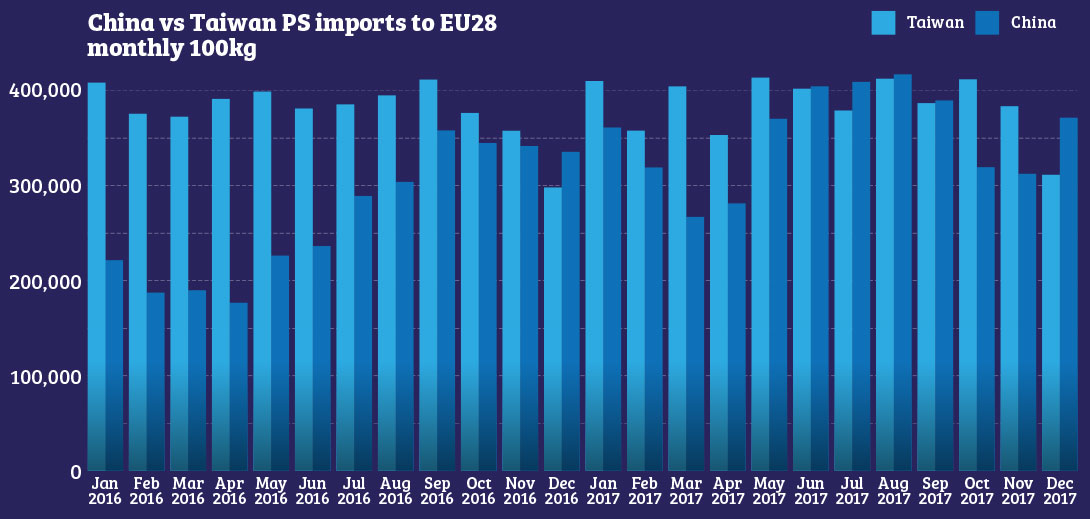 Imports from China grew rapidly in the months immediately following the repeal of the anti-dumping duties, mainly driven by washers and small screws, which showed the greatest cost differential, as opposed to high-tensile fasteners. Then, almost as dramatically, they declined. Following a resurgence from Summer 2017 they, again, declined towards the end of the year. Taking the whole of 2017, import volumes from China stood at 55% of those experienced in 2007. The significance of that figure will vary depending on whether you are a manufacturer or a distributor. However, it is almost certainly not what most people expected to see.
So why has China, with the EU doors reopened, not reclaimed the dominant share it enjoyed in 2007? There are a number of key influences. Other countries have entered the fray, some with lower costs of production; established fastener supply bases have increased productivity and quality – influential on higher added value fastener grades; European supply chain reliability requirements have intensified; and uncertainty over the potential for new anti-dumping duties has tempered re-engagement with China.
Perhaps most significantly, the China of 2017 is patently not the same as 2007. Average manufacturing wages more than doubled between 2008 and 2016. Other costs of production have also risen substantially. Stringent measures to reduce air and water pollution have impacted steel, coatings and fastener industries, on occasions coming close to completely interrupting fastener supply in some areas. The steel cost trend has been upward for the last two years. More significantly it has on several occasions been extremely volatile, bringing quotation validity down to a matter of days.
Does that make China the market economy it now claims to be? In respect of steel the European Commission is emphatic that significant distortions continue to influence export costs.
What does it all mean for the prospect of renewed trade defence measures on China? Again, your viewpoint will differ depending on your company's activity but the issue has clearly has not gone away, although the crystal ball remains densely opaque.