The world focuses on wire®
29 July 2020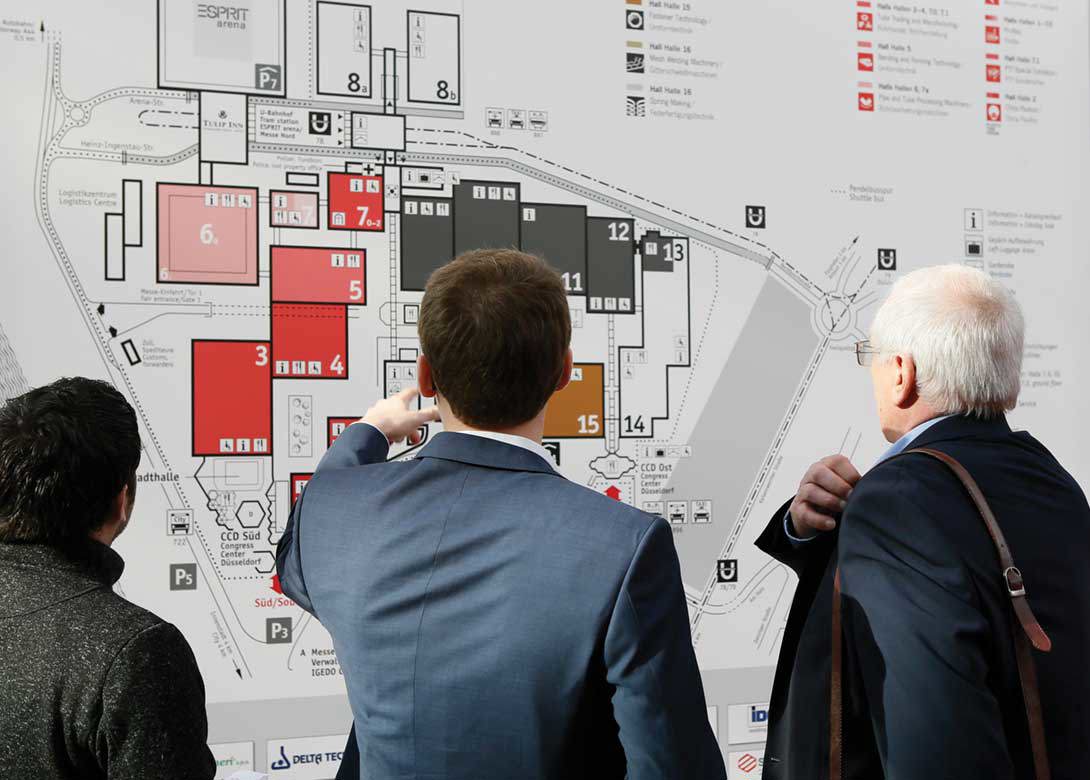 Despite current uncertainties in the global economy, organisers for wire® and Tube are expecting stable numbers of visitors to its two international trade fairs for the wire, cable and tube and pipe industries.
Now scheduled for 7th – 11th December 2020 at Düsseldorf Fairgrounds, wire® and Tube will be held in compliance with strict new hygiene and social distancing rules at a perfectly prepared Düsseldorf fairground.
2018 saw 71,500 trade visitors (69,000 in 2016) from 134 countries visit the exhibition halls on the Rhine river, over five days, to learn about innovations in their sectors and conclude business deals. One third of visitors at both trade fairs came from Germany while two thirds were international visitors. This means that wire and Tube are among the most internationally attended trade fairs for Messe Düsseldorf.
For December the organisers expect stable numbers of visitors – 80% from Europe despite the tight situation in the global economy. Although strong producer and visitor countries such as Italy, France and Spain have been seriously impacted by the consequences of the coronavirus crisis, these are the European countries alongside the Netherlands, Spain, Poland, Russia, Great Britain and Turkey, where most European trade visitors will come from to visit the two trade fairs.
If the EU and national stimulus packages take effect in the European countries, then an economic recovery and increase in investment can be expected by the end of the year.
Visitors to the show come from the wire and cable industries, the iron, steel and NF metal industries, automotive and construction, the chemical industry, trade and the services sector. At wire 2020 visitors will once again be on the lookout for innovations, trends, new business partners and suppliers or seeking to deepen existing contacts.
Visitors' main interests focus on machinery and equipment for wire manufacturing and finishing, as well as process technology tools, finished products, auxiliary materials, forming technology and fasteners and springs, as well as wire mesh welding machinery.
wire® China 2020
The leading regional Asian trade fair wire® China is planned to take place from 23rd – 26th September 2020 in the Shanghai New International Expo Centre (SNIEC) under strict hygiene and distance regulations, prescribed by the Chinese health and safety authorities.
The organisers expect a rapid recovery of the global economy and the absolute willingness to invest within the wire and cable industries. Together with many international wire and cable companies, and the relevant associations, it was therefore decided to hold wire China against the background of declining infection figures for the Covid-19 virus.
In addition, interactive online showrooms provide a digital supplement to the analogue trade fair events in the exhibition halls. This means that companies can also take part in the trade fair, even if the current economic situation in their countries make it impossible for them to travel to Shanghai. 560 Chinese and international exhibitors are expected at wire China, who will be showing innovative machines, equipment, products and services from the wire and cable industry on four days of the fair.
After successful previous events, the exhibitors of fastening technologies will again present a special Fastener Shanghai Special Zone.
National pavilions from Germany, Austria, France, Italy, Japan, South Korea and Taiwan complete the range of products and services on display at wire China. Groups of visitors from South Korea, Japan, Taiwan and China have also already registered.