The final countdown to Fastener Fair Italy 2022
15 September 2022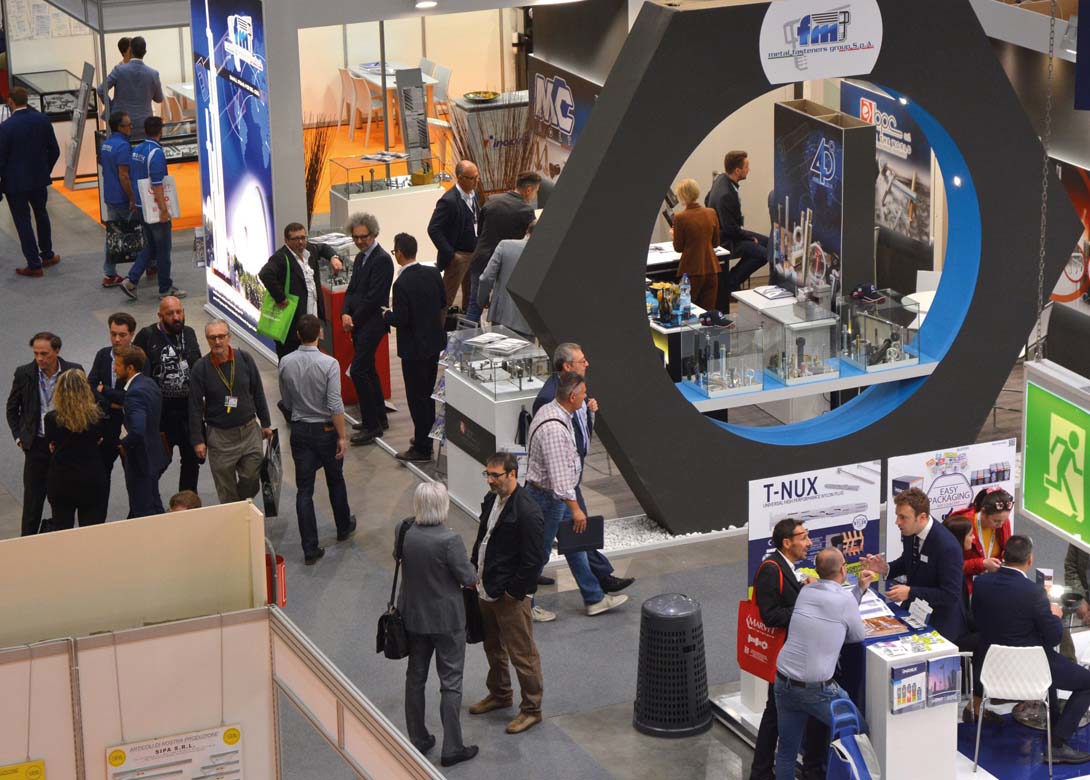 Taking place at Fiera Milano City, Italy, from 30th November – 1st December 2022, Fastener Fair Italy enables companies specialising in fastener manufacturing equipment and materials, as well as producers, wholesalers, resellers, distributors, and end users of fastener and fixing systems, to come together for commercial activities and strengthen their business relationships.
Fastener Fair Italy showcases products and services from a diverse range of industries such as industrial fasteners and fixings, construction fixings, fastener manufacturing technology, as well as communication and services. As such, the wide range of products displayed at Fastener Fair Italy attracts visitors from many key manufacturing sectors, including construction, general engineering, automotive, aerospace, power generation, marine, electronics and more. 
At Fastener Fair Italy, professionals in key manufacturing sectors will benefit from the ability to source the latest products and equipment and discover trends and innovations in the sector, as well as the ability to meet face-to-face.
The exhibitor list is now live with 150 suppliers from over 15 countries, with strong participation from Italian, German and Turkish companies. From SMEs to many large multinational enterprises, exhibitors will include Ambrovit SpA, Bontempi VIBO SpA, Bralo Italia, Carlo Salvi SpA, CHAVESBAO (CHAVES BILBAO S.A), Di Costa Guiseppe Srl, Dimac Srl, Fastbolt Schraubengroßhandels GmbH, Lederer GmbH, MEVI ITALIA Srl, Piloni Srl, SOM FASTENERS, Teknoform Bağlantı Elemanları San ve Tic A.Ş, VIPA SpA, VISION Srl, VITAL SpA and many more.
After a pandemic enforced pause, Fastener Fair Italy will be the first in Europe to showcase the fastener and fixing industry and exhibitors are clearly eager to get back to the live show experience and to build business relationships.
"We are thrilled to see the return of face-to-face events and looking forward to welcoming the fastener and fixing industry at Fastener Fair Italy 2022. The strong exhibitor participation in the show is a positive signal indicating the industry's need to return to in person events to facilitate business networking and trade, as well as enable new sales opportunities. Visitors attending Fastener Fair Italy will be able to discover modern solutions for the fastener and fixing sector and get real insights into the latest technologies provided by the main industry suppliers. Furthermore, a comprehensive conference programme will support attendees' experience on-site, by offering a knowledge platform to gain competencies on the direction of the entire supply chain," commented Liljana Goszdziewski, portfolio director for European Fastener Fairs at organisers Mack-Brooks Exhibitions Ltd. 
Following the success of the conference programme in previous editions, industry experts will be able to demonstrate the latest innovations, and will be organised by Mack-Brooks Exhibitions in cooperation with renowned partner organisations. Places to present at Fastener Fair Italy are limited, so if you are interested in giving a lecture in the conference theatre, it is imperative to get in touch with the team at fastenerfairitaly@mackbrooks.co.uk. All visitors and exhibitors of Fastener Fair Italy are invited to attend the conference sessions, which are free to attend and included with the ticket. Full details on the conference programme will be released in due course.
Visitor information
The fairground at Fiera Milano City is situated in an ideal location for both domestic and international visitors right in the heart of Italy's commercial and industrial capital. When you reach one of Milan's numerous airports or its central train station, Fiera Milano City can be easily reached by public transport from 'Portello' station on the Milan Metro. On-site car parking is also available at the fairground. Fastener Fair Italy will take place from 30th November – 1st December and is open from 10:00 until 18:00.
Registration is open online and, in addition, the show planner feature is now live on the Fastener Fair Italy website and can act as a guide to ensure time at the exhibition is as enjoyable and as productive as possible – by favouriting relevant exhibitors and conferences to create a streamlined plan.
www.fastenerfairitaly.com