Plenty of treats at IFE Las Vegas
03 December 2018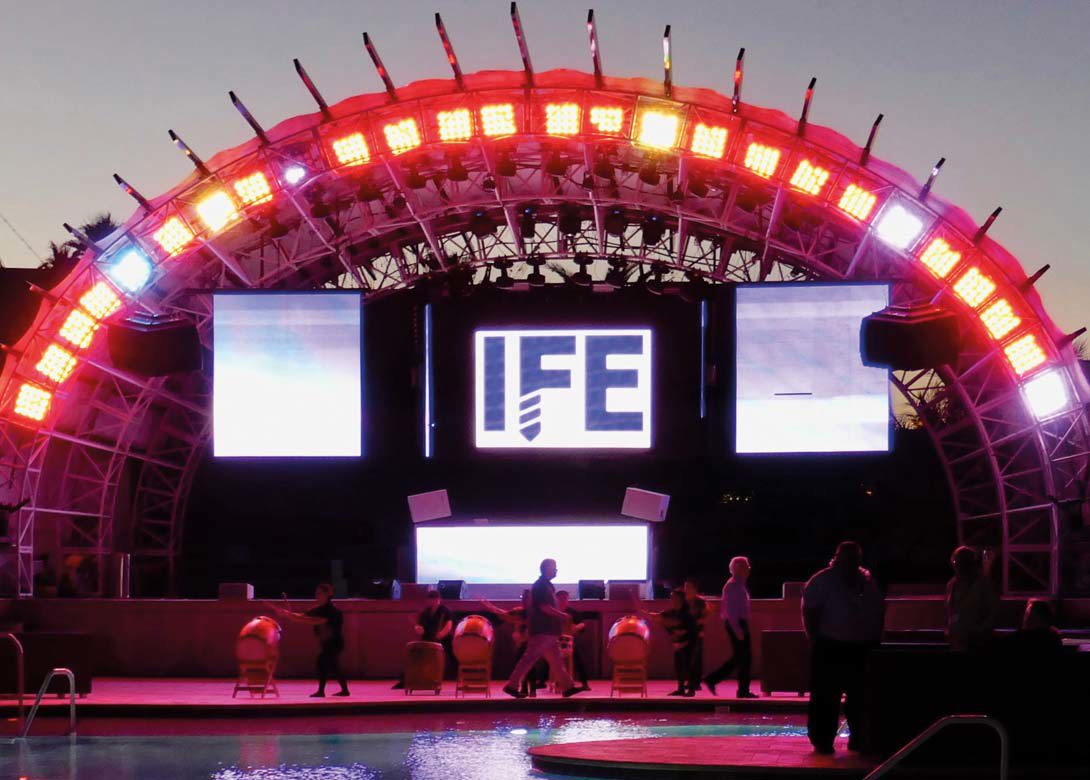 There had been a few concerns that the International Fastener Expo (IFE) might be somewhat 'hexed' by Halloween. Far from it, says Executive Editor Phil Matten – in Las Vegas this time as part of an EFDA delegation developing US-European links.
In fact, within half an hour of opening on 31st October the domestic exhibitor zone of the biggest North American event was already emitting the audible vibrancy of a show that meant business. Halloween was to be glimpsed here and there amongst the booths, as were occasional signs of concern over international trade relationships, but in the round the American fastener industry was emitting tonnes of positivity on the back of a strong trading year.
One innovation, on the set-up day, was a three hour preview access to the Machinery and 'SourceGlobal' areas – the latter primarily but not exclusively suppliers from Asia. On entering it was hard to suppress a shiver of unease that this was a show not quite ready for visitors. Some booths, both machinery and international, were still setting up or unoccupied, and aisles were not yet carpeted. 'Vegas' is an intensive show, which limits domestic exhibitors' time to get away from their own booths to visit suppliers. The concept, then, was certainly well-motivated, but execution, leastways first time round, was not entirely convincing. It'll be interesting to see how it is played next year.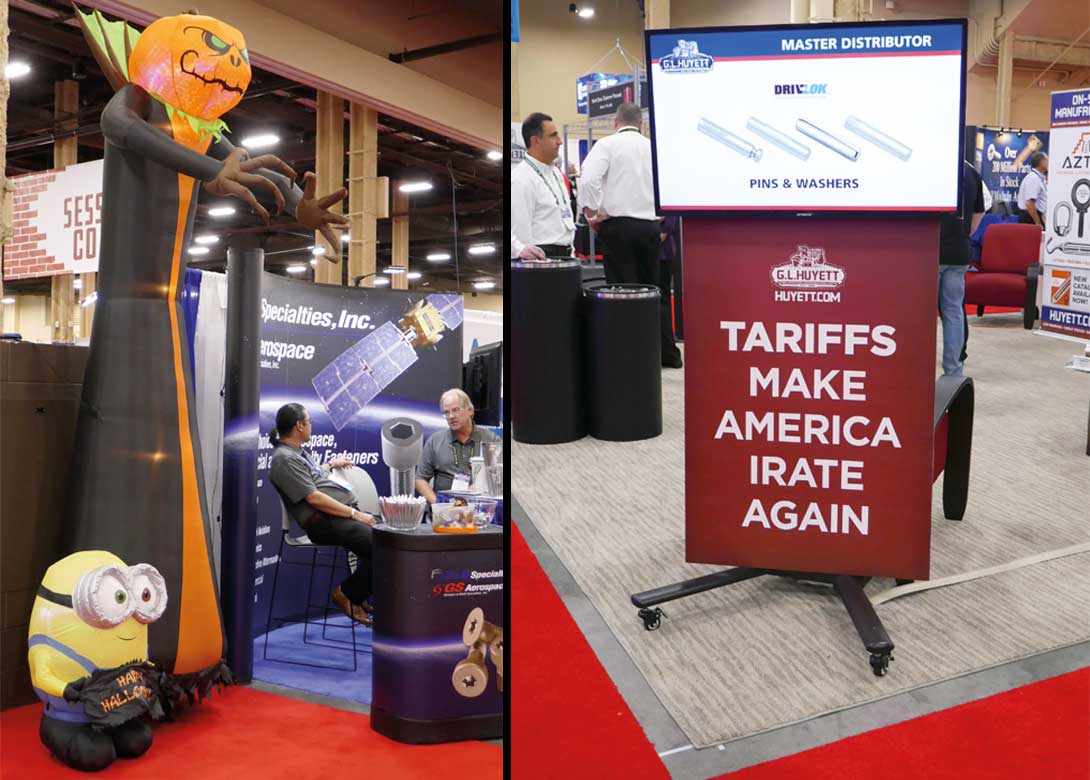 Come Halloween, however, with carpets laid throughout and the domestic and global sourcing areas completely integrated, it was a different atmosphere. The whole show was definitely ready for business – and quick to get down to it. To this irregular visitor there were noticeably more, bigger and better feature stands from domestic exhibitors, which added to the overall professionalism of the event. The 'global sourcing area', too, was largely transformed by well-designed shell scheme 'pavilions' promoting Korean, Taiwanese, Chinese, Indian and – very visibly – Hong Kong fastener suppliers. Between domestic and global zones was the 'Sessions Corner' – a seated area hosting a programme of technical and managerial seminars, including one from EFDA president, Dr Volker Lederer. The area also hosted IFE's award ceremonies mid-afternoon on the first full day.
One of the enduring qualities of the Vegas event is its off-show-floor seminar programme. Those tackling issues of the day were definitely well attended, despite being hosted two long escalator rides above the exhibition floor. Veteran consultant and trainer Carmen Vertullo joined co-founder of the AIM Testing Laboratory, Rob LaPointe in navigating California's recently strengthened 'Proposition 65' environmental legislation. Their take? "It's not about labels, and it's not about chemicals – It's about NOT GETTING SUED". Unsurprisingly, there was also a full house to hear Vanessa Sciarra, from the National Foreign Trade Council, explore and answer plenty of questions on the tariff regime introduced by the Trump Administration under Sections 232 and 301.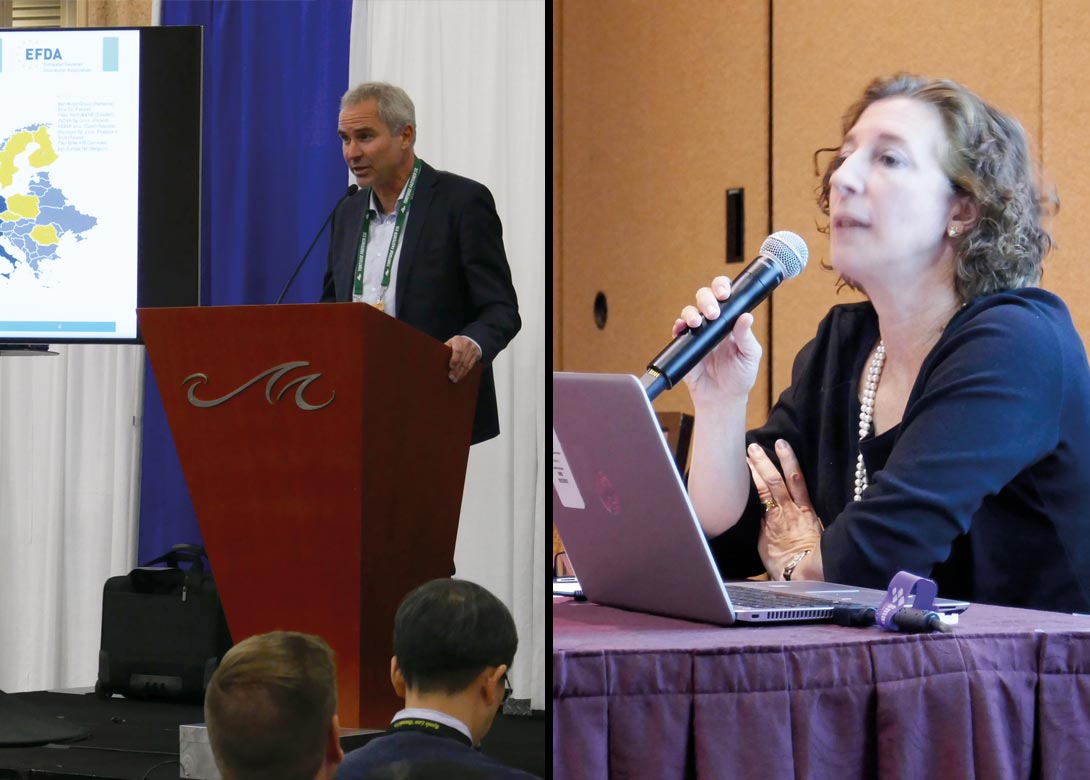 In its third year of ownership of the Vegas Show, Emerald Expositions is clearly careful to retain the historic strengths of the biggest North American fastener industry event – but is carefully introducing innovations. Organisation generally felt tight and effective, promotion definitely energetic, with some subtle but apparently positive developments on the show floor. The second full show day has now been extended from a historic midday finish to 16:00. As always, day two was quieter – they're long nights in Vegas! That said, healthy visitor traffic maintained for the morning, albeit with more exhibitor to exhibitor contact. Activity tapered markedly by 15:00, by which time some booths were definitely stripping down and others were fidgeting.
Although perhaps not enforced with the same rigidity as under previous management, IFE very definitely continues to be a fastener trade show, although there were hints that might change in the future, with user visitors perhaps not just accepted but encouraged. It was certainly good to see the show back at the Mandalay Bay, even if the big Vegas hotels' propensity to charge their captive audience can be excruciating – an US$18 room charge for a litre of mineral water takes some swallowing.
Is there relevance for Europeans? Well, Stuttgart it is not – nor should either of the big shows either side of the Atlantic ever seek to emulate the other. Each has a distinctive character that matches its own market. The 'global sourcing' element of each is fundamentally similar so a European visitor is unlikely to encounter many new Far Eastern suppliers. The real opportunity for the overseas visitor is the concentrated opportunity to see the full spectrum of North American products and suppliers and understand how their market operates. In the past European suppliers have certainly developed North American business through exhibiting at the show – although most would tell you that persistence is a necessity. A 'one-off' appearance in Vegas has rarely proven successful.
For this Vegas 'veteran' of some sixteen years, this event definitely still has its own magic, and this edition rated well up the ranks of the ten or so visited over that time. Yes, there are other, very competent fastener events in the United States, established or establishing their own niche in a large and complex market. There is, however, only one Vegas Fastener Show – Viva that!