Meeting the demands for industry cleanliness
20 November 2023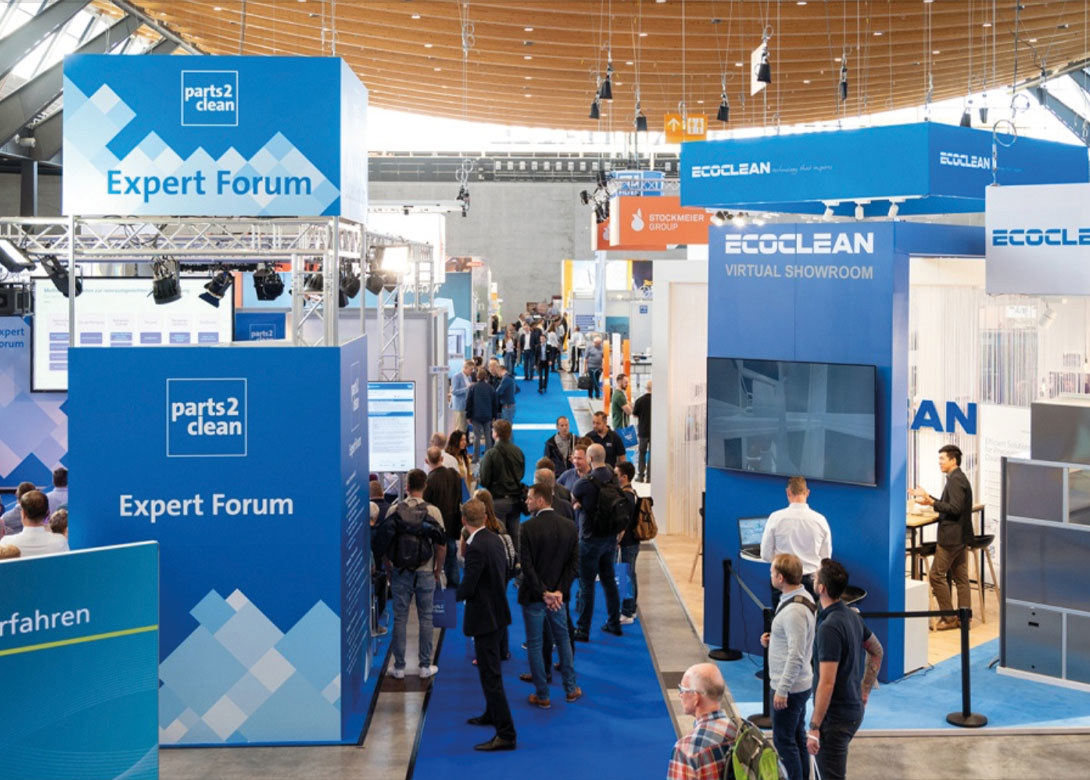 In-depth technical discussions, a strongly attended Expert Forum, and a positive overall mood on all three days of the fair, testified to the fact that the 20th edition of parts2clean, which took place on 26th – 28th September at the Stuttgart Exhibition Centre, fulfilled visitor expectations.
Over 150 companies from 14 different countries were present at the fair, generating high-quality contacts, new projects, and direct business deals, with more than 3,000 trade visitors. Organisers confirmed that the share of foreign visitors to the show was 20%, with the highest numbers coming from Germany, Switzerland, the Czech Republic, Turkey, Austria and the Netherlands. 
A core theme of this year's show was 'High Purity', which the show organisers said was a major contribution to the 33% increase in show visitors compared to 2022. "In this way, we have placed a stronger focus on the range of solutions offered at parts2clean for tasks where the highest cleanliness requirements need to be met," stated Christoph Nowak, project director at Deutsche Messe. 
This was confirmed by Rainer Straub, board of management and vice-president sales & customer service at Ecoclean GmbH: "parts2clean was significantly more successful for us this year than in 2022, certainly due to the highlighted theme of 'High Purity', which is a focal point in our program at Ecoclean – helping us to attract new visitors." 
Dr Ing Günther Schmauz, board member at acp systems AG, added: "With our high purity snow blasting cleaning solutions, we were previously more of a niche supplier at parts2clean. At this year's event, however, we were able to welcome a large number of trade fair guests from the fields of EUV lithography, including system partners and suppliers, as well as electromobility. The latter ranges from battery manufacturers and suppliers of components for power dissipation, and energy management, right through to electric motors. For us, parts2clean 2023 went very well." 
Maria Laure from the New Business Perfect Welding division at Austria-based Fronius International stated: "We participated in parts2clean for the third time and have noted a positive development, both in terms of visitor numbers, as well as the international makeup. We conducted around 50% of our discussions in English and these are ongoing discussions that deal with specific tasks, and in some cases the visitors even brought along the workpieces to be cleaned." 
In-depth discussions with trade visitors
Exhibitors reported that visitors were able to hold highly detailed discussions about specific projects, as roughly 88% of them were involved in operational investment decisions, while 78% visited the trade fair looking to make purchases. Wolfgang Prem, managing director of Maschinenbau Silberhorn GmbH, reported: "This year we are taking away a whole lot of good leads with visitors from companies we did not know before. However, the highlight of our participation in the tradeshow was that we were able to sell one of our new MWS cleaning systems to a company from Israel directly at our booth. It was a first contact that occurred right here at the show." 
Record attendance at Expert Forum 
A key attraction at parts2clean was the Expert Forum, available in both English and German, where lectures by renowned speakers from science, research and industry aimed to generate or deepen cleaning knowledge. This year, the forum achieved record numbers. 
"A magnet for visitors has always been the bilingual Expert Forum at parts2clean," explained Christoph. "But this year it underpinned its status as one of the world's most sought after sources of expertise on industrial parts and surface cleaning, drawing record attendance. The enormous popularity of this forum shows that there is an immense need for information – both for traditional cleaning tasks, as well as
high purity applications, which will continue to increase due to changing and new requirements."