2015 Vegas Fastener Expo expects full house
05 August 2015
The 35th National Industrial Fastener & Mill Supply Expo scheduled for 21st – 23rd October 2015 in Las Vegas, Nevada, continues to grow both vertically and horizontally as it adds new core products and services as well as more variety in an ever-changing global marketplace.
Organisers of the National Industrial Fastener & Mill Supply Expo have reported that 761 exhibit booths have already been sold to 567 companies from throughout the US and 11 other nations around the world including Canada, China, Germany, India, Italy, Korea, Malaysia, Mexico, Spain, Taiwan, and Turkey.
Susan Hurley, the expo general manager, comments: "Well over two thirds of our 2014 exhibiting companies have renewed their space for this year, plus we have gained 48 new companies and continue receiving new exhibit space applications regularly. We are delighted with the continuing growth of the Machinery & Tooling World area as well as the addition of more and more mill supply companies offering products of interest to today's multi-line distributors. Whether you are at the Expo to buy, sell, learn, or network, it is the best place to be."
A complete alphabetical listing of exhibiting companies can be found on the show website.
The conference
There will be a full day conference programme on Wednesday 21st October featuring topics of vital, current interest, as well as valuable training and informative meetings offered by the Pacific-West Fastener Association, Fastener Training Institute, National Fastener Industry Financial Manager Network, Manufacturers' Agents National Association, Women in the Fastener Industry, and Young Fastener Professionals group.
"Continuing education and sharing of timely information has always been an important part of our Expo," say Jim Bannister and Mike McGuire, general partners.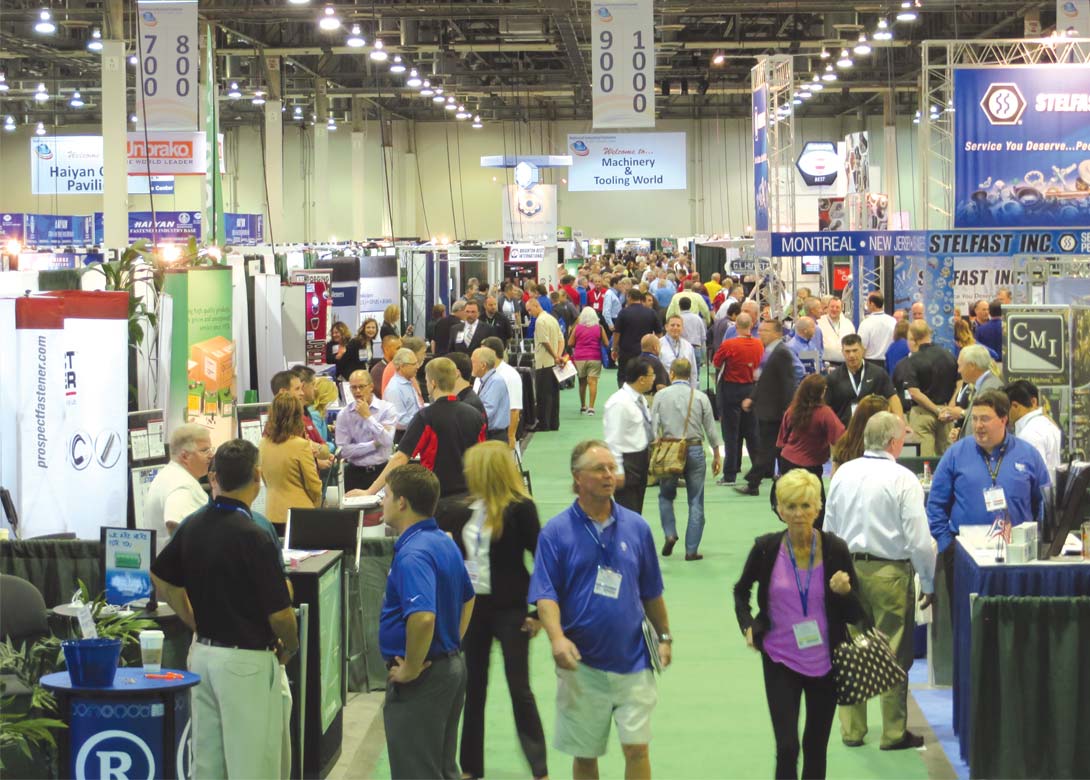 Welcome Reception
The ever popular and heavily attended Wednesday evening 'Welcome Reception' will be held in an exciting new poolside location at Treasure Island, where a festive environment will complement the tasty appetisers and open bar hosted by Expo Management. As always, this fun-filled party is open free of charge to all Expo exhibitors and registered attendees wearing their 2015 badge.
The 'Hall of Fame'
There will be a private Fastener Expo 'Hall of Fame' reception held Wednesday evening at Treasure Island's Kahunaville tropical restaurant immediately prior to the 'Welcome Reception'. The 2015 honorees are Virgil Lindstrom, chairman Emeritus of Lindstrom Metric Inc, and Robert Shieh, chairman/CEO of Brighton-Best International and founder/CEO of the Ta Chen Group. Invitations to this prestigious event will be personally extended to family and friends by the honourees.
Dates and times
The National Industrial Fastener & Mill Supply Expo will be open from 9:00 – 16:00, Thursday 22nd October, and from 9:00 – 13:00, Friday 23rd October, at the Sands Expo & Convention Center. An estimated 5,000 fastener distributors, importers, manufacturers, manufacturer's reps, independent sales agents, the industry media, and others – from 35 or more countries worldwide – are expected to attend.