Traditional fixing methods – a thing of the past
14 July 2015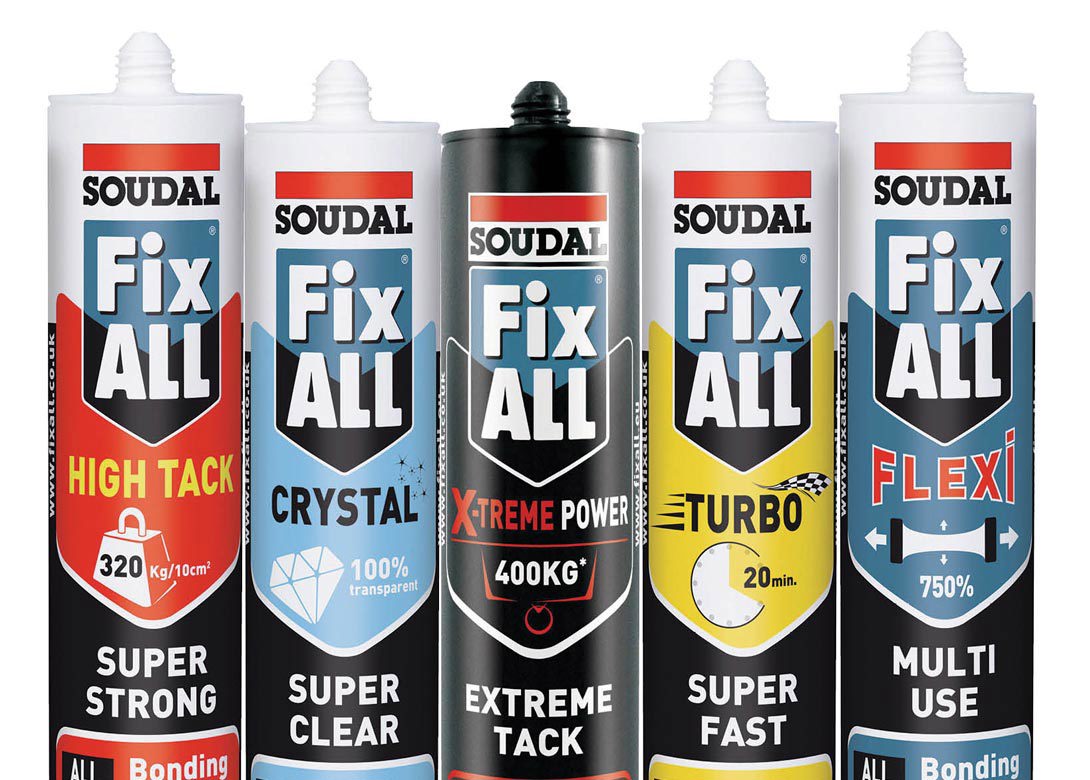 Established in 1966, Soudal NV is a manufacturer of sealants, PU foams and adhesives, which serves professionals in construction, retail channels and industrial assembly worldwide.
With 14 manufacturing sites on 4 continents and 45 subsidiaries, Soudal is able to ensure optimal technical and logistical support, and is constantly at the forefront of new technologies. Through heavy investment in research and development the company is able to react and customise its offering very quickly in-line with market demands, ensuring that all products meet legislative requirements and guaranteeing the highest quality level during the manufacturing process.
When it comes to comparing traditional fixing methods and adhesives, Soudal states that there are several advantages to using adhesives in place of mechanical fixings. Adhesives maintain the surface conditions of the materials being bonded together, taking away any visible mechanical fixations (e.g. rivets, bolts, or screws), which can improve the design possibilities and aesthetics. Adhesives also enable the user to bond dissimilar metals with no risk of corrosion and are also lighter in weight than fixings.
In addition, adhesives allow for safer fixing by not weakening the materials in a way that mechanically fixed systems can, such as drill holes. They can also add flexibility between bonded materials, making them resistant to shock and vibrations – there is no loosening of the bond in the way that happens with mechanical fixations. The end strength of an adhesive can often be higher than that created with mechanical fixings and stronger than the materials which are bonded together.
Adhesives from Soudal
Soudal's adhesives range comprises of physical drying and chemically curing adhesives. Physical drying adhesives are a traditional style of adhesive. They work by the evaporation of solvents or water after the product is applied. These adhesives satisfy the requirement of users for strong bonding on a number of surfaces, with very high initial grab. They are often used in vertical applications without the need for secondary mechanical fixations. Soudal's unique fibre reinforced technology means that this range has an initial grab of up to 300kg/m².
Chemically curing adhesives work through chemical reaction. One component adhesives react with atmospheric moisture, whilst two component adhesives work after mixing the two parts together. These type of adhesives can have advantages over physical drying products – they can be elastomeric and withstand movement; they are often solvent free and can be used on a wider variety of materials; they can have accelerated curing rates to speed up production processes and on-site working times; they can be used on damp and difficult materials; and they can have improved gap filling properties.
For 25 years Soudal has been pioneering the use of hybrid polymer adhesives. The industrial range, under the Soudaseal brand covers all types of elastomeric bonding applications in the caravan, truck and transport markets. This includes products with very high initial grab such as Soudaseal Super Tack, very high final mechanical properties such as Soudaseal 270 HS and can be spreadable or self-levelling such as Soudaseal 240 LV and Soudaseal SL.
The construction hybrid polymer range, Fix ALL®, covers all types of construction applications, replacing traditional adhesives and mechanical fixings. This includes products that are extremely clear and with great aesthetics such as Fix ALL Crystal or with extremely high initial grab of 400kg/m² such as Fix ALL X-Treme Power.
Elastomeric hybrid adhesives are also used for difficult applications such as bonding wooden parquet flooring. Products such as SMX-30 Plus have extremely fast strength build up and curing speeds, which means working times on-site are reduced. They work with very large wood plank sizes, even with under floor heating. The final bond strength of these products is extremely high.
Soudal has also developed adhesives based on polyurethane polymers. These include rigid polyurethane adhesives such as Purocol and Pro 45P, available in both pasty and liquid formulations. These replace mechanical fixation of timber materials. They are quicker, stronger and have improved resistance to moisture than traditional PVA based adhesives. In the Soudatherm range there are canister applied polyurethane adhesives, which replace mechanical fixations in roofing. These are used for the bonding of insulation materials, and provide a vast improvement in speed and convenience.