The important role of CE Marked steelwork connections
19 October 2020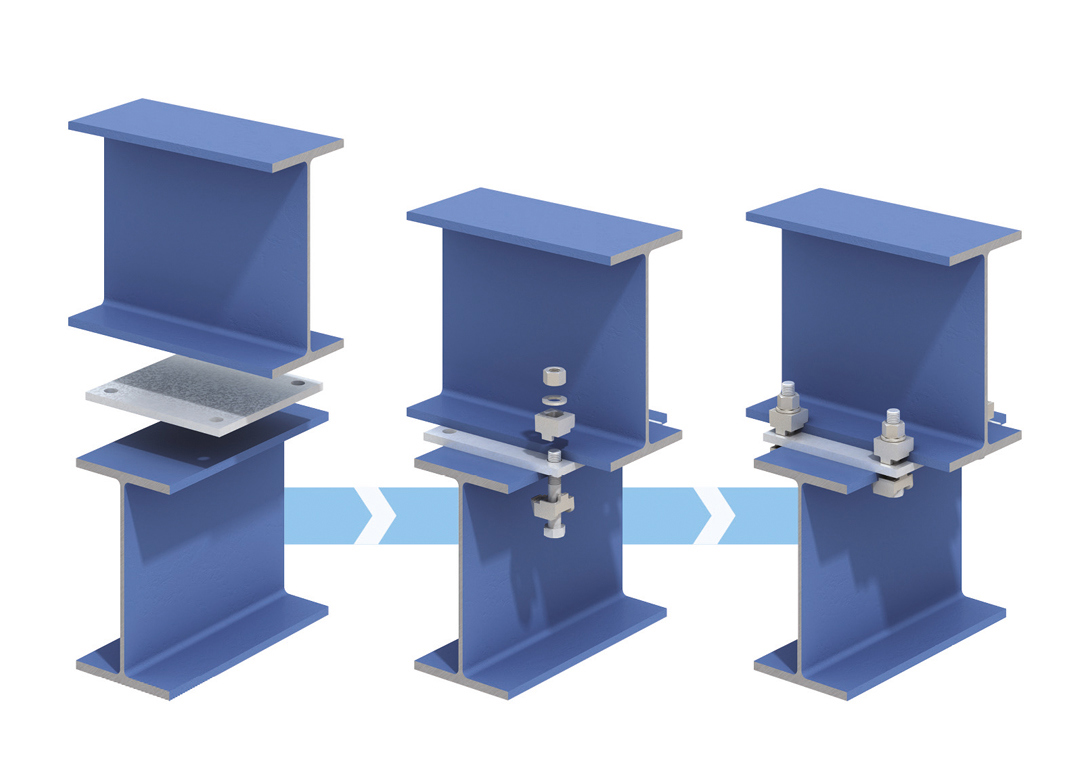 Lindapter® welcomed the introduction of the Construction Products Regulation almost a decade ago as an additional opportunity to independently verify its factory production controls, high-quality manufacturing and product performance. Here, one of the leading manufacturers of steelwork clamping systems discusses the role of European Technical Assessments and the benefits of CE Marking.
Lindapter® provides a fast, cost-effective alternative to welded or drilled and bolted connections by designing technical solutions that significantly reduce construction timeframes. Since the company was founded in 1934, its R&D engineers have created a vast range of original products to overcome the challenges of connecting virtually any steel to steel application, ranging from structural and secondary connections, to securing steel flooring and building services.
Building upon Lindapter's successful heritage and its array of independently assessed management systems including standards ISO 9001 and ISO 14001, the company supported the introduction of the Construction Products Regulation (CPR) in 2011. The aim of the CPR is to harmonise the safety performance of construction products with affixed CE Marking, signifying that a product has been assessed and complies with relevant health, safety and environmental regulations and can be sold throughout the European Economic Area (EEA) without restrictions.
The role of ETAs
All Lindapter CE Marked products are evaluated to a European Technical Assessment (ETA) and subject to a rigorous independent testing programme that is verified by a Notified Body and approved by the European Commission.
To ensure complete integrity and transparency is maintained throughout the evaluation process, the following performance characteristics are assessed – mechanical resistance, safety in case of fire, hygiene health and environment, safety and accessibility in use, protection against noise, energy economy and heat retention, and sustainable use of natural resources. A Declaration of Performance (DoP) for every Lindapter product that bears CE Marking is proudly published on its website, along with factory production control certificates.
The benefits of CE Marking
CE Marking creates additional confidence for engineers, distributors and contractors as product performance is independently tested and confirmed to meet an internationally recognised standard, in full compliance with the CPR.
The international recognition of CE Marking is important for engineers, distributors and contractors as professionals in different EEA countries are often involved in a project. For example, the decision to specify a Lindapter product might be made by an engineering firm in France, Lindapter's technical support team in the UK could draw the connection detail, and a contractor in Belgium might purchase the product for a local project.
In this case, Lindapter's CE Marked products will be immediately accepted at all stages without requiring country specific testing or additional national approvals. Further benefits apply to distributors as product packaging includes mandatory details such as country of origin and batch codes for full traceability, while contractors receive consistently high-quality products that perform as per the essential characteristics stated in the relevant DoP.
CE Marked steelwork fixings
All Lindapter products are designed to avoid on-site drilling or welding to increase the speed of installation and aim to minimise labour costs. These benefits are especially important today as many construction sites attempt to recover from downtime resulting from the Covid-19 pandemic. Additionally, as contractors follow current social distancing guidelines, and seek to minimise the number of workers in an area, it is vital that the work is carried out as safely and quickly as possible.
Lindapter's ETA/CE Marked product groups include:
Girder clamp – a versatile connection system for swiftly connecting almost any type of steel section together, including beans, channels and angles. The assembly is configured with specific Lindapter components to suit the required application, for example, the heavy-duty Type AF Girder clamp is typically used for connections that require a high resistance to slip or tensile loading. Typical applications include securing secondary steelwork to structural frames, to support items such as cladding, roofs, walkways and industrial equipment. As there is no need to drill or weld, there is no damage to the steel, while the adjustability of the clamp allows contractors to easily align the connecting steelwork.
Hollo-Bolt® – the original expansion bolt for structural steel requires installation access to only one side of the steel and is quickly installed by inserting the fastener into a pre-drilled hole and tightening with standard hand tools. CE Marked since 2011, this faster alternative to throughbolting or welding enables contractors to reduce construction time and labour costs. The Hollo-Bolt is typically used as a structural connection to join steel hollow sections and increasingly so on 'Architecturally Exposed Structural Steel' when the designer seeks a discreet fixing to achieve a neat finish. Available in a variety of sizes, head types and corrosion protection options, the Hollo-Bolt is suitable for a wide range of applications, such as attaching cladding, canopies, steel stairs and safety barriers.
Floor fixings – Lindapter's innovative solutions for securing steel flooring to supporting steelwork. Popular products include the Grate-Fast® for fixing open bar grating and the Floor-Fast® designed for chequer plate flooring. Installation is carried out quickly and safely from above, and because access to the underside of the flooring is not required, the need for costly scaffolding or elevated floors is often avoided. In addition to an ETA and CE Marking, these products are also Lloyd's Register Type Approved for resistance to shock and vibration. Despite being permanent fixings, they are removable to allow easy maintenance access beneath walkways and flooring.
Decking fixings – a large range of high-quality, cost-effective connections for suspending building services from popular composite decking profiles. Each product is designed to suit specific decking profiles, for example, the Lindapter Type MF is compatible with CMF® MetFloor® 60 and 80 profiles. Each fixing locks inside the dovetail re-entrant channel and provides a zero impact connection that avoids delamination and damage to the decking. As with most Lindapter products, adjustability is a major benefit and allows contractors to easily align pipework, cable trays, HVAC and other building services equipment.
The CPR has had a significant impact on the construction industry since being introduced in 2011 and this article observes some of the benefits in the context of steelwork connections. Further information including the Lindapter catalogue, DoPs and CE certificates can be viewed online. Lindapter products are readily available from a global network of authorised distributors, and in the UK this includes Owlett Jaton.