NO TOOLS JUST HANDS
29 July 2019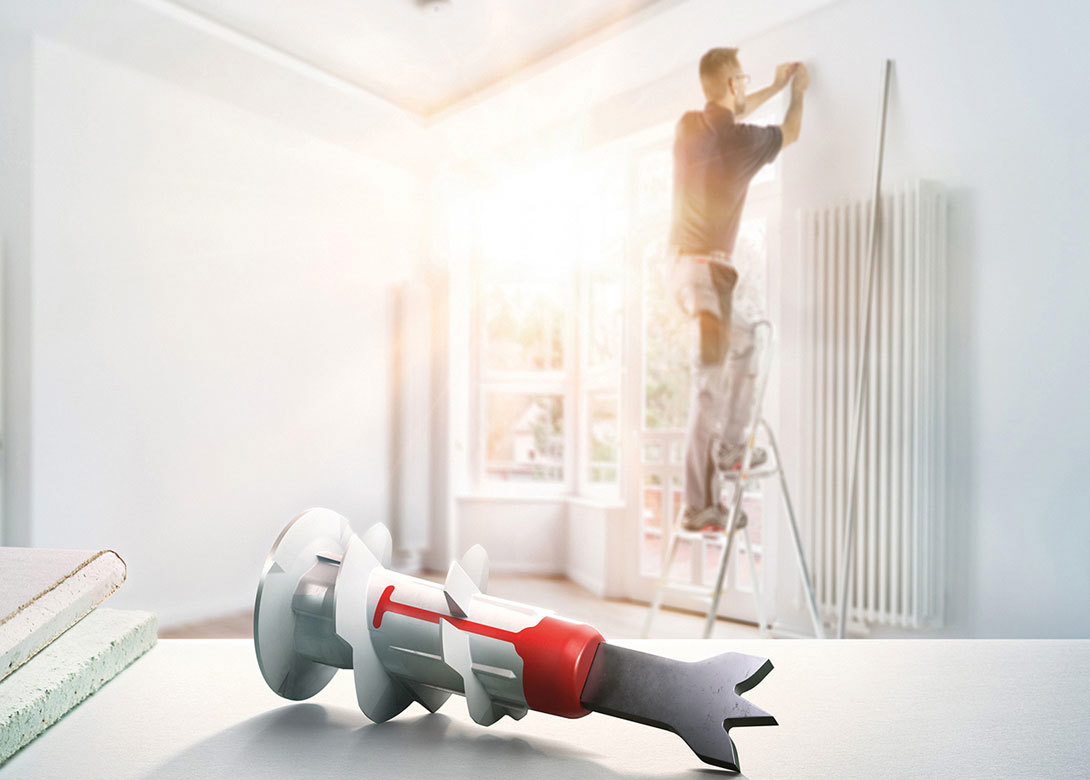 The fischer Group of Companies states that the choice of selecting the right anchor, for light to medium fixing tasks, has been made easier thanks to its DUO-Line providing the perfect remedy – with the NO TOOLS JUST HANDS product range setting new standards when it comes to ease of handling.
Fixing solutions for medium to heavy loads are suitable for fixing numerous home furnishings, accessories and installations. There are also many parameters to bear in mind when selecting products for seemingly simple fixing tasks in private households. The ideal interoperation between the anchor, screw, construction material, and the load the mount is subjected to, is crucial to ensuring the fixing will have a secure hold.
The DUO-Line includes smart anchors with an innovative combination of materials. The anchors have multiple operating principles, which they activate depending on the construction material at hand. This allows DIYers to always find a suitable solution for practically any common application around the home – no matter whether they are dealing with solid, perforated or board construction materials. The intelligent anchors provide maximum fixing success and a high degree of security without requiring a great deal of research and effort.
This includes the DUOPOWER plug that self activates in the construction material and transfers the highest load levels through its three functions: Folding, expanding and knotting. Also utilising DUO technology, the fischer DUOTEC nylon toggle supports high shear and tensile loads in all board materials, behind which it expands. Its soft bearing side, made of nylon, distributes the load on the board's surface, thereby minimising the impairment of load-bearing construction material. It can also be used as an expansion anchor, if required.
fischer is also now expanding its DUO-Line with the new gypsum plasterboard anchor DUOBLADE. The new product makes it easier and faster to install items in construction materials such as gypsum plasterboard, gypsum fibreboard and light cement boards. Its sharp metal tip, with three effective cutting teeth, enables fast, simple and secure installation in these panel board materials without the anchor slipping. It permits a clean and effective drilling process during which the board structure remains intact. The middle tooth also serves as a centring point and enables the precise setting of the anchor for additional safety.
The DUOBLADE is placed using pre-positioned installation. The grey base body made of nylon expands at the appropriate level of single and double plankings. The red element made of polyethylene reinforces and blocks the anchor's expanding function that is further increased when the screw is inserted. There are additional technical ingenuities that make the anchor's use in gypsum plasterboard, gypsum fibreboard and light cement boards safer, faster and easier overall.
Three months after its market introduction the DUOBLADE was presented with a Red Dot by the 'Red Dot Award: Product Design 2019'. The award demonstrates the anchor's high design quality, which made the DUOBLADE stand out among the submissions, which included 50,000 products by designers and manufacturers from 50 different countries. All of which were examined and tested by an international panel of experts.
Ease of handling
fischer has also placed emphasis on ease of handling during the development of its product range for light to medium loads. When the company launched 25 products for tool-free installation around the home in 2018, under the NO TOOLS JUST HANDS concept, the products soon became established due to their particular ease of handling while providing a high-level of safety and quality. The products are entirely silent and odourless, low-pollutant and leave no traces whatsoever through drill holes or marks.
The products are grouped into three segments depending on their application: Smart Mounting, Repairing and Sticking. The range includes fixing solutions that can be used without drilling and which to a large extent do not require any gluing. Objects can be hung on walls using smart installation techniques such as simply pushing them in or through an innovative vacuum technology. The portfolio also includes one and two component adhesives, as well as lightweight fixings.
The range's various products are suitable for light to heavy loads, which require the lowest possible input of effort. Additional solutions such as the Magnet Claw are available for smaller applications. There are also repair adhesives and products that enable the easy removal of holes and damages on walls and ceilings.
Almost a year after its market introduction the NO TOOLS, JUST HANDS range is in 480 DIY market stores across Germany and in speciality retail stores. The product range is also already available in Austria, France and Belgium and is set to launch this year in Italy, Spain and Great Britain.