INDEX Fixing Systems: Guaranteeing maximum quality
16 April 2018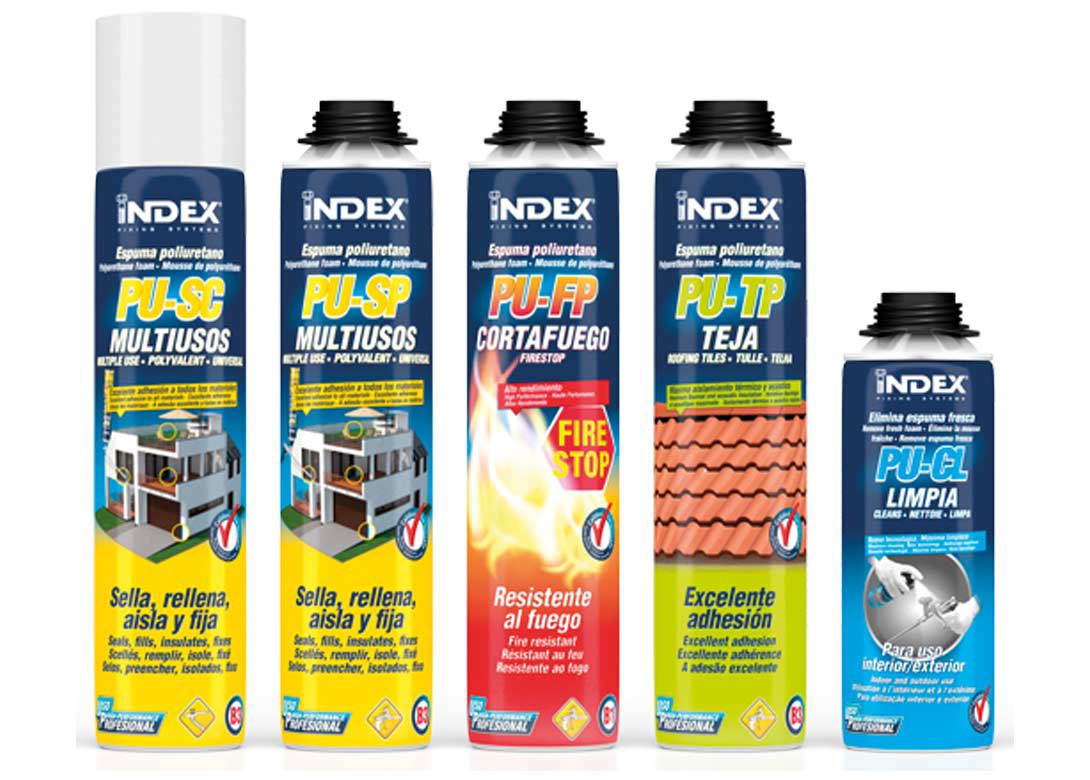 INDEX Fixing Systems manufactures and controls the production process for a wide range of its products, enabling it to guarantee the maximum quality and an optimum service.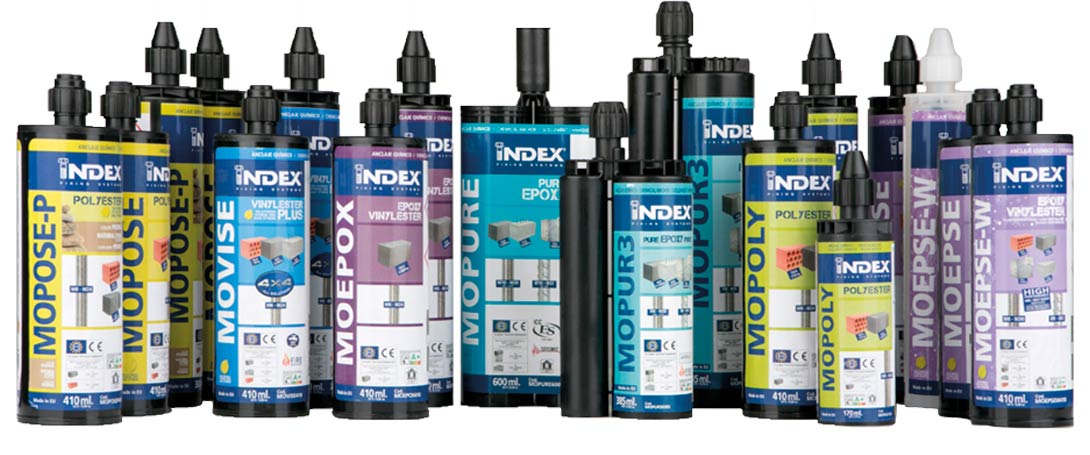 With its commitment to high-quality, INDEX Fixing Systems has an extensive list of products with assessments and certifications to the highest standards. "Based on the principles of our philosophy, and thanks to the continuous improvement in all areas of the company, services and production processes, we are able to offer products of the highest quality, adapted to our customers' needs," states INDEX Fixing Systems.
The company already has a wide range of chemical anchors, to which it recently introduced new livery and has also added a new pure epoxy range with 3:1 versions in 385ml and 585ml. The chemical anchor range is available in various modalities for different base materials, including all cracked, non-cracked, reinforced concrete and brick. These anchors are indicated for heavy loads and to absorb vibrations, due to the distances to the edge and between anchors being smaller, and also that they do not generate pressure inside.
In relation to metal anchors, the MT-Anchor family is characterised by having an expansive clip. While applying torque to the anchor, the clip expands due to the cone shape of the bolt, making high pressure on the inner side of the hole, which creates the necessary friction between the clip and the base material. This family of anchors has the most rigorous certifications and approvals of the market such as EOTA, fire and seismic resistance.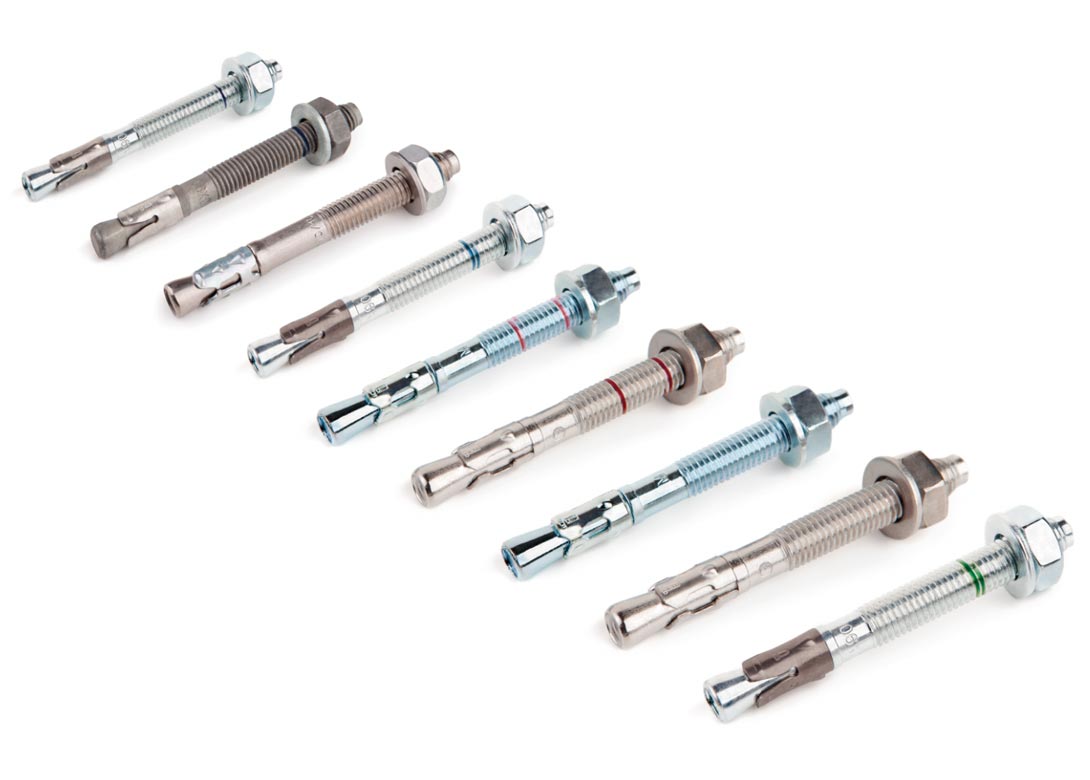 On the other side, INDEX Fixing Systems can supply TH concrete screw anchors with Silver Ruspert coating. The main advantage of this metal anchor is that it does not introduce stress into the base material, due to low distances necessity between the anchors or the edge. Also, it can be used in cracked and non-cracked concrete; can be used from medium to high loads; and its installation – the same for uninstallation – is quick and easy. These anchors also have EOTA certification and is fire resistance approved.
Furthermore, the HE-HO and the HE-CL version with flared lip have an ETA in Option 7 for structural and non-structural uses in concrete. The drop-in anchors work by expansion of the anchor body, and are installed by hitting the expansion cone with a hammer and the specific installation tool EXP.
In the plastic anchor family, the reference is the TN4S nylon anchor. This four way expansion nylon plug, provides optimum force distribution within the material, and offers a huge range of load capacities in both solid and hollow building materials.

Another product in the plastic anchor family is the T-NUX, which focuses on fixing medium loads. This nylon plug knots itself on expanding in hollow materials, making it especially suitable for hollow materials or when base material for fixing is unknown. It has a wide range of fixing lengths (from 60mm to 230mm) and thicknesses.
INDEX Fixing Systems also incorporates a range of polyurethane foams into its product portfolio, an indispensable material due to its versatility. These foams are used to fill and seal gaps, mount doors or windows and are also used as thermal and acoustic insulation. Due to their easy application the polyurethane foams have become an essential product for construction users and has been introduced as a faithful ally for the DIY users.
Also, there has been an extension of products and accessories for drywalls, introducing tapes and trapdoors, as well as a new TC-SP plastic anchor for this type of material.
Finally, the company has recently presented two new 2018 catalogues – a general catalogue that features a wide range of products, including the latest additions available at the company; and a plumbing and HVAC catalogue that comprises a specialised range of products in the supply channel for plumbing and heating fixings and accessories. Both catalogues contain technical information for each product, allowing the user to make the most suitable choice for their requirements.