Heavy-duty solutions for demanding projects
25 May 2021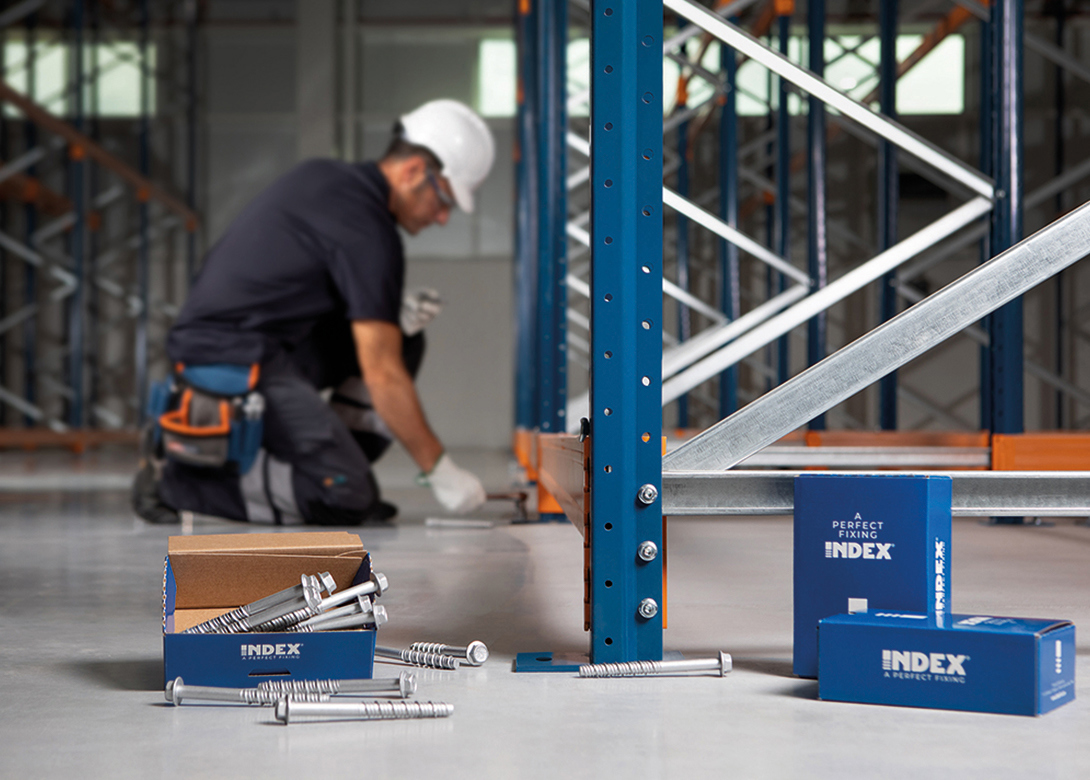 INDEX® A Perfect Fixing states it has four high-load anchors that can be used for the most demanding projects – where the efficacy and performance of the anchor are essential for a perfect fixing – TH/ TF metal anchors, MT metal anchors, chemical anchors and SL metal anchors.
The TH/TF approved high performance anchors are fast and easy to install, ensuring maximum performance in the nine different head models, and are suitable for installing structural and non-structural elements such as railings, shelves and temporary elements. The anchors have up to three different screwing depths, in the diameter 10 version, for C20/25 non-cracked concrete.
Their use of mechanical interference means they can be utilised in conditions with short distances between the edge of the concrete element or to other anchors and with hollow core slabs with slim concrete thicknesses for installation. The anchor is simple to uninstall, leaving the surface of the base material flush after use.
The anchors are available in two different coatings – zinc-plated ≥5μm and Atlantis C3-H – a special coating that provides greater corrosion resistance in category C3 atmospheres. The anchors have maximum recommended loads in C20/25 non-cracked concrete and C20/25 cracked concrete and are approved under the highest quality standards. They have European Technical Assessments (ETA – 20/0046) and (ETA – 20/0494), as well as being approved for fire resistance and seismic approval C1 and C2.
They also feature a patented double thread, stamped ribbed washer in hexagonal version, tempered tip, as well as a high resistance embossed carbon steel body.  
Another heavy-duty solution supplied by INDEX is the MT metal anchor range, consisting of 8 models and approved according to ETA Option 1 and 7 in a wide variety of metrics and lengths.
The MT anchor's clip expands during installation, generating friction with the base material (stone, concrete, cracked and reinforced concrete) to create the fixing. The main advantages of this type of anchor are that it's fast to use – once installed the anchors can be put under stress immediately, they are approved for cracked and non-cracked concrete, as well as having seismic approval C1 and C2 and approval for fire resistance. The anchors also have high resistance values with up to 2,562kg in C20/25 concrete for the 20mm version.
Also available is INDEX's range of chemical anchors – an alternative for installing large loads in concrete or brick. Depending on the base material, and the installation area (indoor or outdoor), customers can choose from vinylester, polyester or hybrid versions such as the MO–H version, a versatile option developed for more demanding projects.
The MO–H version is approved for all types of cracked and non-cracked concrete, masonry, and all concrete applications. It also has A+ certification, seismic C1 certification for coming into contact with drinking water (WRAS) and fire resistance certification for fixing studs and corrugated bars (IBMB).
Also recently introduced is the new formula for the MO-PS+ chemical anchor – incorporating an innovative feature where the installed anchor changes colour once the handling time has expired. This gives the installer a simple visual indication of the time limit for installing the threaded fixing stud.
Lastly, the SL metal anchors from INDEX are suitable for heavy loads and are available with countersunk and hexagonal heads – also coming in a wide variety of lengths and metrics. The anchors are also approved under ETA Option 1, CE, and R30-120 fire resistance, for use in concrete structures to guarantee greater safety. The plastic component in the body prevents the anchor from breaking on itself while the anchor is being installed, ensuring its correct installation and expansion.
The perfect fixing
INDEX's research, development and innovation team is constantly investigating and researching the development of new products and the use of new materials to manufacture and improve its products. The company is able to guarantee the quality of its products because of its production plants, as well as rigorous controls at each and every phase.
INDEX also offers full technical consultancy through a team of specialist engineers. It has a Technical Assistance Service, its own specialised software and an extensive range of technical documentation.
The company provides its customers with two free software programs for design and calculation, which are very helpful tools for engineers, first fix carpenters and professional installers. The INDEXcal V4 program – designed for calculating anchors – and the INDEXwood V1 program – for calculating wooden structures – both provide countless parameters for measuring and calculating any project, always ensuring compliance with the standards required by approvals and certifications. Moreover, the INDEXmor Cloud online software helps calculate the quantity of chemical anchor cartridges necessary for installation based on the parameters entered, in both brick and concrete.
www.indexfix.com