Great versatility and simple installation
21 April 2016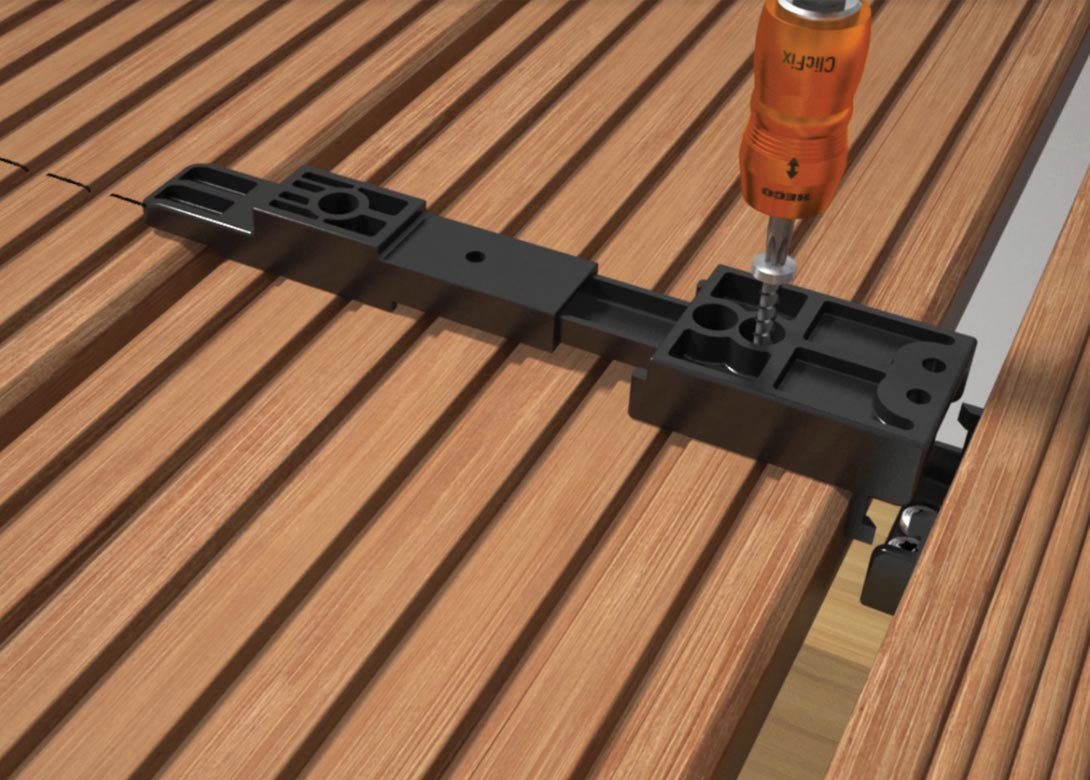 German screw manufacturer HECO-Schrauben GmbH & Co KG has expanded its current range of decking products with a wide array of processing aids for different deck fastenings. As well as enabling simple, quick and 'correct' installation of decking boards, HECO points out that the new products also guarantee cost-effective construction of aesthetically pleasing and durable structures.
HECO's expanded range offers a total of five new products – the HECO®-Clipper for hidden fastening of decking boards; decking support pads to protect the substructure; adjustable decking supports to compensate for irregularities; a range of spacers to ensure a homogeneous joint profile; as well as a decking board clamp to effortlessly align and secure boards with direct screw connections. The products can be used either in a modular system or freely combined.
Concealed installation of decking boards without groove
The HECO-Clipper set facilitates quick installation with a homogeneous joint profile. It is suitable for hidden fastening of wooden and WPC decking boards without groove. In the process, the clippers are aligned on the underside of the decking board and fastened with stainless steel HECO-TOPIX® Clipper screws. Then the decking board is turned over and fastened to the substructure at the clipper's mounting points. With integrated spacers, the clipper set creates an even joint profile and additionally ensures sufficient rear ventilation of the contact surfaces. Using the HECO-Clipper set, decking boards from 120mm up to 150mm in width can be installed. Thanks to the indirect installation, the boards are able to swell and shrink in any direction.
Wood protection for decking substructures
To protect the wood and structure of decking substructures, HECO offers the new HECO®-Decking pads. They are available in three thicknesses (3mm, 8mm and 20mm) and can be fitted beneath the substructure at certain points. The pads have breathable rubber granules, which offer reliable protection against waterlogging and moisture by ensuring that rain and meltwater drain off quickly. The pads also offer impact sound absorption. Their wide contact surface means they can be inserted easily and can also be used to compensate for small irregularities.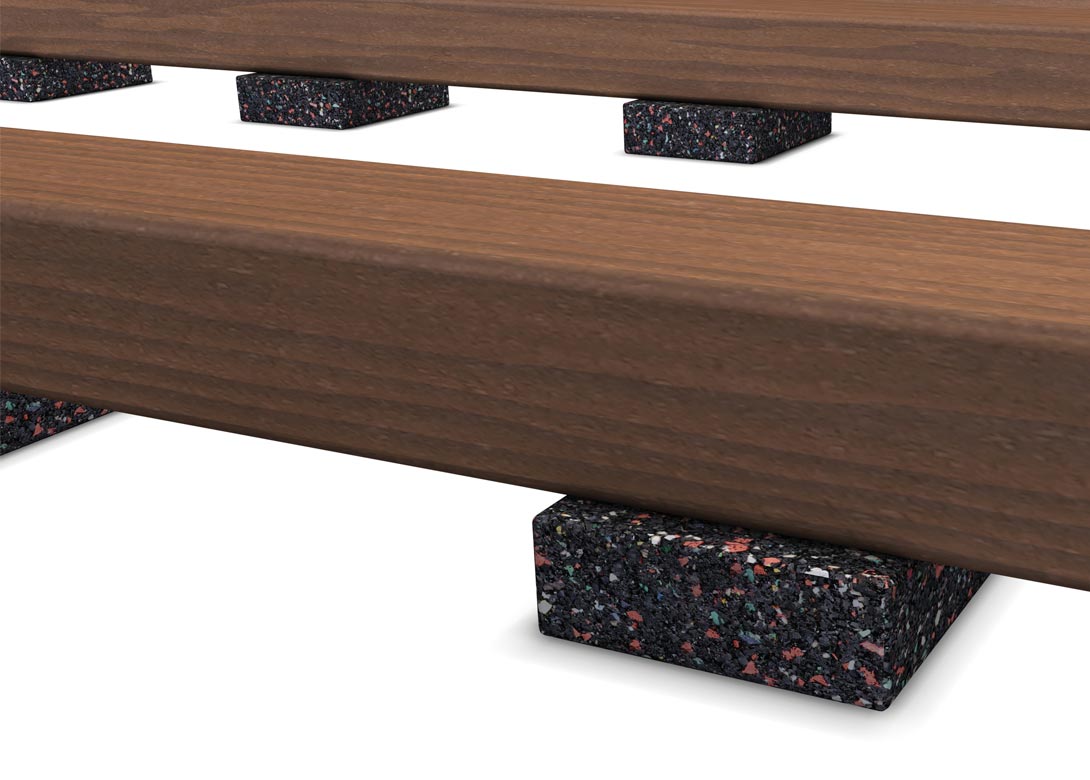 Providing compensation for uneven subsurfaces
The HECO®-Adjustable decking supports ensure that the substructure is securely anchored in place. They are available in two sizes and can be adjusted. Uneven heights in the substrate can therefore be compensated effortlessly, with the possibility to compensate from 30mm to 150mm. The adjustable decking supports, made from high-quality rigid plastic, are highly durable and suitable for all materials used in terrace construction.
Creating a homogeneous joint profile
HECO now carries three different sizes of spacers in its range, designed above all for fastening decking boards with visible screw connections. The HECO®-Decking spacers can be used flexibly and guarantee a consistent joint profile with widths of 3mm (blue), 5mm (red) and 7mm (yellow). Each pack contains eight spacers of all three sizes, which means that multiple fastening points can be worked on simultaneously. Thanks to their smartly designed handles, the spacers are easy to remove, even when tightly clamped. The edges of the processing aids are chamfered to prevent pressure dents on the wood and protect the decking boards.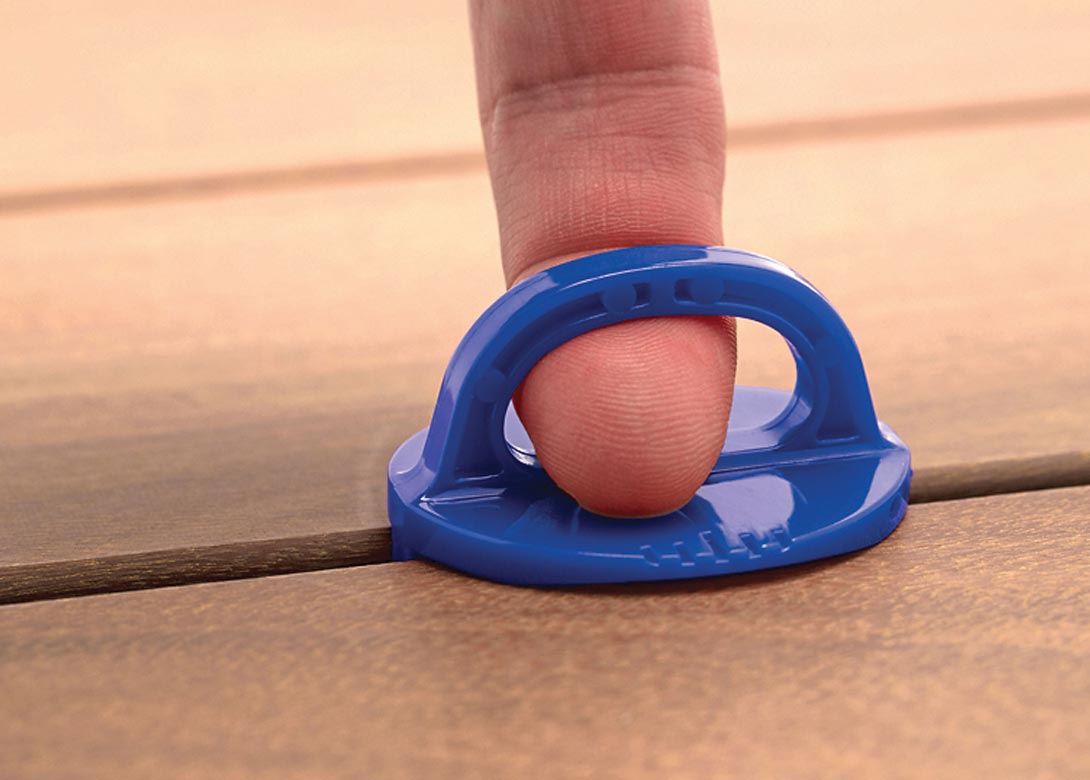 Ensuring effortless alignment of decking boards
HECO also carries the HECO®-Decking board clamp in its range, designed specially for working with deformed decking boards. Its robust design means that decking boards can be aligned and fastened effortlessly. Fitted with three spacers, it also guarantees a homogeneous decking profile. This makes it possible to arrange up to four decking boards. The clamp is easy to place and the clamping widths can be adjusted infinitely. After the clamp has clicked into place, the decking boards can be screwed together without having to secure or constantly hold the clamp or boards in place.
More freedom for applications
With the latest product additions, HECO rounds off the upper end of its range for terrace construction. Installers now have access to a wide range of installation options, with a choice between visible and hidden screw connections, as well as indirect fastening. They also have free choice of material. What's more, the HECO decking range offers sound solutions to meet all budget demands in just a few steps.