fischer UK building up for growth
13 September 2017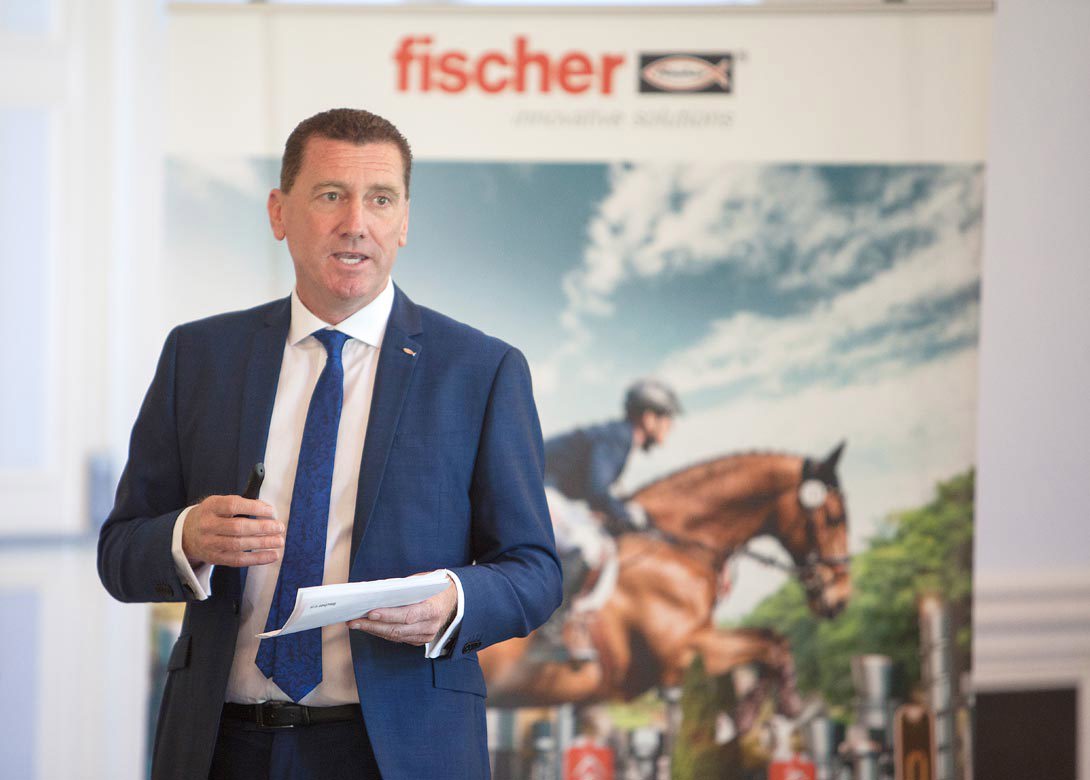 Since his appointment in 2014, Justin White, fischer UK managing director, has presided over exceptional sales growth – and he is building up, quite literally, for more.
fischer UK is based at Wallingford, Oxfordshire, in a purpose built 2,100m2 office and warehouse facility, which currently holds around GB£2 million of fischer innovative product. As a sales, technical support and distribution operation availability is a key metric – and fischer UK currently achieves an impressive 98% fill rate delivering to distribution customers throughout the United Kingdom and when required direct to site on their behalf. UK inventory is supported by 3 day availability from fischer's headquarters in Germany's Black Forest.
"We're heading for sales growth in excess of 50% from 2014 to the end of 2017," Justin White (pictured) told Fastener + Fixing Magazine. "I'm pleased with that performance and I doubt any of our competitors can compare with it but I believe there are still opportunities in the market where we can gain so much more. With all the things we have to launch over the next two years we can probably double the sales in the organisation over a six year period."
fischer has 65 people in the UK, including a 30 strong external sale team and 25 experts in Wallingford dedicated to technical and commercial support. Around a third of UK sales are of less technical general fixings via fischer's national accounts. Most of the other two-thirds is supplied via technical fixings distributors from which, through a process of customer categorisation, the company has identified around ninety premier accounts. These accounts, some long standing and successful fischer distributors, others identified as major growth prospects, now enjoy a range of support benefits, ranging from priority product launches, priority sales and technical support, to enhanced delivery services for larger orders and Facetime and Skype contact with the technical department. "It's a great advantage with phones and tablets now," says Justin White, "that the customer can call us from the site and literally use the camera to show our technical specialists the application or issue." The latest benefit is a 2017 trial of what fischer calls the 'Buy Pad', a tablet provided to premier distributors preloaded with a range of fischer related apps including a flip-page price list/catalogue, as well as fischer website and social media links.
"We are clear that the closer we work with our technical distributors the greater their loyalty and the greater our mutual success," says Justin White. "That's why we have invested immensely in the customer base over the last 2 - 3 years. Once we know the Buy Pad is a success we can look at rolling it out to more customers and also expanding its capabilities."
fischer UK now has a specific commercial team focused on developing sales with a wide spectrum of fixing distributors keen to supply fischer products, although the process is carefully targeted geographically to complement the established technical distributor coverage. "This is the fastest growing part of the business," says Justin White, "and has really opened up new sales channels over the last three years."
Supporting fischer UK's sales activity is a marketing department, headed by Dan Czerwinski, that is now absolutely 'customer centric' ensuring, says White, that promotional activity really is responsive to the needs of fischer distributors, including high levels of point of sale visibility. "We're also way out in front of other fixing suppliers to distribution in terms of our social media relationships with customers and have one person dedicated to this area of support."
One of the latest investments has been in a state of the art phone system at Wallingford, which as well as ensuring rapid routing of callers includes a phone back facility if there is an unavoidable delay in response. A new fischer UK website will be launched at the end of September 2017, a platform for providing even more comprehensive and accessible product and technical information. Next year, the phone system, website and social media activity will all be coordinated into a new CRM system aimed at ensuring no opportunity for growth is overlooked. "We're at the forefront of activity in the fischer group," says Justin White, "which is absolutely right in a UK market with some of the highest adoption rates in online communication and ecommerce in the world."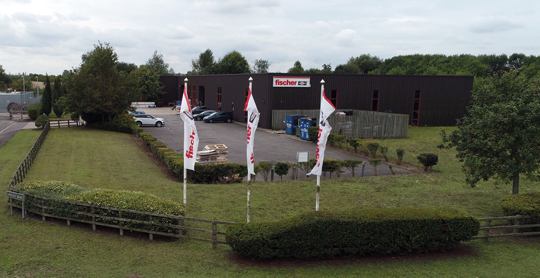 What's next? fischer UK soon hopes to take the advantages of video for monitoring progress on-site to a literally new level with a high definition video drone. "Having the ability to overfly construction sites will give us a great advantage in monitoring the stages of progress and knowing when to mobilise our technical teams," says White, "as well as providing us great material for promotional purposes."
Talking about reaching a new level, Justin White is checking daily now for confirmation fischer UK has obtained planning permission for a major expansion at the Wallingford site, in the shape of a second, higher level warehouse building. "For us it is an exciting time, embracing new technology and expanding the business," concludes Justin White. "Our aim is the be most customer friendly, easiest to use fixings supplier in the marketplace – and at the moment I am convinced we are making really good progress."