Anchor solutions from JCP
05 June 2020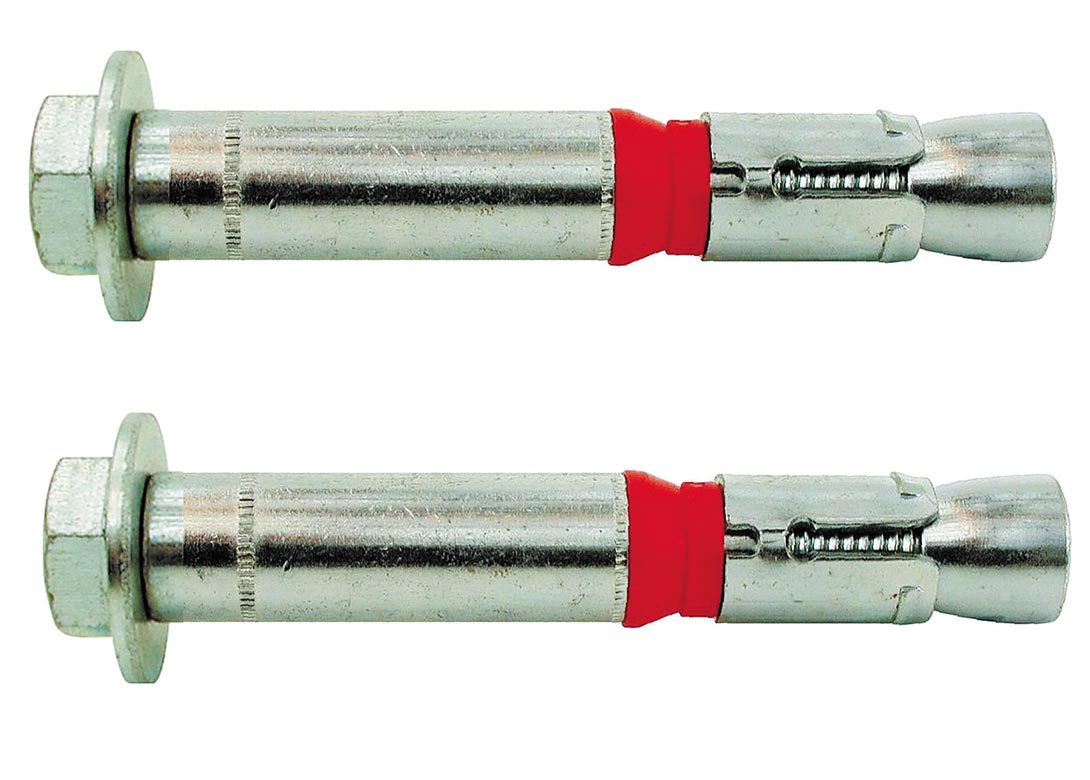 JCP Construction Products, a specialist supplier of construction fixings, has a dedicated heavy-duty product portfolio containing a range of heavy-duty anchors, all suitable for use in cracked and non-cracked concrete, to fulfil particular project needs of designers.
The JCP ETA (Option 1) certified heavy-duty anchor is a high performance through fastening anchor system, for use in cracked and non-cracked concrete C20/25 to C50/60. Available in three head styles, it features a compression ring to prevent turning and stop torque slippage, while a three part expansion sleeve allows for smaller spacings and edge distances with high loads.
Approved for use under seismic actions C1 and C2, it offers high tension and shear resistances. The JCP heavy-duty anchor range offers a resistance under fire exposure of 30 – 120 minutes and has a fire classification of A1 – meaning it will not contribute to the fire. Available in a hexagon bolt, hexagon nut and stud, and a countersunk head, all are CE certified. Designed for harsh environmental conditions, the hexagon nut and stud version are also available in the A4 stainless steel class.
With a reputation for expertise, technical back-up and experience in applications and fixings, JCP provides professionals with guidance when choosing the right anchor for a specific application. Key considerations such as load-bearing capacity, environmental conditions, concrete class, anchor spacing, edge distances, and loading type, must all be taken into account.
Support with anchor calculations
Available as a free download from its website, JCP's Anchor Calculation Program includes a wide range of information and data, including fire and seismic requirements, and can accurately suggest suitable anchors based on the connection configurations.
It allows engineers to design connections using a user-friendly design tool to take into account loadings, spacings, and edge distances. All relevant information can be entered into the program, and a selection of suitable anchors will be displayed. The designer can then select the one that is most applicable for their particular circumstances. Calculations are carried out in accordance with the current European Guide TR029 for bonded anchors and ETAG 001 ANNEX C for mechanical anchors.
Its most comprehensive catalogue yet
JCP has also launched its 2020 catalogue exclusively for distributors, featuring a new design refresh and more information than ever before. Dedicated technical support information, a product application finder, and a whole merchandising section, have all been added, along with a revised product order for ease of navigation, and an index designed to help find products easily.
The catalogue also includes a whole host of new additions, including the full range of BlindBolts of which Owlett-Jaton is a master wholesaler. Other products include grooved nails – suitable for fixing roofing and insulation plates, plastic sheets and wire mesh; wall screws – light-duty fire resistant carbon steel fixings for direct use in non-cracked concrete and masonry base materials; low profile Metalfix – self-drilling screws for steel to steel fixing (available in June); and drill bit sets – straight shank and SDS (also available in June).
JCP products are available for next day delivery throughout the UK and customers can order online 24 hours a day, seven days a week through its online trade portal.