A Perry unveils TENZ FROM PERRY® wood screw
18 December 2020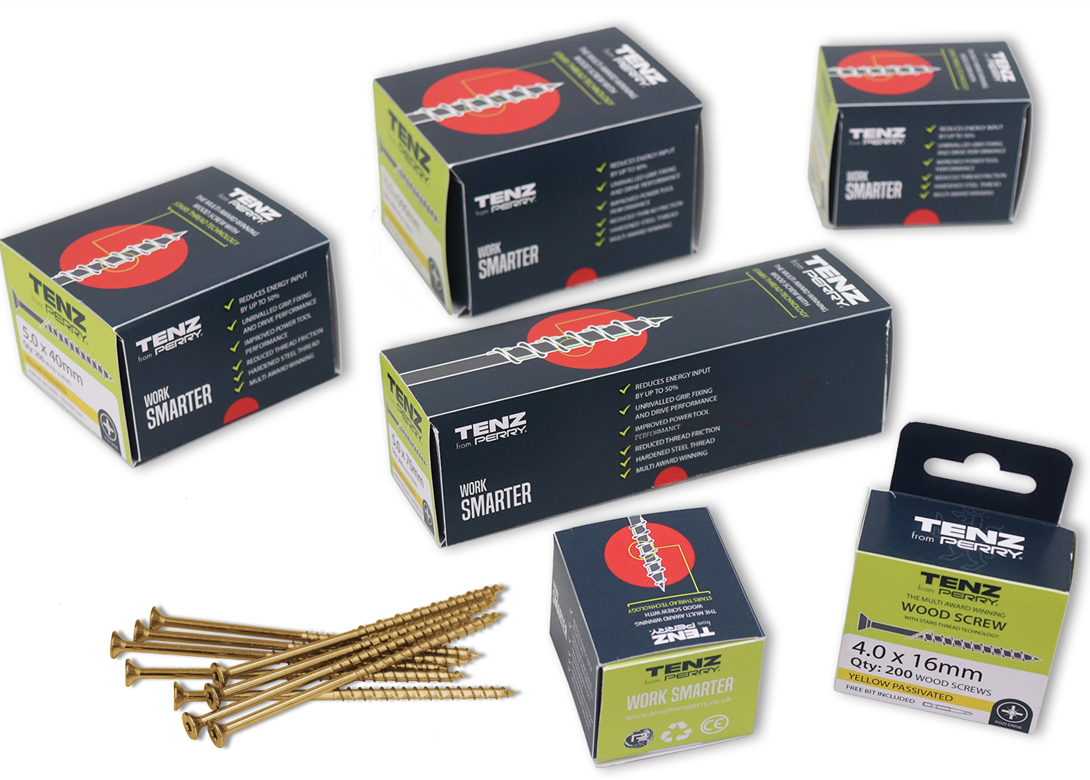 A Perry Ltd has unveiled its latest wood screw, TENZ FROM PERRY®, with patented TENZ® stairs thread technology. TENZ FROM PERRY® has been in development for over a year in an exclusive agreement with TENZ. It is now making its debut to the UK market with a raft of awards and accreditations to its name already.
Steve Perry, head of marketing at A Perry, said: "This is a huge coup for us and we know it is going to be a market leading product. Developed for projects demanding the highest of standards, the key point of difference between conventional wood screws and the new TENZ wood screw is the revolutionary thread design. TENZ reduces the friction along the thread making work more efficient. The wood fibres are gently displaced and not drilled or milled, which uses less energy force thanks to the oscillating screw."
Perfect for use on both hard and soft wood, TENZ offers an unrivalled grip, fixing and overall drive performance ability. Reduced energy needs means that capacity is used as efficiently as possible and even extends the tool life when using a battery powered drill. Reduced energy levels, from using TENZ, of up to 50% means more screws can be fixed, which maximises the battery life. Through low screwing torque, TENZ utilises any cordless screwdriver's entire battery performance making it a more economically viable choice for those in the industry.
With TENZ no pre-drilling is required, which effectively cuts out an entire work step, trimming down the time and energy required. In addition to the energy saving gained with no drilling and no milling, the displacement of the wood fibres by the stairs thread technology also means the screw optimally bonds with the wood. Over time, that bond becomes more secure to give life longevity to the construction project.
The new technology also brings health benefits to the user as it requires minimal physical effort when screwing into the wood. The hardened steel thread ensures maximum output with minimum effort – giving welcome relief to the DIY'ers as well as professionals as fatigue is reduced and the strain on joints is minimised. With arthritis a common ailment to those in construction, TENZ could have a positive impact on those individuals who suffer; which in turn reduces the time off they would otherwise be forced to take from their job or self-employment.
Launching in the UK now exclusively with A Perry the TENZ wood screw also boasts a 'Red Dot' award in recognition of the unrivalled design technology. The Red Dot accreditation is a mark of distinction given internationally as one of the most sought-after seals of quality for good design.
Available to pre-order now, TENZ FROM PERRY will also be available in eco-friendly plastic free packaging.